News
Just Another Day At The Office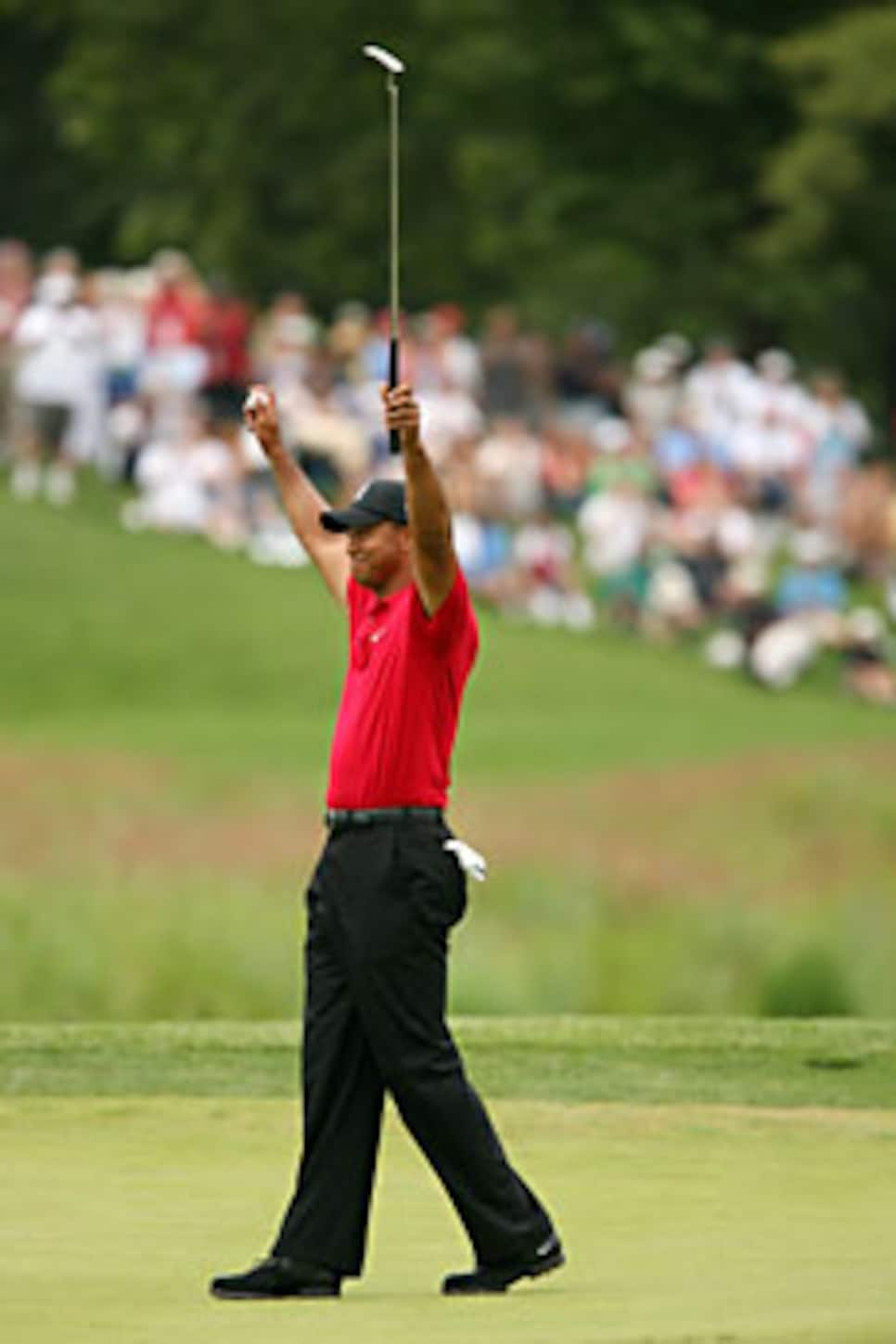 The win for Woods was his third this season in his final start before a major.
BETHESDA, Md. -- What happened Sunday at Congressional Country Club? Red shirt beat blue shirt, black cap topped white cap, age trumped youth and Tiger Woods welcomed Anthony Kim into the club ... the guys who get rolled when they're playing against him the final round.
Woods was ready when somebody asked him why he is so intimidating.
"Well, I'm 6-5, 220," he joked.
Check your clocks, it's Tiger Time again. At the $6 million AT&T National, Woods and Kim began the fourth round with the same score and ended it with Woods having the lowest.
The outcome falls something short of stunning. We've seen this sort of thing before this year, at least the winning part, even though Tiger's method was slightly different on this occasion.
At Bay Hill, Woods came from five shots down on the last day to win. At the Memorial, he was four shots down and won. He was even with Kim when he started out on Sunday, not that a deficit probably would have made any difference.
Woods closed with a 3-under 67 to push aside Kim, and had just enough to withstand a course-tying 62 by Hunter Mahan, who wound up second by a shot.
When you add it up now, the numbers Woods are writing down are becoming an intimidating read.
It was Woods' 68th PGA Tour victory (only five behind Jack Nicklaus), pushed his career prize money to more than $101 million and improved his record to 49-3 when leading or tied after 54 holes.
He has now won at least three PGA Tour events in 11 of his 14 full years as a pro. And the three-time British Open champion will certainly be the favorite when he shows up at Turnberry in a week.
Kim dropped to third behind Mahan with a one-over 71. The way things were going, his most interesting shot of the day might have been his tee shot at the 18th, where the ball went so far off-line, it popped a fan on the derriere.
Woods and Kim shook hands before they got started and that's about as close as they got the rest of the day, unless you count the times they stood in the tee box together. Until they chatted while walking down the 18th fairway, they hadn't exchanged a word.
"He told me to stay positive, something like that," Kim said.
Kim chalked the whole thing up as a learning experience, sort of on-the-job training.
"I learned that if you have a birdie putt, you'd better make it, especially on the last day," Kim said. "Tiger obviously wins for a reason."
Mahan finished about an hour before Woods pulled ahead with his birdie at the 16th. He spent some time watching the CBS broadcast in the dining room in the clubhouse. When Woods missed a birdie putt at the 14th, Mahan yelled 'Yes!" and then noticed Woods' wife, Elin, was within earshot.
It was meant as a joke, Mahan said, because he knows Woods doesn't miss chances very often. Maybe with only slightly more frequency than when he blows a lead in the last round.
And so the Woods bandwagon rolled on, throwing more numbers in the back and piling on victory along the way. After four days at Congressional, the only bump in the road for Woods was probably the 489-yard par four 11th, which he's probably considering doing something about next year ... like maybe skip it.
At least he knows what the thing looks like, since he visited about every part of it this week, from the creek on the left (where had to take a drop on Sunday) to the hilly rough on the right, to the bunker complex located on the left side near the green.
He played it in five-over, so do the math. Four pars instead and his swoosh doesn't break a sweat in four days.
What Woods said he mentioned to Kim on the walk on the 18th fairway seemed conciliatory, and not intimidating.
"I told him 'I enjoyed it and there'll be many more to come,'" he said. "'Just keep working hard and we'll do this for many more years.'"