News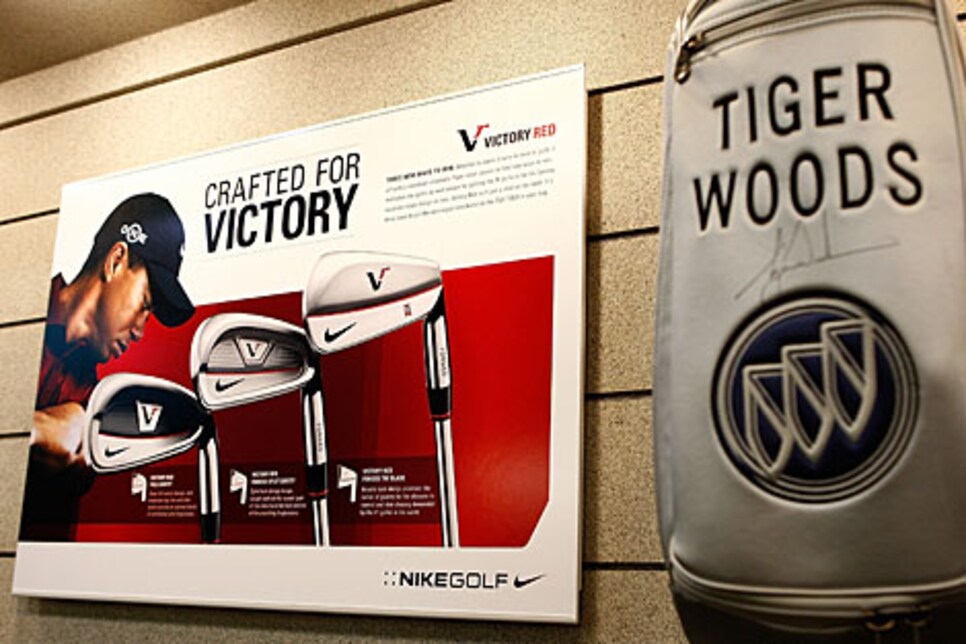 Nike chief Phil Knight recently called Tiger Woods' problems a "minor blip". The PGA Tour hopes he's right.
Two weeks ago, walking through the Delta terminal at LaGuardia after a late arrival from West Palm Beach, I again noticed one of those Accenture ads that always caught my eye. In this one, Tiger Woods was standing in a field of grass up to his waist, with a headline that said, "It's not a setback. It's a test."
There have been moments since that Monday evening after Thanksgiving weekend that keep bringing me back to those words, realizing they wouldn't be occupying that space for long. Fourteen days later came news that Accenture, which also sponsors the PGA Tour's WGC-Match Play Championship, had cut its corporate ties to Woods.
As the billboards come down, the bigger picture problem is a corporate melding between the brands of the tour and the player who is the face of that tour. What does that symbiotic relationship mean for events like Accenture, which has sponsored the match play since 2001, or the two events sponsored by one of Tiger's remaining corporate partners, AT&T? Non-committal to this point, whatever the telecommunications giant does with Tiger is irrelevant to what it will do for the two events it sponsors on the tour, the AT&T Pebble Beach National Pro-Am, and Tiger's tournament, the AT&T National.
To use Phil Knight's words, this could be just a "minor blip" and not the seismic earthquake that it feels like. According to a high-level tour official, Accenture and AT&T are locked up through the 2014 season. But in conversations I had Monday with several tournament directors, the potential tsunami lies in the next TV contract.
With negotiations scheduled to begin in 18 months, the setback PGA Tour commissioner Tim Finchem didn't need was for Woods to seek crisis management and go on an indefinite leave. Finchem locked up John Deere and Waste Management (to replace FBR in Scottsdale), but needs to have a full schedule of tournaments in place, and an umbrella sponsor in FedEx secure in knowing that Tiger is going to be a big part of the buy for NBC and CBS. Business wise, with the economy in a holding pattern and the game taking pot shots from Washington, the timing couldn't have been worse.
But back to that Accenture billboard, and the test that awaits Woods competitively as he goes through his contrition phase in an attempt to save his marriage, his image -- and possibly his career. The biggest water cooler question among the true golfers I've spoken to since Friday night's announcement that he was stepping away from the game is not "Who's next?" but what exactly does "indefinite" mean? Speculation varies from Woods coming back to a controlled environment at the Masters, to taking the year off, to walking away altogether. He has not talked to Mark O'Meara, John Cook or Notah Begay; thus the so-called the "Friends of Tiger" have their opinions, but no real clue.
To jump start the golf economy, and to win back the Accentures and the Gillettes of the world, Woods must find his way out of that waist-high grass and eventually start playing golf again. Whether its cathartic or whether he does it with a broken heart, the competitive angle to this scandal is not based on Madison Avenue, but Augusta National, Pebble Beach, St. Andrews and Whistling Straits -- the sites of this year's majors. It's Tiger the golfer, not Tiger the pitchman, who will open the purse strings again.
What this predicament underscores is the issue of Tiger becoming bigger than the game, or at the very least, becoming so big that any personal crisis rocks not only his world, but the world of professional golf.
Finchem always felt that to be compared to the major league sports of football, basketball and baseball, golf had to grow its purses. Along came Tiger in the mid-90s, there were three TV deals signed in the interim, and instead of playing for $80 million, as they did in 1997, the boys played for $277 million in 2009, not including the $35 million FedEx bonus.
A false ceiling was created based not only on Tiger's performance, but his image and his street cred with the American public. When he was out the second half of 2008 and in early 2009 with knee surgery, the drop off in television ratings and buzz was glaring. Golf received almost no mention on ESPN, let alone TMZ.
On another level, there was squawking among tournament sponsors who had to pay Tiger money but never got to see Tiger. And that was the Tiger before the scandal. How he comes back, in what form, will be a deciding factor in how much the networks are willing to spend for the new deal, which starts in 2013. Instead of making $1.4 million for winning the Accenture, Geoff Ogilvy might make closer to the $648,000 that Mark Wilson won at Mayakoba in a satellite event that same week.
What would it mean for golf to take a dramatic step back in purse structure? For one, corporate America might see PGA Tour golf as a more sensible buy. Two, the optics might be better. With unemployment over 10 percent, the days of largess are over. The next generation of Adam Scotts might not be able to afford a G-5. And Tiger might not be making $3 million in appearance fees, some of it in government subsidy, to play the Australian Masters.
Of course there exists the scenario that Tiger goes from the depths of his fall -- and we may not have hit bottom yet -- to one of the greatest comebacks in golf history. Ratings for Tiger's return will be unprecedented. More eyeballs could be on the 2010 Masters, where Woods could return, than his historic victory in '97. With that kind of timing, Finchem may be able to get more in his last TV deal as commissioner.
One award that can't be denied is Player of the Year, which Woods is favored to win for the 10th time, by adding six more PGA Tour titles to his resume, along with his second FedEx Cup, all while coming back from ACL surgery. While it's easy to say Phil Mickelson, Padraig Harrington, Rory McIlroy and Rickie Fowler need to pick it up, the truth is nobody -- nobody -- has the DNA to dominate the way Woods has.
If he can compartmentalize and show thick skin when he gets razzed by spectators, and play with the same passion and energy that put him on those billboards, then all of golf will prosper once again. Remember in these days when it may get worse before it gets better: It's not a setback. It's a test.