News
Tiger Commits To Charity Skins Game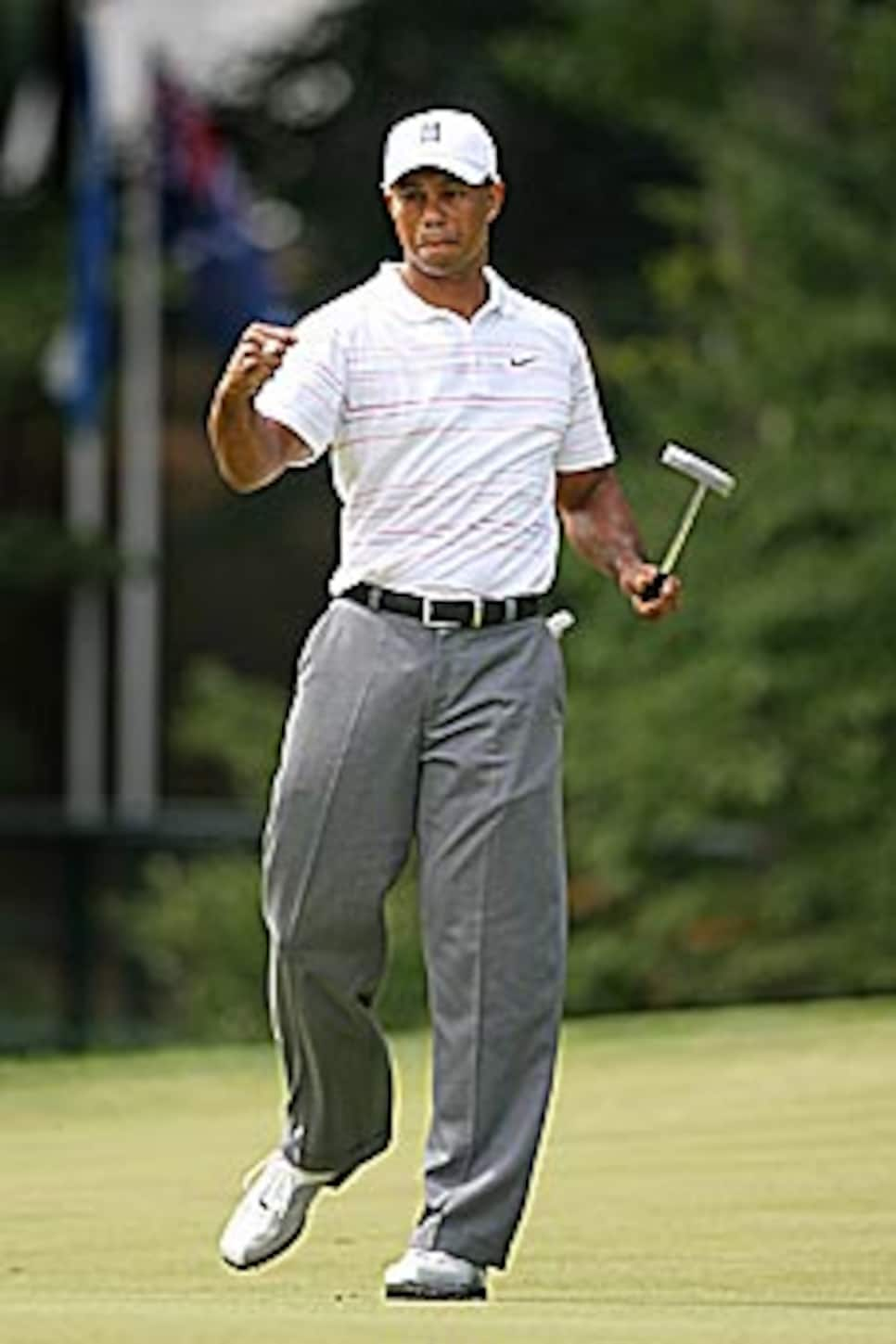 Woods will play in Begay's event Aug. 24, along with Mike Weir and Camilo Villegas.
VERONA, N.Y. (AP) -- Notah Begay III was nearly at a loss for words.
"I am humbled," Begay said Monday in announcing that Tiger Woods, his former roommate at Stanford University, would play in a skins game in August to benefit Native American children. "You come up with certain ideas and sometimes they come true. Part of what I learned at Stanford is that you try and create win-win situations, and this is a win-win for everybody. What a testament to our foundation's work."
Woods, who originally agreed to play last year but had to pull out after undergoing knee surgery, has rarely played in charity events like this. He will be competing against Begay, Mike Weir, and Camilo Villegas on a layout he's never played, Atunyote (uh-DUNE'-yote) Golf Club. The course, one of three at Turning Stone Resort and Casino, also hosts a PGA Tour event.
The inaugural NB3 Challenge in 2008 was the foundation's first national event and raised nearly $200,000. Begay, the only full-blooded Native American on the PGA Tour, said he expects this year's competition to net between $600,000 and $800,000.
"It's the Tiger factor," he said.
Begay said only 3,000 tickets would be sold, partly for security reasons. It will not be televised, but Begay said he would explore the possibility of having the players miked so fans can hear their banter.
"We want it to be intimate," he said.
The Notah Begay III Foundation, established in 2005, seeks to reduce diabetes and obesity among Native American youth.
The event is a collaboration between Begay, the Oneida Indian Nation of New York, and the San Manuel Band of Serrano Mission Indians of California. It also presents an opportunity for the Oneidas to showcase the three championship golf courses the resort has built.
Having Woods in the field is a major breakthrough.
"I was celebrating," said Ray Halbritter, chief executive officer of the Oneida Indian Nation of New York and a driving force in developing Turning Stone into one of the nation's top golf attractions. "I couldn't believe it, really. I just hope we can make the course hard enough for him."
Last year, Villegas won a chip-off against Weir, Begay, Vijay Singh, and Stewart Cink to walk away with top money of $220,000. Singh donated $80,000 of the $180,000 he won. Cink also won a hole, but Weir and Begay were shut out.
Begay said he would do his best to keep Woods at bay.
"I'm not going to give him any tips," Begay said. "If a putt breaks left, I'm going to say it breaks right."
The total purse will remain at $500,000. A year ago, the first six holes were worth $10,000 apiece, the second six $20,000, holes 13 through 17 $50,000 each, and No. 18 $70,000.
It was difficult to score a skin last year despite picture-perfect August weather with temperatures in the mid-70s. When Villegas hit a 250-yard fairway shot to within a foot of the pin at the par-5 fifth hole to set up an easy eagle, Weir nullified it with an 18-foot eagle putt.
With Woods competing, Begay said one thing would change.
"It's going to be me, Mike and Camilo against Tiger," Begay said, smiling. "Mike and I got shut out last year and I don't want that to happen again. If we have to resort to tackling him, we will."