News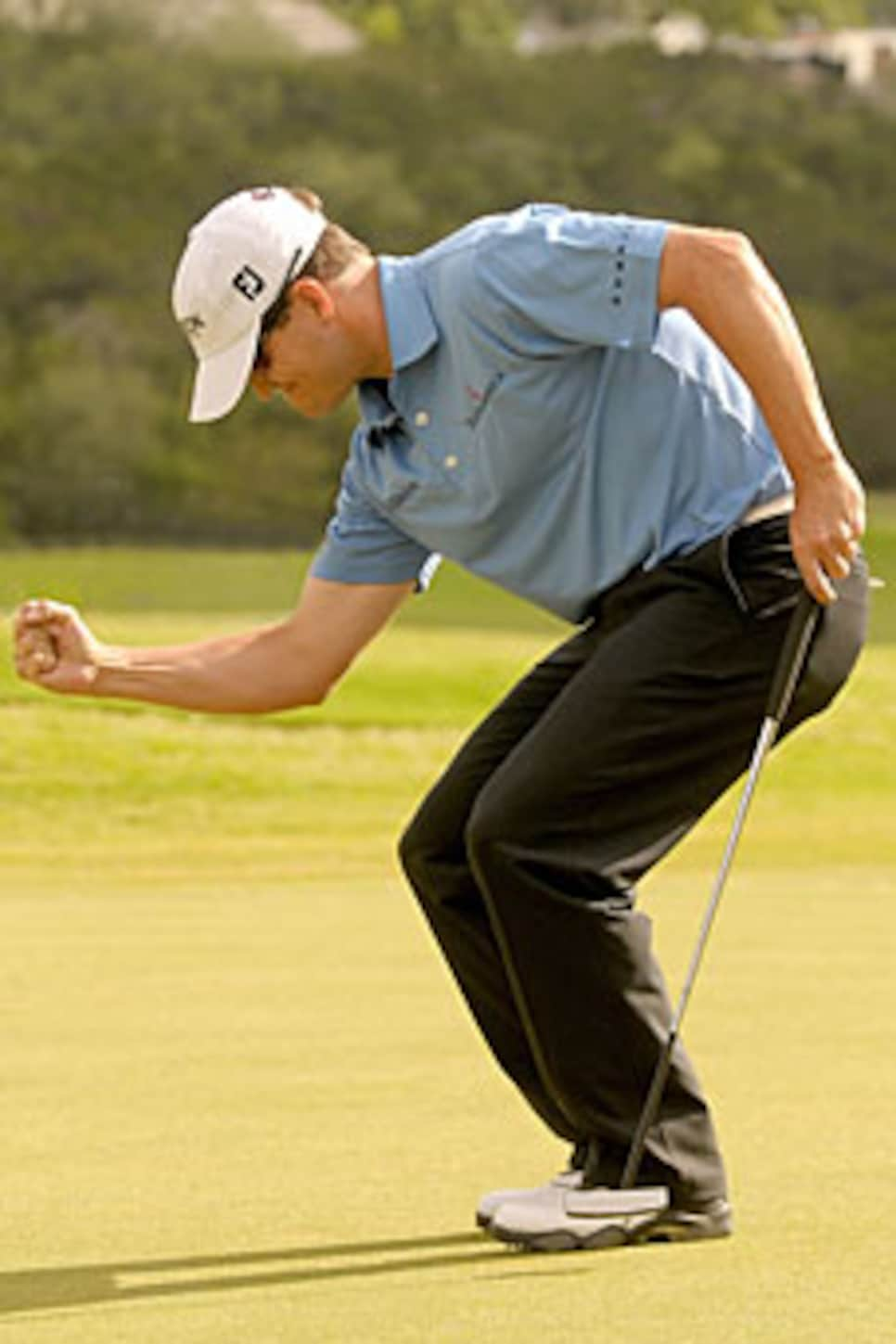 That's all, folks: Johnson's 10-foot birdie putt on the first extra hole netted him his second victory of 2009 and sixth of his PGA Tour career.
An East Texas man recently pleaded guilty and was sentenced to nine months in prison for stealing Justin Leonard's identity, but it's clear that the dude should have employed a better lawyer because the results of last week's Valero Texas Open proved conclusively that Zach Johnson is the perpetrator.
Nobody has owned La Cantera GC like Leonard, whose 12 PGA Tour titles include a trio of Texas Open victories, the most recent coming in 2007. The native Texan also has been runner-up twice at the San Antonio stop that is among the oldest on tour, dating back to 1922, but the former British Open champion has been nullified since Johnson rode into town for the first time last fall and painted it red in a two-stroke victory.
Last Sunday, just seven months after that triumph, Johnson was at it again, showing off a minus touch that is a prerequisite for success in the Texas Open. Buoyed by an impeccable third-round 60, the Iowa native returned to the scene of the sublime. With a 10-foot birdie putt on the first sudden-death playoff hole, Johnson turned back a feisty James Driscoll for his sixth tour triumph and second of the season.
The victory last year was worth $810,000 and a shot of confidence that he rode to victory at the season's first full-field event, the Sony Open in Hawaii. This time, Johnson collected $1,098,000 and 500 points, redeemable toward the season-long FedEx Cup competition, which he now leads, having leaped ahead of Geoff Ogilvy and Phil Mickelson, the year's other two-time winners. In addition, he has all but booked a date for the Presidents Cup in October.
"Yeah, a lot of good things [are] coming out of this," said Johnson, 33, who entered the final round with a two-stroke lead and somehow was the last man standing despite an even-par 70. "Another learning experience. I certainly didn't play my best, but I hung in there, and I got a little lucky.
"I'm not sure if I won the tournament per se," he said, "but I certainly didn't lose it. I just kept myself in the game, and for that I'm proud."
He went out and won it in overtime, punching a 6-iron approach neatly under the hole at the par-4 18th and draining the birdie to turn back Driscoll. The latter had caught Johnson at 15-under 265 with a sterling 62, nearly 7½ strokes better than the field scoring average on a tricky day when the gusting winds came out of the north, opposite the prevailing direction. Johnson, who shot 261 last year, also benefited from a late stumble by Paul Goydos, who has struggled since his runner-up finish in the 2008 Players. Goydos, 44, held the first- and second-round leads, and his 13-foot birdie at the par-4 16th put him in front by one with two to play.
Pulled irons on the final two holes resulted in bogeys, however, and Goydos signed for 69 and 266 to tie for third with Bill Haas, who like Goydos opened the tournament with a nine-hole 29. Haas closed with 65. The omni- present Leonard was among seven players within a stroke of the lead with four holes left, but ended up in a four-way tie for fifth at 69-267.
"For 70 holes I did really good," Goydos said after his first top-10 of the year. "I didn't hit a good putt on 17 and didn't hit a good second shot on 18. And guys who play like that will [not win]."
Johnson didn't have his best stuff Sunday, and it appeared as if he was heading for another final-round derailment. Just two weeks earlier, the 2007 Masters champion held a two-stroke lead after 54 holes at the Quail Hollow Championship, but his advantage evaporated with an early triple bogey, and a 76 dropped him to T-11. At La Cantera he didn't let the round get away from him. The saving shot was an 18-foot par from off the green at the eighth following a flubbed chip.
"That one really could have deflated me," said Johnson, who had missed putts of reasonable lengths on the three previous holes. "That was a big putt; it just kind of kept me in the game."
Johnson put himself in the game with Saturday's 60, an impeccable bogey-free effort that tied the tournament record and was capped off in darkness after the second round was delayed for nearly five hours while a two-inch deluge drenched the course and unofficially ended a drought that had engulfed the region for two years. Johnson could barely see the hole when he lined up his 19-foot birdie try for 59, and he left it three feet short. But at least he was in, while 14 players, including Goydos and Leonard, had to return Sunday morning to complete the third round.
Johnson became the first player to shoot two 60s in PGA Tour history, his first coming in the third round of the 2007 Tour Championship. This effort featured a hole-out for eagle from 84 yards at the par-4 seventh and eight birdies, the longest from 25 feet. He missed only two greens and needed just 24 putts. "It was one of those zone rounds," Johnson said.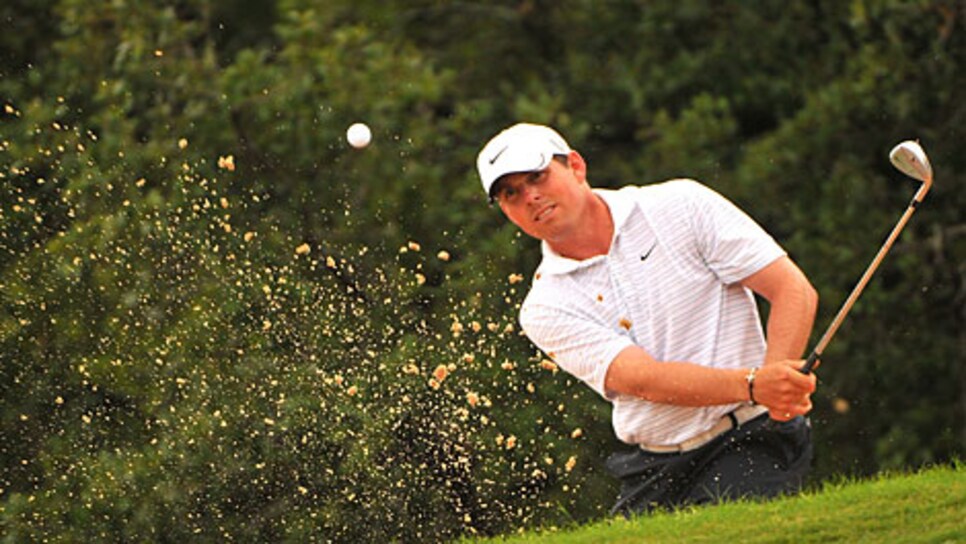 Sunday, conversely, was a grind, with Johnson's two-shot bubble the biggest of the day by anyone. He did just enough to ameliorate the pain of his charred Charlotte effort. "My confidence, I don't want to say it was shattered, but it was a shock to my system," Johnson said. "I was playing good golf, and that Sunday didn't go my way. I felt a little rushed, had kind of a stressful morning. … [But] struggling was a good learning lesson. Today I remained patient, and good things happened."
Johnson could have taken his cue from tournament officials. In 2007 the Texas Open was relegated to a fall date outside the newly aligned FedEx Cup schedule, but when the ATT Classic in Atlanta fell away, Golf San Antonio and Valero gladly agreed to fill the void.
The short turnaround didn't affect the tourney's charity initiative—it raised an impressive $8 million in a down economy after collecting $8.5 million the previous fall—but neither did the switch elevate its profile. Just eight of the top 50 in the World Ranking attended the first leg of the realigned three-event Texas Swing. Securing a slot in the FedEx Cup schedule seemed about as satisfying as a date with Angelina Jolie chaperoned by Brad Pitt. Good company but hardly an ideal circumstance.
"Obviously, moving up into the ­FedEx Cup was nice, but it's not a very good date, which kind of takes away the plus of moving. Just look at the field," said one player, who requested anonymity for fear of Ponte Vedra blowback. "The tour is not doing us any favors with the schedule right now. When they let Wachovia buy a date that just ruined it for the Texas Swing. Then they put Colonial and Memorial back-to-back—two invitational events. That is not good. We're supposed to be all about charity, but this week and next week [the HP Byron Nelson Championship] are the two biggest charity events and … well, they're [getting shortchanged], in my opinion."
Given current economic uncertainties, there's no telling how the 2010 lineup will shake out, but Texas Open officials aren't standing pat. The event moves to the new TPC San Antonio next year. Greg Norman, with an assist from Sergio Garcia, designed the par-72 Oaks Course that plays 7,522 yards and features tight driving corridors and small greens. Oh, and little elevation change. Caddies rejoice!
"There is a great buzz going about the new course. The tour is doing a lot to get the word out and make this a premier course, and as a sponsor that's what you want to see happening, especially with all of the entertaining that we do during the week," said Eric Fisher, Valero's tournament liaison.
"It's an exciting time for us," said Tony Piazzi, president and CEO of Golf San Antonio, the organization that owns the Texas Open. "We've simply outgrown La Cantera. We know that over time the better players will play more often, and we're going to get into their mindset and into their scheduling patterns. We understand that we are the new kids on the block. There was an opening and we took that opportunity. Now it's all about taking our success and looking at other opportunities out there."
"[The new course is] going to be spectacular; guys are going to love it," assured San Antonio resident Cameron Beckman. "The walk is a lot easier, the practice facility is better, and there's a lot more room for fans. My only concern is where it sits on the schedule. Valero deserves a great field."
Just luring Garcia, who has indicated his willingness to attend next year, would be a boon to an event known primarily for little red scores and not much else. In 2003, Tommy Armour III shot 254 to set the 72-hole scoring record, a mark that Mike Souchak held for many years with his 257 at Brackenridge Park GC in the 1955 Texas Open. Invariably, the winner has to shoot low enough to strike oil. Including Johnson's two victories, the champ has had at least one round of 65 or better on his card the last 11 years and in 42 of the last 48 editions.
So a move could be classified, as, ahem, another form of identity theft.
"It all depends on the golf course," Billy Andrade said. "If the golf is great, then it's a great move. If not, then you have to wonder. Was it a great move for the Atlanta Classic to move from Atlanta CC to TPC Sugarloaf? They thought it was a great move, and looking at it now, here we are in San Antonio when last year we were in Atlanta. Obviously, there were a lot of things that went into that, but anytime you make a change, there are questions."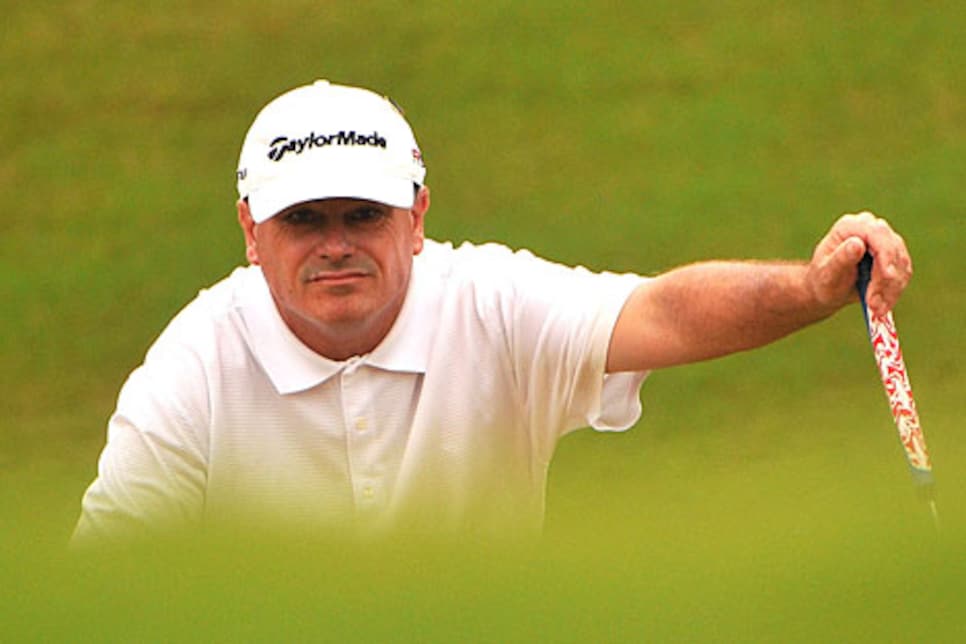 Naturally. Ask Driscoll. The former U.S. Amateur runner-up has been experimenting since he finished second in the 2005 Zurich Classic of New Orleans. A dalliance with stack-and-tilt didn't pay dividends, but he incorporated bits of it into his self-taught swing. Then he enlisted the help of mental coach Lanny Bassham in the off-season. Not much happened in his first six starts of '09, and he had missed the last four cuts until getting his competitive nose under the tent with three solid rounds at La Cantera.
That closing 62, a career low, brought $658,800 to a player who had earned $23,364 to date, and earned him a berth in the Nelson. "That's huge for my job security and confidence to play the rest of the tournaments [this year]," said Driscoll, who recorded just his third career top-10. "But when you get that close to a win and that close to going to Augusta and going to Hawaii for the first tournament of the year, it's a little disappointing, too."
For the record, no one seemed all that disappointed to be evacuating La Cantera, not even Leonard, who one might figure would be leaving claw marks in the greens as they dragged him away from the place. But no. "I'm fine with it. I understand why they're doing it. You want to see them do what's best for the tournament," Leonard said.
If that was Leonard. A guy going by the name of Zach Johnson called the departure from La Cantera "bittersweet." Hmmm.