News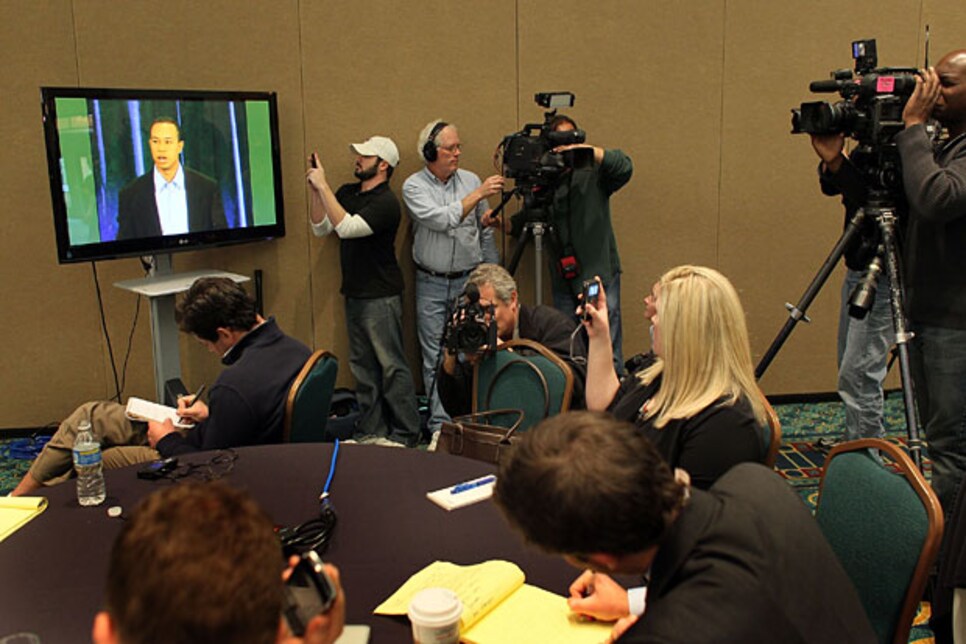 The media spectacle surrounding Tiger Woods' statement was unlike anything golf has ever seen.
Tiger Woods finally emerged from behind the iron curtain, or rather "the velvety blue curtain seemingly purchased off Craigslist from Conan O'Brien," as Jason Gay wrote Saturday in the Wall Street Journal. It was never going to be an easy sell for Woods.
The day the earth stood still, Feb. 19, 2010, did so for 13 minutes, 30 seconds, or about as long as it takes to play a par 4, though we'll leave it to others to decide whether Woods made birdie or bogey with his speech. Virtually everyone had an opinion, it seems, save for the Dalai Lama, who claimed ignorance of the world's second most famous Buddhist.
Only headlines are necessary to diagram the spectrum of opinion on Woods' public confessional, sincere and insincere playing to a draw, as dueling Washington Post headlines demonstrate (one in print, the other on a blog post):
"Tiger Woods's controlled apology leaves little room for sincerity"
"Tiger Woods apology accepted"
Has an event related to golf, however peripherally, ever been witnessed by more people, even on those Augusta Sundays with Woods in contention? Bloomberg reported this on Friday: "New York Stock Exchange volume fell to about 1 million shares, the lowest level of the day at the time, in the minute Woods began a televised speech from Ponte Vedra Beach, Florida, headquarters of the U.S. PGA Tour. Trading shot to about 6 million when the speech ended, the highest for any period except just after exchanges opened, data compiled by Bloomberg show."
Woods spoke about philandering and philanthropy, but not Phil Mickelson. Golf was a footnote in his mea culpa. On three occasions, he invoked a word that was befitting the week in golf: Sorry.
It was sorry on several levels, foremost among them the visible and verbal reminders that the game's transcendent star had betrayed his family and stained his legacy.
The timing of the Woods event, from the Wednesday announcement through Friday's post-speech analysis, evoked criticism for detracting from the WGC-Accenture Match Play Championship outside Tucson, Ariz. Worse, there were those who wondered whether it was a vendetta, payback for Accenture having severed its endorsement relationship with Woods.
PGA Tour Commissioner Tim Finchem was collaterally criticized for having agreed to host the event at PGA Tour headquarters.
There was the kerfuffle with the Golf Writers Association of America. It voted to boycott the event when Woods' camp would permit no more than six members to attend and forbade them to ask questions.
Finally, there was the fact that a tournament carrying the imprimatur of World Golf Championship went ahead without its two most prominent champions -- Woods, who was getting his life in order; and Mickelson, who was keeping his in order with a family vacation.
The Match Play delivered a respectable winner, at least, the dapper Ian Poulter, who on Sunday was fashionably attired in pink. A few days earlier, Poulter posted this Olympics observation on Twitter: "do you think the figure skaters are wearing my outfits.... ha ha ha look at them bobby dazzlers."
A bobby dazzler, according to urbandictionary.com is "a quaint colloquial term from northern England pertaining to someone very special indeed, either through good looks or by simply wearing something fancy."
Golf, unattractive and cloaked in controversy last week, was no bobby dazzler.
Some of the most pointed criticism of the timing of the Woods event came from players, who were left uninformed of the reason why Friday was D-Day for Woods. Finchem on Sunday accepted blame.
"In hindsight, we should have pushed the thing along in a way to get the players briefed before they went into their Wednesday matches, so they're not coming out of a match and getting hit with all these Tiger questions," Finchem said. "We just screwed up on that."
The Woods camp had attempted to quell criticism by noting that Friday morning was the only available time for Tiger to make his statement. Indeed, he announced he was returning to a rehabilitation facility the following day.
Still, it overwhelmed the sport for three days, leaving scant room in the news for an important tournament. It also left unanswered whether the sponsor and its event were slighted, whatever the merits of Woods' timing.
We posed the question to a couple of those with some expertise in the area -- Bob Williams, CEO of Burns Entertainment and Sports Marketing; and Kym Hougham, executive director of the Quail Hollow Championship (and before that the John Deere Classic).
"I think it's helped Accenture," Williams said. "The reasoning that the Tiger Woods camp offered is legitimate in terms of his going back into therapy. It wasn't some thoughtless act that some in the sports arena accused him of, nor was it a direct pot shot at Accenture for dropping him as an endorser.
"The therapy continues and it continues on Monday. I think people in that arena would tell you it's the person's responsibility to be there, and it doesn't matter whether he's a celebrity. He needs to be there. I think that it's a net benefit for Accenture, just from the mentions it gets, on front pages, on national cable business channel outlets.
"The Tiger effect netted them additional exposure, and most exposure is good exposure."
Hougham seconded the notion. "I think it probably helped Accenture. I saw it mentioned on CNN, and I'm sure it wasn't just CNN.
"Things happen all the time. When our tournament was going on, Tiger's father died, Daly's book came out one year. It would be nice if we all had everybody's attention all the time, but we don't."
An opposing view came from Chubby Chandler, managing director of International Sports Management, as quoted in the Guardian: "The timing of it was outrageous. This morning (Friday) people were still asking other players about Tiger Woods at a time when they are trying to win a golf tournament. I didn't see or hear anything that suggested to me that this couldn't have been done on Monday."
THE 14TH AT PEBBLE: AN ADDENDUM
The Monterey Herald reminded us that the trio of 9s made at the 14th hole in the final round of the AT&T Pebble Beach National Pro-Am were neither the first 9s nor even the most memorable. In 1967, Arnold Palmer was trailing Jack Nicklaus by a stroke when his 3-wood second hit a tree and went OB. He reloaded and hit another off the tree and OB. That night, a storm knocked the tree down. The lesson: Don't mess with the King.
THE LPGA LIMPS OFF THE STARTING LINE
It's never easy for the LPGA, is it? Its season finally began last week -- in Thailand, out of sight, out of mind for American golf fans. Then one of its marquee Americans, Paula Creamer, withdrew after she re-injured her left thumb. She returned to the States to see a specialist.
The tournament, the Honda PTT LPGA Thailand, delivered a thrilling finish, albeit in a vacuum. Japan's Ai Miyazato closed with a nine-under par 63 to beat Suzann Pettersen by one.
A career journeyman with a single victory in a PGA Tour career that began in 1990 (the Senior PGA Championship), Michael Allen went into the Allianz Championship as a 7-to-1 betting favorite. Three questions:
Who even knew you could bet on Champions Tour events?
Why would anyone bet on a Champions Tour event?
Would Allen himself be more surprised than anyone to find himself favored to win a tournament?
Allen finished 15th. Bernhard Langer, who was just behind Allen at 8 to 1, won by holing a bunker shot for eagle on the first playoff hole.
John Daly is, if nothing else, well, John Daly, which means erratic. He began play at the Mayakoba Golf Classic on Sunday a stroke removed from the top 10. He finished it tied for 67th and 14 strokes removed from his first top 10 on the PGA Tour since losing a playoff to Tiger Woods in the WGC-American Express Championship in October of 2005.
Daly had three double bogeys and two bogeys on a back nine of 43 and shot 81. He blamed windy conditions that he said gave everyone fits, though he was the only player in the field who failed to break 80. Skip Kendall, meanwhile, shot 64.
It seems unlikely that Colin Montgomerie will need to expend captain's picks on Ian Poulter and Paul Casey, as Nick Faldo did in 2008. Poulter and Casey are ranked fifth and sixth in the world.
Doug Barron returned to competitive golf last week, though at a safe remove from the tours on which he's not permitted to play for a year. The first player suspended by the PGA Tour for violating its drug policy, Barron was playing for the first time since he was suspended last November and missed the cut in the eGolf Professional Tour's season opener, the Palmetto Hall Championship. Barron, who has sued the PGA Tour, shot 75-79... David Duval returned the confidence boost the AT&T gave him. Five days after tying for second at Pebble Beach, Duval shot 79 and missed the cut at the Mayakoba....Chris Smith missed the cut at the Mayakoba in his first PGA Tour event since his wife was killed in an automobile accident last June...Daly, he is happier to report than we are, is now an underwear model. He signed an endorsement contract with Slix, which he was touting all weekend via Twitter, including this gem: "watchin the Tiger interview I'm thinkin he needs some of my new sponsor."
Jay Williamson: "Rooting hard for Erik Compton and Chris Smith this week-true heroes of the game-hopefully, fans see through farce of Friday's party in FLA"
Peter Jacobsen: "Chris Russo, radio host said there would be no PGA Tour w/out Tiger Woods. Say that to Jack, Arnold, G Player, Watson, Couples ... "
"The sound of curling, for millions of Canadians, is therefore the sound of drowsiness, much in the way that golf was for decades until Tiger Woods came along to keep everyone awake." Andrew Cohen, on vanityfair.com, lamenting a talkative, critical Olympic curling analyst for disrupting his nap.
PGA Tour: Waste Management Phoenix Open at the TPC Scottsdale. Defending champion Kenny Perry. LPGA: HSBC Women's Champions at Tanah Merah Country Club, Singapore. Defending champion Jiyai Shin.
A new sponsor steps in as host of PGA Tour's Phoenix event this week. The Waste Management Phoenix Open also won't be played on Super Bowl Sunday for the first time since 2002, which could in fact add to its remarkable attendance figures, by bringing more fans out on Sunday.
Former Masters champion Trevor Immelman will make his first start of the 2010 season and first since August of '09. In October, Immelman had surgery on his left wrist.
Phil Mickelson returns from a week off to an event he has won twice.
"A golf course exists primarily for match play, which is a sport, as distinguished from stroke play, which more resembles rifle shooting than a sport in that it lacks the joy of personal contact with an opponent," Freddie Tait said.
Tait was a prominent Scottish amateur at the turn of the century -- the 20th century. He never had the perspective of watching match play from a couch.
The drama tends to fade, rather than build, which makes for poor television. For the eighth straight year, in fact, the final of the Accenture Match Play Championship failed to reach the 18th hole. And that wasn't necessarily the worst part.
Here was the script for the week: Woods and Mickelson, out before it began. Stricker and Harrington gone in the first round. Westwood, McIlroy, Kaymer, second-round victims. The only player from the top 10 in the World Ranking still around on the weekend was Paul Casey, who lost in the 36-hole final, 4 and 2 (Poulter was ranked 11th heading into the tournament).
It's a familiar problem. Match play identifies the better player on a given day, but not the best player over the course of a week.