News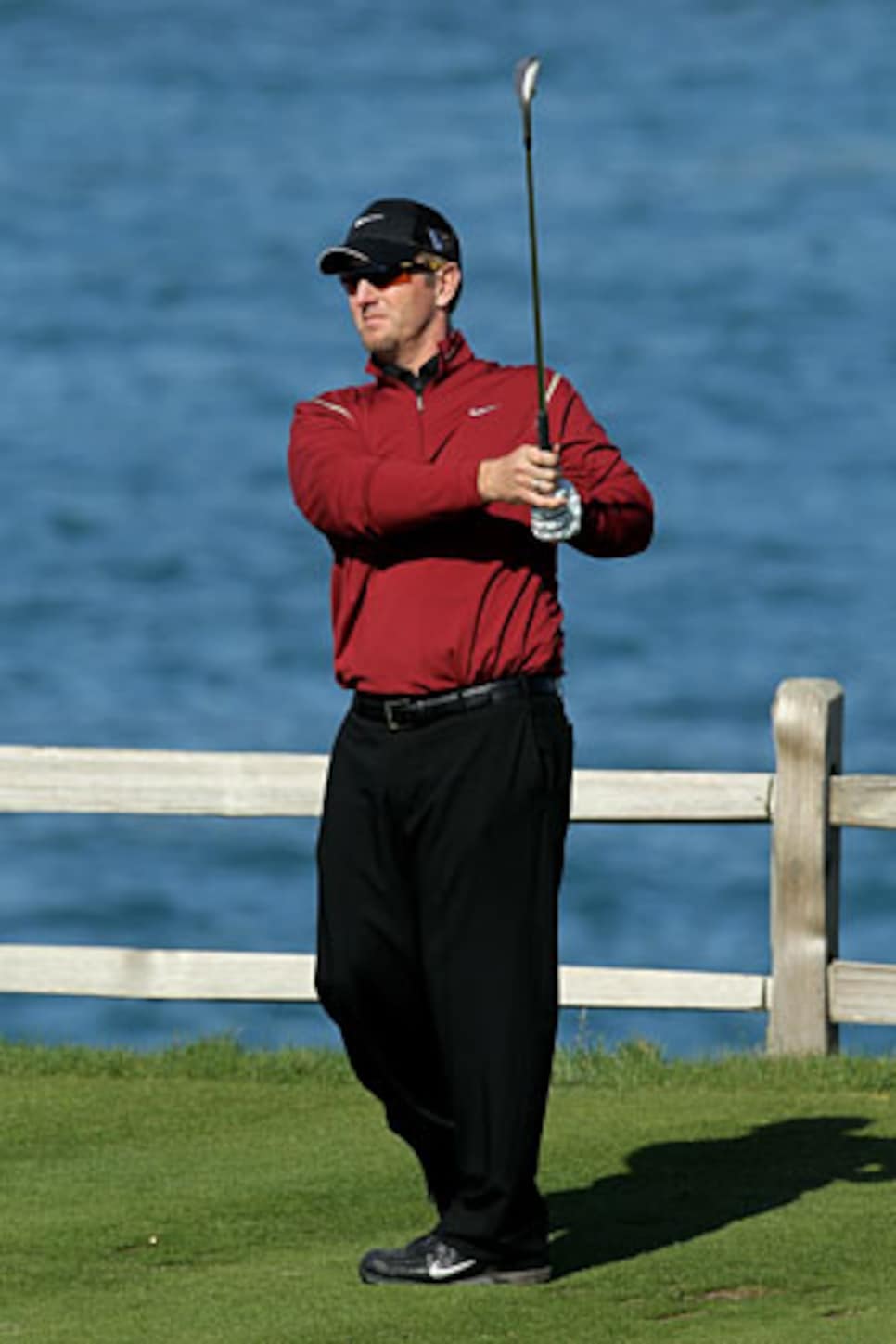 David Duval posted four rounds in the 60s at a 72-hole event for the first time since 2001.
Ugly invaded the prettiest place in golf on Sunday afternoon, turning an oil painting into an oil slick. The most felicitous meeting of land and sea (Robert Louis Stevenson's description) is a blight on the landscape when viewed from the back end of a quadruple-bogey 9.
Three of them were made on, the par-5 14th, the hole of shame at Pebble Beach Golf Links, in the final round of the AT&T Pebble Beach National Pro-Am on Sunday, one of them by Bryce Molder, with leader Paul Goydos doing more than watching from the fairway. A CBS camera and microphone caught Goydos and Dustin Johnson discussing the potential for calamity there, even as it played out in front of them.
"I've never known two players almost tied for the lead, discussing their strategy in the middle of a fairway," CBS analyst Nick Faldo said. "Don't know if that's quite the dumb thing. Call me old-fashioned but they wouldn't hear me chatting away in the middle of the 14th."
Goydos' third shot to the green was short, putting him in an identical predicament that Molder faced moments earlier. When Goydos compounded his mistake by attempting a heroic recovery, Faldo replied, "that's not a percentage shot on the 14th on a Sunday."
Goydos then faced a problematic chip from behind the green, one that Faldo said would require "a career shot to get it within 10 feet." That would have been a low bar to hurdle, Goydos might have said himself given his penchant for self-deprecating humor. Still he was unable to clear it. He eventually tapped in for a nine and handed the trophy to Johnson.
Faldo's analysis, meanwhile, was appreciably better than Goydos' execution.
"A lot of psychologists say, start talking about making a mess of it, what are you visualizing? Making a mess," Faldo said. "You're talking about it. A perfect example. Stay out there on your own, put your blinkers on, plot your way up the hole and do your own thing. You scared yourself before you got there, discussing it with your fellow pro, that there's no shot."
CBS, for those keeping score at home, played the 14th hole expertly.
How hard will that hole play in the U.S. Open in June, when the green is hard and fast and the USGA has to find four pin locations on a postage stamp?
It's rare that a par 5 is the toughest hole on the course, as the 14th was Sunday at Pebble Beach. The scoring average was 5.507. There were only eight birdies there, a number that was exceeded by what the PGA Tour dubs others (double-bogeys or higher). There were nine of those, including the three quadrupble-bogeys.
OK, so the weather cooperated (for a change) at Pebble Beach. The courses nonetheless were so waterlogged that the first three rounds were played under the preferred lies rule (lift, clean and place).
It was the third time in four weeks that preferred lies were in effect, raising what seems to be a perennial issue: Would the tour be better served by opening in Florida, moving to Arizona and finally hitting California in March?
Good question, as journeyman Jay Williamson noted on Twitter: "Definition of insanity? Playing West Coast Swing in January & February! Only 2 bad months of weather for the entire year."
Last week, Steve Stricker was lamenting Pebble Beach's typical winter weather while explaining why he was opting to skip the event and return home to warmer climes in...Wisconsin?
"I just don't care to go up there and fight with that weather too much," Stricker said. "It's sad. They've got a great venue for the tournament, and if it was in the fall, I think it would be a better date. But I'm not going."
Adam Scott also piled on a week earlier at the Northern Trust Open. "I think it will be great if we were here at a different time of year, if it could possibly happen," he said. "I think that would be a great move. It would be great to play courses like Riviera and Pebble Beach and Spyglass and Monterey in conditions that are tournament-suitable for the level of tournament we are playing, because a lot of the great design work of these courses is taken out when it's so wet and the ball just plugs where it lands."
Weather in Florida this year might not have been an improvement, but that would have been an anomaly. Still, the question is moot. One of the driest states in the union apparently is destined to continue to host PGA Tour events in its only wet months.
What is it, another aberration or another indication that David Duval is methodically (or slowly) recovering his equilibrium? Is his T2 at Pebble Beach a clone of his T2 at the U.S. Open last summer that suggested better days that failed to come, or an accurate measure of where his game stands in his bid to revisit the glory days?
Four rounds in the 60s. The last time he accomplished that in a 72-hole event was the Buick Challenge in 2001 when he was ranked No. 1 in the world. The last time he had a top 10 in a regular PGA Tour event was the Invensys Classic at Las Vegas in 2002.
Duval missed the cut 15 times in '09 and once in three trips in '10 (finishing T76 in the other tournament in which he made the cut). After falling to 882nd in the World Ranking, he has climbed back to 199th on the strength of only two tournaments.
It wasn't Johnson, or even the weather, though the latter warranted consideration. Short-sleeves at the Crosby? Heresy.
The Shore Course at Monterey Peninsula Country Club received the highest accolades, for reasons other than bumping Poppy Hills from the AT&T rotation.
"The wet west coast almost over, sun coming rest of week. Monterey is a great course, better then PB," Stuart Appleby posted on Twitter.
Better than Pebble Beach? He may not have been alone in his assessment. Phil Mickelson immediately ranked it among his favorites on the PGA Tour.
Mike Strantz, the architect principally responsible for re-designing the course, died in 2004, a year after it re-opened. His widow, Heidi, told Monterey Herald correspondent Jerry Stewart this: "It's sad that Mike can't be here. He loved working on that course. He was so very, very sick. He was physically a shell, but he was so excited and happy. Mike's dream was to bring out the natural beauty and majesty of the timeless Shore Course. And to now see and read how the players are reacting ... I'm so proud that they love it. Mike built it to create a visual artistry that you could also play a game on."
WHAT TO DO WHEN YOUR GAME GOES SOUTH?
You fire your caddie, naturally. Appleby has missed the cut in three of four tournaments this year, after finishing 137th on the money list last year. After 13 years together, Appleby is replacing caddie Joe Damiano with Australian Scott Sajtinac after the Mayakoba Golf Classic this week, according to Andrew Both of the Australian Associated Press.
Or just lucky? Either way, Mike Whan, new commissioner of the LPGA, is on a roll, begging the question: Does anyone miss Carolyn Bivens?
It was another solid week for the LPGA. Two weeks after the LPGA announced the Sybase Match Play Championship in May, Kia Motors America stepped up as title sponsor of the new LPGA event in Carlsbad, Calif., March 25-28, the first domestic tournament on the LPGA schedule. The LPGA also apparently has added the Sime Darby LPGA Malaysia to its schedule, to be played Oct. 22-24. We say apparently, because the LPGA has yet to announce it officially, unless a Twitter post from Paula Creamer, or a story out of Malaysia, qualifies.
Whan also pulled off something of a coup: he hired a PGA Tour senior vice president to become the LPGA's Chief Marketing Officer. Jon Podany and Whan have known one another for more than 25 years. They went to Miami of Ohio together, worked together at Procter & Gamble, even lived together for awhile in Cincinnati.
THE SILLY SEASON FOR COUPLES
Fred Couples made a lucrative living on the Skins Game and various other events that in the context of his career in its entirely meant nothing. So perhaps he's found a home on the Champions Tour.
He won his second Champions Tour start, the ACE Group Classic, on Sunday, following a second-place finish in his tour debut.
Paul Azinger, meanwhile, began his Champions Tour career in a manner that portends nothing; he tied for 22nd. Tommy Armour III also made his senior debut and finished second.
David Feherty revealed on the Golf Channel that he'll be sworn in as a citizen of the United States on Feb. 23...Florida wunderkind Alexis Thompson, 15, apparently is considering turning pro, though she might want to consult with veteran Michelle Wie observers before doing so. A game more mature than the person in possession of it is a prescription for impeding progress, as Wie demonstrated...Rookie Alex Prugh was closing in on a fourth straight top-10 finish when the par-5 14th at Pebble Beach knocked him off stride. He made nine there, joining Molder and Goydos in 14th-hole infamy, and eventually tied for 27th...Another missed cut for John Daly, who did not retire this time...Sam Saunders, Arnold Palmer's grandson, made his first PGA Tour cut (though he did not qualify to play on Sunday) and paycheck, tying for 70th and earning $11,842...Fred Funk played his first tournament since undergoing right knee-replacement surgery in November and tied for 21st in the ACE Group Classic.
An assistant captain on the U.S. Ryder Cup team, Goydos was thought to have had no chance to make the team as a player. Probably still doesn't. But on the basis of consecutive top-10 finishes (T5s in the Northern Trust Open and the AT&T), he's now 23rd on the U.S. points list.
Duval, meanwhile, has had two top 10s in seven-plus years, one in the '09 U.S. Open, and has moved to seventh in Ryder Cup points.
PGA Tour: WGC-Accenture Match Play Championship, at Ritz-Carlton Golf Club, Dove Mountain, Marana, Ariz. Defending champion Geoff Ogilvy. Mayakoba Golf Classic at Riviera Maya-Cancun, at El Camaleon, Riviera Maya, Mexico. Defending champion Mark Wilson. LPGA: Honda PTT LPGA Thailand Siam Country Club, Pattaya Old Course Chonburi, Thailand. Defending champion Lorena Ochoa.
U.S. Ryder Cup captain Corey Pavin: "Funny you mention Tom Watson...so did one of my other followers. And yes, I will be looking at EVERYONE! Thank you!"
Comment: Tom Watson? Interesting.
USGA officials and Ping executives met last week to work on a settlement on the issue of the Ping Eye2 irons. Each used the word "productive" to describe the meeting, though no solution was forthcoming.
Might we infer from the fact the parties met in Dallas that Ping has not agreed to meet the USGA halfway on the issue? Dallas is closer to Phoenix (home to Ping) than it is to Far Hills, N.J. (USGA headquarters). Another question emerged from this meeting and this debacle: Shouldn't this dialogue have started months ago and a resolution been arrived at before it got to this point?