News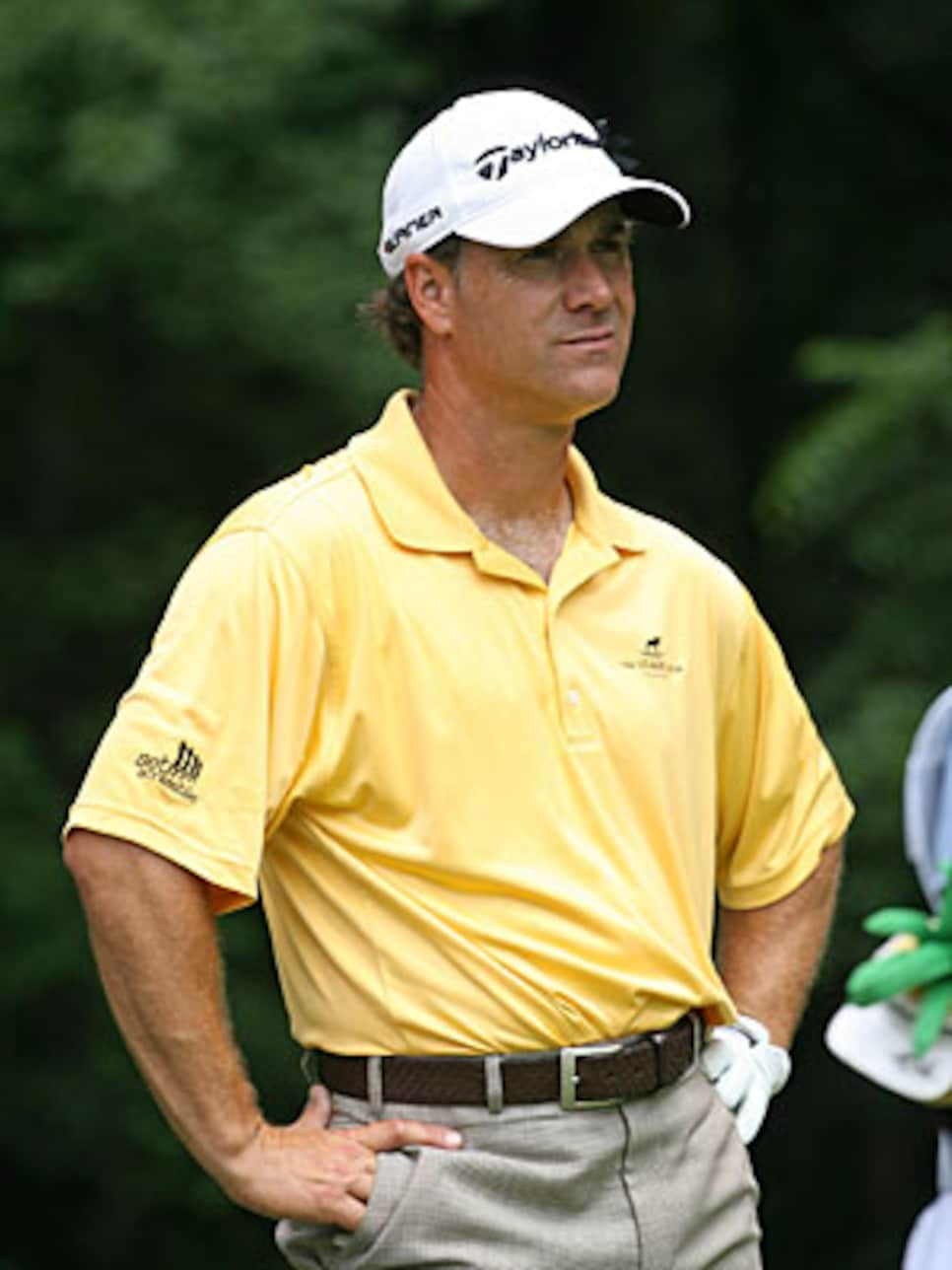 Scott McCarron's pointed remarks about Phil Mickelson added intensity to the grooves debate.
SAN DIEGO -- Controversies occasionally poke around the fringes, but they don't often find an opening in this buttoned-down game of honor (on the course, at any rate). Last week, at the Farmers Insurance Open here, proved an exception. An ugly one wedged its way to the fore.
The game was betrayed by a club that in some cases is older than Rickie Fowler, who turned 21 last month.
The controversy had its roots at the Sony Open in Hawaii, where John Daly and Dean Wilson each used old Ping Eye 2 wedges with square grooves, in defiance of a new USGA rule prohibiting the use of square grooves. The old Ping wedge has been grandfathered in by virtue of a 1990 settlement of a lawsuit Ping had filed against the USGA, and Daly and Wilson had taken advantage of this loophole.
The confluence of three guilty parties (four, for those who consider the USGA culpable for changing the rule in the first place) moved this controversy that was entirely avoidable from a footnote to headlines, here and abroad:
Phil Mickelson, who put a Ping Eye 2 wedge in play at Torrey Pines in what looked suspiciously like a way to protest a rule he deemed terrible. The wedge, he said, offered little by way of advantage over his Callaway wedge, begging the question, then: What was his motive, if not to tweak the USGA?
Scott McCarron, who accused Mickelson of cheating by using a wedge he said violated the spirit of the new rule. His criticism arguably was valid, but by carelessly bringing a charge of cheating, when in fact the club is a conforming one, he managed to introduce the issue to the mainstream.
The PGA Tour, which has repeatedly misplayed its hand, starting with its apparent failure to clarify the issue with its constituency before the season began, by explaining that the wedges are conforming and their use permissible. It erred again by not forcefully making the same point in the aftermath of the Sony Open, when the wedges were put into play. It also seems plausible that it had not considered the possibility that players might bring these wedges out of retirement.
Now the tour has one player accusing another of cheating, and the accused claiming he was publicly slandered and threatening to take legal action.
Any one of the three entities could have prevented this from getting this far.
The only winner is Ping, its iconic Ping Eye2 irons still relevant two decades later.
The final group at the Farmers Insurance Open took five hours, 26 minutes to play on Sunday, and the blame can't be dumped on winner Ben Crane, notwithstanding his own languid pace. The final threesome had to wait in the 18th fairway for the green to clear.
Five hours, 26 minutes? One Farmers Insurance executive said it was a virtual certainty that the company would extend its sponsorship agreement. Here's hoping the company doesn't reconsider in the aftermath of a round that seemed longer than the term of some of the life insurance policies it issues.
The Bob Hope Classic received an overseas thrashing last week in the wake of McCarron's pointed criticism of PGA Tour members who take appearance money to play overseas at the expense of struggling tournaments at home in a troubled economy.
One writer called the Hope "a rubbish pro-am event held in Palm Springs that's well past its sell-by date." Another referred to the tournament as awful.
The format no doubt is not a particularly appealing one to the professionals, but it never has been. In the inaugural event in 1960 (then known as the Palm Springs Golf Classic), Bob Rosburg threatened to throw two of his amateur partners into a lake, according to Larry Bohannan, author of the new book, "50 Years of Hope."
A point worth considering is that each amateur (excluding celebrities, though some do pony up the money in the interest of supporting the tournament's charities) pays at least $12,000 to play in the Hope. The amateurs number 384, allowing the tournament to raise an extraordinary sum of money, much of it earmarked for the renowned (and not-for-profit) Eisenhower Medical Center in Rancho Mirage, Calif.
So it's five rounds, on four courses, with three amateur partners, none of it especially palatable, but the cause is worthy, and to boot where else can you finish tied for 26th and feel good about the state of your game for having shot 19-under par in your season opener?
The easy money available to a Champions Tour-eligible player still in possession of enough skills to compete on the PGA Tour is a temptation to which a couple of productive journeymen have not given in, at least full time. Isn't that the objective for professional athletes, to compete at the highest level of their respective sports?
Michael Allen, 51 on Sunday, and Tom Pernice Jr., 50, intend to prolong their PGA Tour careers and not necessarily at the expense of their bottom lines. Allen, who finished third last week at the Champions Tour's Mitsubishi Electric Championship at Hualalai, tied for fifth in the Farmers Insurance Open, earning $186,163, or more than $50,000 more than he earned for a higher finish on the senior circuit the week before.
"I'm still desperate," Allen said, explaining his desire to remain on the PGA Tour. "I'm still trying to make a living. I've still got two kids who need to go through college. I love playing out here. I'm not like a lot of those guys who have had some great careers leading up to it and won quite a bit. I still want to win out here. That's my number one goal."
Allen, who has never won a PGA Tour event, anticipates playing another 19 tournaments in addition to a handful of Champions Tour events.
Pernice, who went to the PGA Tour Qualifying Tournament last year in a bid to retain his exempt status (he missed by a stroke), opened with a 66 at Torrey Pines, before faltering and settling for a tie for 48th.
"I felt I played good over the last eight to 10 years," he said. "I didn't feel like it was time for me to put 'em up over here. I felt like I've still got some more in me and still want to give it some go out here as long as I can."
Pernice, incidentally, won his Champions Tour debut last year, yet the tour remains his fallback position.
THE FUTURE ALSO DISTINGUISHES ITSELF
Entering play on Sunday, it was a leader board that to the uninitiated might have resembled a sleep aid. But there was a trio of young players, two from Australia, that on the strength of their talent and performance at Torrey Pines are demanding that we pay attention to them.
The Australians, Marc Leishman, 26, and Micheal Sim, 25, tied for second, a stroke behind the winner Ben Crane. Leishman was the PGA Tour's rookie of the year last year, Sim the Nationwide Tour player of the year.
Also threatening to win was Fowler, who was undone by a double-bogey at the 17th hole, but still tied for fifth.
BETTER THAN AN APPEARANCE FEE
Anthony Kim, who created a fuss by taking an appearance fee to play in the Abu Dhabi Golf Championship and skipping out on the Bob Hope Classic, won't be paid in advance of his 2010 PGA Tour debut at the Northern Trust Open this week. Appearance fees are forbidden on the PGA Tour. In their stead are perks.
NBA legend Jerry West, new executive director of the tournament, offered his Lakers tickets to Kim, Jill Painter, the golf writer for the Los Angeles Daily News, has reported. Kim is an avid fan of the Lakers, who have two home games this week -- Charlotte on Wednesday and Denver on Friday.
IT'S MORE SOAP OPERA THAN REALITY SHOW
John Daly, star of the new Golf Channel reality show, "Being John Daly," once again made more news off the course than on it. After missing the cut, he said he was done with golf. "It's not worth it," he said. "I'm tired of embarrassing myself in front of them (fans). I just can't do it any more. Can't do it any more."
Until next week, when he tees it up in the AT&T Pebble Beach National Pro-Am. He ended his retirement hours after it began.
"I'm going to honor the commitments to the tournaments that have given me sponsors exemptions & will continue to try to get them this year," Daly wrote on Twitter.
"Yes, not going to miss St. Andrews," he wrote in another post, regarding the British Open returning to the Old Course on which he won in 1995.
Welcome back, John. We missed you.
YOU MIGHT HAVE MISSED THIS
Women are in fact playing golf this time of year, some of them anyway, on the Cactus Tour, a pro tour for women in the greater Phoenix area. Paige Mackenzie, an exempt player on the LPGA, teamed with her brother Brock to finish second in the Guys & Dolls, the season opener. LPGA members Stephanie Louden and Louise Friberg are entered in a Cactus Tour event this week.
The LPGA, meanwhile, is still more than two weeks from playing its season opener, the Honda PTT LPGA Thailand. The LPGA does not play an event in the U.S. until the LPGA Classic Presented by J Golf in late March.
From Daly, regarding his biographical information on pgatour.com: "can the pgatour twitter site please send message to chg my weight to 187 from 220? PLEASE!"
Comment: Prior to his dramatic weight loss, Daly's biography in the PGA Tour Guide also listed his weight as 220, when in fact it was in the neighborhood of 300. Was he clamoring for accuracy then?
"It's cheating, and I'm appalled Phil has put it in play." Scott McCarron on the Ping Eye 2 wedge that Phil Mickelson used at the Farmers Insurance Open.
Northern Trust Open at Riviera Country Club in Pacific Palisades, Calif. Defending champion Phil Mickelson. Omega Dubai Desert Classic at Emirates GC, Dubai, United Arab Emirates.
Padraig Harrington is playing the Northern Trust Open, his first start of the season and a sneak preview as to whether the swing changes that had begun to pay dividends late last year will carry over to a new season. Also entered is Japan's Ryo Ishikawa.
Tom Watson, 60, coming off a Champions Tour victory over Fred Couples in the Mitsubishi Electric Championship at Hualalai, is dropping down an age group and playing in the Omega Dubai Desert Classic.
Honesty is an endangered species in sports, not that athletes are necessarily lying. Most simply aren't interested in sharing thoughts that some might find disagreeable. Boring trumps provocative in sports.
McCarron is among the exceptions, a notable one this week. Though he should have avoided introducing cheating into the wedge controversy, say this for him: you'll never come away wondering what he's really thinking.
Two players of note, Anthony Kim and Kenny Perry, each has played a tournament in the Middle East in the last two weeks, forgoing playing PGA Tour events with anemic fields. One cited a protracted desire to visit that part of the world, the other claiming a mid-life wish to see more of the world.
Maybe so. But Ian Poulter, via Twitter, offered an illustration of what is involved by way of travel to see the Middle East: "On Qatar airways on my way home, 15hr flight to JFK then flying to Orlando." One day going, one day coming, to spend one week in a foreign desert, most of it spent at the golf course.
Wouldn't it be refreshing for an American accepting an appearance fee to play, say, in the Middle East, in a tournament opposite a PGA Tour event, simply to acknowledge the real reason he was doing so, for the money?