News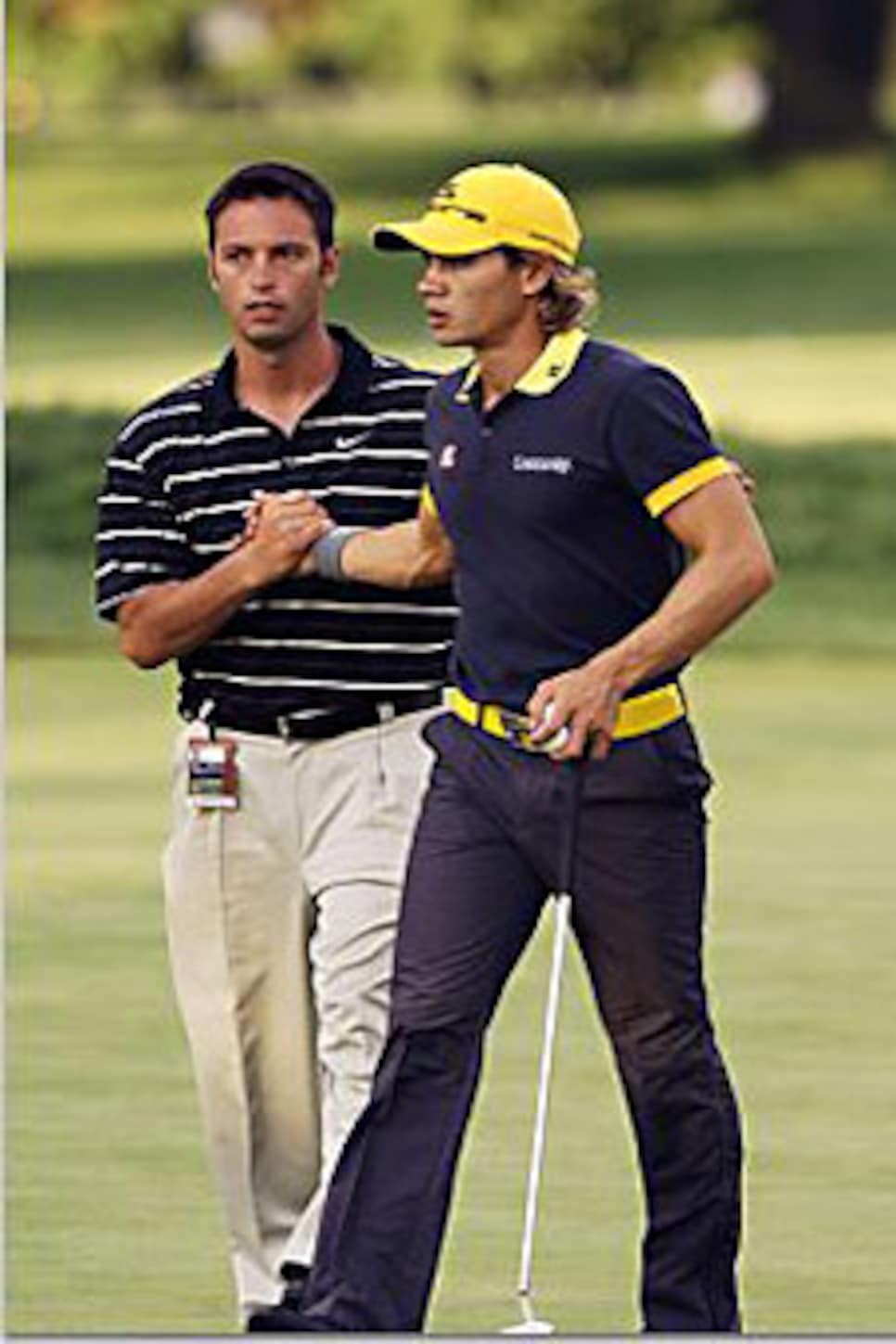 Gio Valiente's message to clients like Camilo Villegas is to make "fearless swings at precise targets."
If you're a pro golfer, what is the worst thing you can do on the course? Miss your tee time? Stub a chip? Fall into a creek? Play the wrong ball?
None of those are even close. The worst thing you can do may actually be this: Think.
Absolutely do not think, at least about results, says Joe Parent, a sports psychologist who specializes in golf, a growing trend if there ever was one.
"I had one player tell me he's standing over a four-foot putt and he's thinking, 'If I miss this, then I'll miss the cut, then I won't make enough money, then I'll lose my card, then I'll have a bad year, then I'll have a bad career, then I'm a bad father and I'm a bad husband," Parent said. "Whoa! That's a lot of baggage."
Parent, author of Zen Golf and Golf: The Art of the Mental Game, belongs to a small, but influential group of, well, call them brain coaches. Their collective presence on the PGA Tour is not only growing in number, but also in importance. With the rigors of the U.S. Open right around the corner, it's possible that these golf shrinks have their work cut out for them.
So what is the message that the top golf shrinks are sending out right now? It varies from one to the next, but if there's a common thread, it's getting players to stay out of their own way. Because if every player has baggage, the job of the golf shrink is to make sure it's checked baggage, not carry-on.
It's one thing for a player to be able to hit the ball straight. It's quite another for them to keep their heads on straight. At Bay Hill, Padraig Harrington spent two full hours one afternoon on the driving range consulting with his sports psychologist Bob Rotella. Do you know what Rotella was telling him? Stop thinking so much. Harrington, like many others, is famous for always looking for ways to tinker with his game. By the time Harrington got to the Players Championship, he was convinced Rotella was right.
"I am trying to go more for the 'feel,' '' Harrington said.
But in addition to avoiding overanalyzing, there are other keys to playing the mental game and winning, Rotella said.
"Stay in the moment," Rotella said. "Be patient. Put the ball on the fairway and then put the ball on the green. It's easy to try too hard, to do too much, to overreact. "
Rotella, whose latest book is called The 15th Club, also works with Henrik Stenson and Sean O'Hair. He said he's not advising any of his players to concentrate on Bethpage Black right now, because if they do, then they're not exactly staying in the moment.
He said his message right now is uncomplicated.
"Under-react to everything that happens. The tendency is for guys to try to get too perfect, but you've got to resist the urge.
"It's attitude. The competition out here is so good, it's a matter of getting in the right state of mind. Every day. You do that, you've got a chance."
Gio Valiente, author of Fearless Golf, (co-written with Golf Digest Senior Editor Mike Stachura) works with Camilo Villegas and Stuart Appleby, among others. Two weeks ago, he reached out to help the University of Florida golf team prepare for the NCAA tournament.
"I gave them one piece of advice," Valiente said. "Don't think about winning. Think about your targets.
"Make fearless swings at precise targets. The best qualities a player can have are composure; fearlessness, because you can get bullied by this game; and passion, because every day they carry around at least low-level anxiety. I mean, they get up at sunrise, play in the rain, leave their families."
Players usually lose the passion between 32 and 36, said Valiente, who also counts among his clients Heath Slocum, Matt Kuchar, Bryce Molder, Notah Begay III and Tommy Armour III.
"If you lose this passion, you won't get the job done," he said.
What Richard Coop is stressing right now to his client list that includes Larry Mize, Justin Leonard, Charles Howell III, Bo Van Pelt, Bob Estes and Billy Andrade, is all about concentration.
Coop said there are two types, discipline and feel. The discipline concept is "like a pilot going through his checklist," Coop said, such as a player in his pre-shot routine, picking a target, selecting a club, all left brain functions, he said.
"It's linear, 1-2-3-4-5. The feel is different. It's almost like a hippie -- letting it go, processing information in a holistic way. When players process information that way, they don't think they're thinking. Now, some players are good at the first kind of concentration and not good with the other. Payne Stewart, once he got the club in his hands, he got really good at switching to No. 2."
Part of Parent's approach is similar. He stresses breathing exercises and also practicing awareness.
"Get them out of their head and into their body," Parent said. "It's from the Buddhist tradition of mindful awareness."
Parent, who works with Tim Petrovic and Cristie Kerr, said it's often a tall order for players to reach their mental peak. And for brain coaches who work with pro golfers, what they're saying is especially essential now, he said.
"The message is more important now because the stakes are higher," Parent said. "The purses and the endorsements and the money is so big in golf, so the concern about results and how things are going to turn out -- the implications of it all -- is just as huge."
Parent's catch phrase: "Take care of the process and the results will take care of themselves."
In other words, don't worry about the consequences. "That'll free up the swing," he said. "The most important thing to a golf swing is commitment. I want my players to be more interested in the feel of the ball coming off the club face than where it'll end up."
In San Antonio the week of the Texas Open, Scott McCarron worked with Glen Albaugh, his longtime sports psychologist. Albaugh, author of Winning the Battle Within, also works with Charlie Wi and Kirk Triplett, and he emphasized some simple points in his session with McCarron. "Swing automatically and swing without thinking," Albaugh said. "Be on target, trust what you see and feel. That's it. You can't control results, so stay present-centered."
Soon, at Bethpage Black, the results will come in, whether these brain coaches have had any success. For all the players who have relied on developing the mental side of their game, the U.S. Open is a good chance to take what they've learned out for a test drive.
Coop said what he and his peers are saying is vital to a player's success, whether it's at the U.S. Open or any other tournament.
"There are more good players than ever, so the players are getting closer together," he said. "Most guys have strength and conditioning coaches, but as they do get closer together, the mind is even more critical. That's how you separate those at the very top."
There you have it. And now, as these brain coaches would say, don't think about it.