News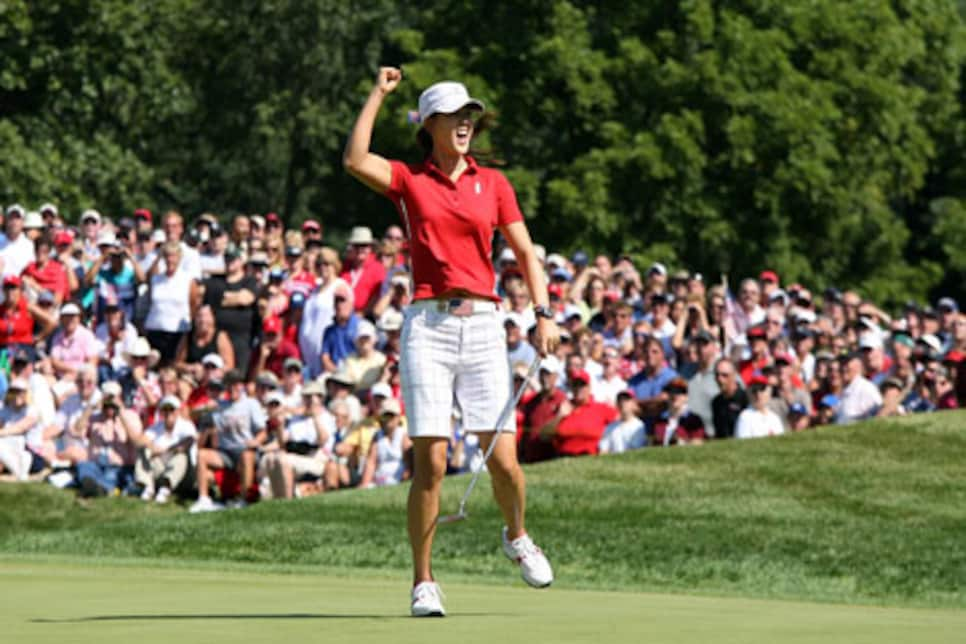 At the Solheim Cup, Michelle Wie looked like she was finally having fun on the golf course.
The fact that a 19-year-old has been on the pro golf radar for seven years is mind-boggling enough. But the notion that Michelle Wie, who has lived most of that stretch defiantly apart from the LPGA while pursing competition against men, might have had her breakthrough performance in a team event that celebrates women's golf drips with irony.
Wie was magnificent in the Solheim Cup, winning 3½ of a possible four points to lead the U.S. to a 16-12 victory over Europe at Rich Harvest Farms, 50 miles west of Chicago. She made a bushel of big putts, eagled the par-5 second hole of her singles match against Helen Alfredsson after the Swede had hit her second shot to three feet, and bombed a drive 312 yards on No. 15, making a two-putt birdie there to take control of the match.
"I think that my second shot [on No. 2] was the best shot I've ever hit," Wie said about her 5-iron from 197 yards to 2½ feet after Alfredsson had stiffed her second shot to three feet. "I gave myself a little pat on the back. I wasn't ashamed to do that. She stuck it."
Wie won the hole when Alfredsson missed the putt. On No. 15, Wie had 158 yards to the 470-yards par-5. Her birdies there and on 16 gave her control of the match.
"I feel like I played great this week," Wie said, shrugging her shoulders when asked if this could be the breakthrough that enables her to live up to her potential. "Hopefully, that will carry over. But you never know about golf. You can have a good week, you can have a bad week. But I know that I had fun this week."
Fun is something that has been missing from Wie. As she has struggled, first against the men and then against the women, she has not appeared to enjoy herself on the course. At Rich Harvest Farms she found a passion, a joy of playing the game that has not been evident in recent years.
Along the way, she may have also made inroads addressing the putting problems that have held her back the past few years. Before her trip to Rich Harvest Farms, Wie began work on her stroke with Dave Stockton, and she said she noticed a difference almost immediately.
"I just didn't feel like I putted my best the last couple weeks, so I just thought I'd have a fresh eye on it," Wie said Saturday. "He was in the area, so we just met up. And you know, he's a really great guy. I just really enjoyed working with him, and I think it proved good so far."
Tapping into Michelle Wie's full reservoir of talent could prove to be the LPGA's biggest victory at the Solheim Cup. That will be fun to see.