News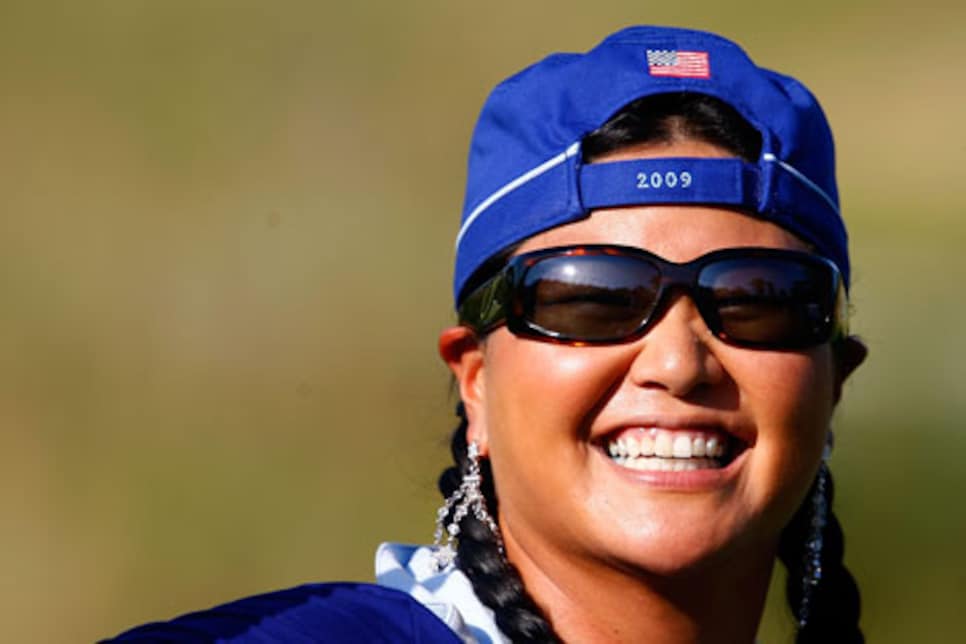 The Americans' loose attitude before the Solheim Cup has been best embodied by Christina Kim.
SUGAR GROVE, Ill. -- Around the corner from the golf course, the Eagle Lounge sits empty now, a FOR SALE OR RENT sign in a bare window under a banner advertising STEAKS & CHOPS, likely another victim of the economic times. On the adjoining lot, a man sits under a small, white canopy advertising WE BUY/SELL SOLHEIM TICKETS. His business has apparently been better than the lounge's since a second signs reads WE NEED TICKETS. The dude's sold out and looking for more.
When the Eagle was still flying it likely never saw traffic like this week, when a long line of cars on US30 wait to make the turn into the field across from Rich Harvest Farms that serves as a parking lot for this Solheim Cup. On the eve of the eleventh competition, these two things are clear: There will be another large, loud crowd on hand; and the teams from the United States and Europe are walking with very different body languages.
The Americans are loose, almost giddy. At an interview session, LPGA media official Mike Scanlan makes Christina Kim, Morgan Pressel and Cristie Kerr leave their text message machines behind before they sit down to the microphones. Then he smiles, shakes his head and shrugs his shoulders in mock frustration as the trio speaks over each other and answers questions not even asked, mostly responding to each other. It was social networking without the middleman.
In one spirited and extremely funny exchange -- imagine Abbott and Costello's "Who's On First" comedy bit if a third person were added -- Kim, Pressel and Kerr offered up 13 consecutive answers without a question being asked, prompting one British writer to ask: "How does your captain get a word in edgewise?" The answer from Kerr being, "Not very well." If this team were any looser their earrings would fall off.
The Europeans, on the other hand -- even high-energy Helen Alfredsson and outspoken Suzann Pettersen, who first gained world attention when she matter-of-factly dropped an F-bomb in a live TV interview at the 2002 Solheim Cup -- were dancing to a different rhythm, as were their more laconic teammates Janice Moodie and Catriona Matthew.
It was as if one team was hearing a hip-hop tune and the other a waltz. The differences in attitude reflect the personalities of the two teams, surely, but they also indicate the polar-opposite positions the sides will be in when play begins Friday: The Americans' are on-paper favorites and denying it; the Europeans are clear underdogs and defying it by using the perceived lack of respect as motivation. Both side are playing the "Who's the favorite" card shrewdly.
"Are we heavily favored?" U.S. captain Beth Daniel asked in a playful but pointed way, acting as it that was news to her. Then she added: "None of us have read much about whether we're favored or not favored, and you know, the perception in our team room is that we have to play our best golf to beat this team. And we do. Match play, anything can happen. One putt can swing the momentum one way of the other."
Juli Inkster, who at 49 is 18 years older than the second oldest player on the U.S. squad and is playing in her eighth Solheim Cup knows all about match play. In addition to possessing a 14-8-5 Solheim Cup record, she won three consecutive U.S. Women's Amateur titles in match play. She also knows a thing or two about gaining a mental edge. "They've got, I think, one of the best teams they've ever had," she said.
That proclamation elicited an interesting response from Europe team captain Alison Nicholas. "That's quite funny," she said. "I feel I have a strong team, but we've been posted as underdogs in every newspaper and magazine I've read. It's interesting hearing that from her."
This is a fascinating dance. The Americans are trying not to allow one ounce of complacency seep into its team room. And Europe is quietly letting a focused anger build from the fact few who put key stroke to computer screen for a living feel they have a chance.
"The girls are all aware of what goes on in the press," says Nicholas. "The Internet makes it more so." Janice Moodie, who brings a gaudy 6-1-1 record into her third Solheim Cup says: "I think everyone is writing us off as the underdogs," adding with a smile, "Thanks, Ron," glancing in the direction of this particular key-stoke pusher. "We're just going to play one hole at a time and see how it goes."
The reason so many have made Europe such big underdogs resides not in he idiocy of writers but rather in the in the starkness of numbers. Gwladys Nocera (125), Becky Brewerton (139), Tania Elosegui (189) and Diana Luna (196) are all outside the top 100 in the Rolex Rankings. The highest-ranked American is Natalie Gulbis at No. 51.
But the numbers also tell us this: Both teams have four players among the top-20 in the Rolex Rankings. For the United States they are Cristie Kerr (3), Paula Creamer (4), Angela Stanford (9) and Kristy McPherson (18). Europe has Pettersen (6), Alfredsson (10), Matthew (14) and Anna Nordqvist (19). Europe has also won two majors this year -- Nordqvist and Matthew -- while the Americans have one -- Brittany Lincicome.
And then there is what the pundits like to call "the vagaries of match play." The format is a great equalizer where determination can bring down the better player. Great match-play competitors are those who realize each match is not only 18 one-hole matches, but also know the single shots within each hole demand total focus. Truly, those Rolex Ranking numbers mean less here than they would in a stroke-play major championship.
The personalities of the two teams are going to make for a very interesting competition. The Americans will play to the home crowd, and the Europeans will see an element of ungracious gamesmanship in that behavior. The large personalities of some of the Americans will rub some of the Europeans the wrong way.
Kim, who Laura Davies called "quite annoying" after the 2005 Solheim, has an extremely verbal relationship with her golf ball. As Pressel said, "The screaming inches after impact." To which Kerr added: "We're going to call that one the screaming eagle." Kim approved, "I like that," she said. Too bad the Eagle Lounge didn't last long enough to market a special based on Kim.
There could not be two teams more different than the squads for this Solheim Cup. And in those differences could reside the intangible element that decides this competition. The Americans have the higher-ranked players and the home crowd. The Europeans have a lot of talent and even more pride. At should make for an extremely entertaining three days at Sugar Grove, just around the corner from the Eagle Lounge.