News
Blame The Tools, Not The Craftsmen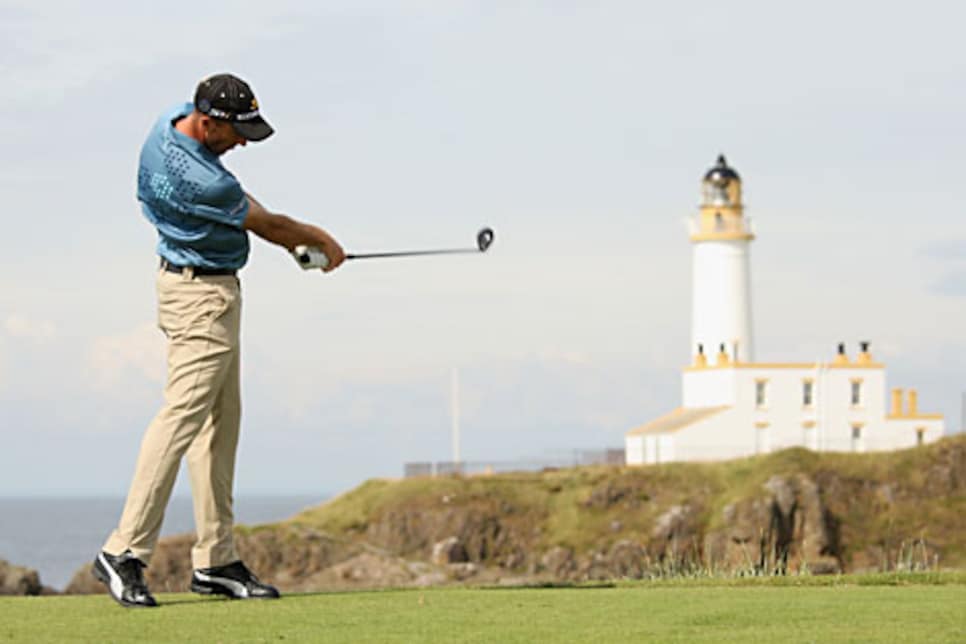 Given the chance to play with older equipment, Geoff Ogilvy proved today's players can indeed shape the ball.
SUNNINGDALE, England -- Two days into the rest of his post-Turnberry '09 life, Tom Watson admitted Tuesday to continuing "bittersweet" feelings about his already legendary effort to become the oldest winner of golf's oldest championship. The first night had been "sleepless." But the second had produced a "very good sleep." And 48 hours after surely the most anti-climactic playoff in history, the eight-time major champion had already moved on. And if you believe that, you'll believe anything.
"After a disappointment, it is onward to the next week, forget what you did in the past, except to where it might help you play better golf," he claimed. "There's no self-recrimination; there can't be. I tried my best on every shot."
Speaking of which, much has quite rightly been made of the wide range of shots Watson hit across the picturesque Ayrshire links land. While his obvious versatility and ability to adapt to what many regard as "proper golf" spoke to his own shot-making prowess, did it also expose a lack of the same in the modern game? Are today's golfers just not as good as their predecessors? Discuss.
"I'm not sure it is fair to argue that today's players are inferior to those in the past," says Tom Lehman, another of the 50-plus generation to play four rounds at Turnberry. "I think today's players are a product of their environment. They have grown up with hard golf balls that spin less. They have grown up with big-headed metal drivers, optimized launch angles and spin rates, square grooves, coaches, psychologists and trainers. They have everything there to help them. So it is hard to blame them for reaching for the stars and hitting the ball as far as they can. That's how they gain maximum reward in today's game. And it's the only way they can win consistently."
That is an argument I have a certain sympathy with. Frustratingly, given what passes for entertainment on the PGA Tour week-to-week, the flip side of Lehman's well-made point is that many of today's stars are perfectly capable of playing the artistic game that has so sadly been transformed into a 21st century science.
Two weeks ago, for a piece that will appear in a British magazine, I played Prestwick -- where the Open began 149 years ago -- with the 2006 U.S. Open champion Geoff Ogilvy. On average, young Ogilvy hits his drives perhaps 40 to 45 yards past your humble correspondent (a 48-year old hack). But he didn't that day. At least he didn't on the holes where he was playing with an old Toney Penna persimmon driver and a balata-covered ball. Suddenly, we were dead level.
The differences between the two of us continued to be marked, of course. But they were different differences. Ogilvy was having the time of his life hitting the most exquisite draws and fades. It was gorgeous to watch and a bit like stepping back in time to the days when golf balls could actually go sideways when hit by the longest club in the bag. So to argue that the modern generation is incapable of either shot making or proper golf is unfair. They can do it; they just don't have to. Or, at least, they don't have to anywhere except a windswept links.
"The equipment has established the way the game is played today," agrees Greg Norman, a man who knows a thing or two about playing well in an Open after the age of 50. "The clubs are designed to hit the ball high and straight. It's very difficult to maneuver these perimeter-weighted clubs a lot of guys use. So they bomb it. Hit it dead straight and the ball is going to go dead straight.
"But if you bring in a crosswind like we had at Turnberry, the game changes. Take the 14th hole, where the wind was hurting a little left-to-right. Suddenly, you couldn't just get up there and smash it high. If you did the ball was likely to run off into a bunker. So all of the guys teed off with a 3-iron at a 470-yard hole. All they were trying to do was get it into play and the whole game is different.
"By that I mean different from when my generation played. Most of us drove the ball a lot, because we could maneuver the ball. We could hook or fade it back into the breeze. I'm not saying guys can't do that now, but the equipment doesn't allow them the flexibility to do it the way we did."
Depressing isn't it? Still, all is not lost. Norman is one who feels that the new rule banning square grooves will make a big difference in 2010. "Shot making is going to go to a new level," he predicts. I so hope he is right. The stuff we have to watch at the moment -- or at least 51 weeks of every year -- is rubbish. Even if it's inadvertent rubbish.