News
Haas Edges Watson For Title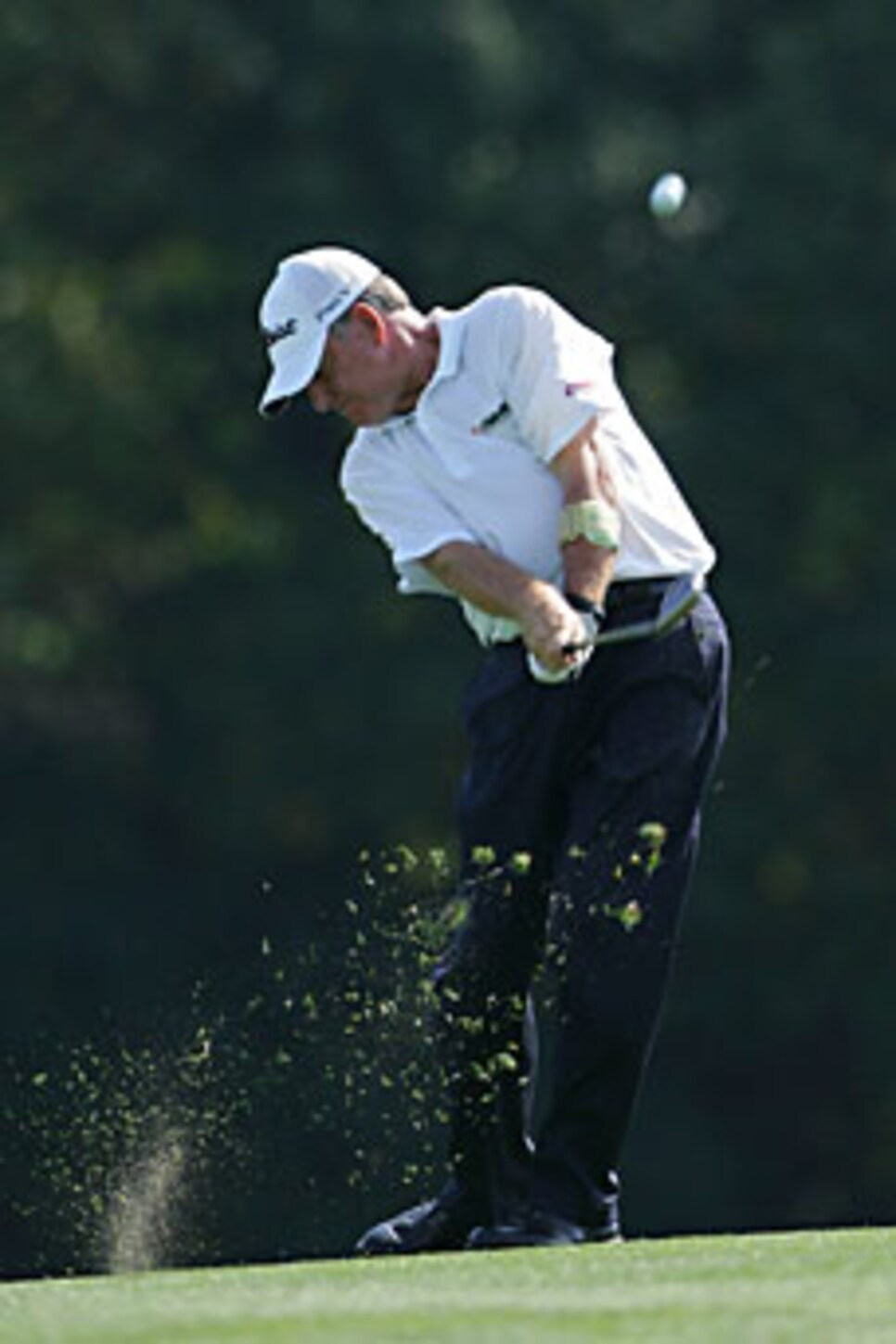 Haas went 33-31 with no bogeys en route to his come-from-behind win.
TIMONIUM, Md. (AP) -- Jay Haas took advantage of Tom Watson's uncharacteristic bogeys and passive play to steal the final Champions Tour major of the year.
"All day, I was right there," Haas said. "I missed some very makable putts on the front nine, and I was very disappointed in that. But I felt like I was going to get some more, the way I was hitting it and the way I felt today. I had a nice calm about me and Tom didn't go nuts behind me and shoot 3 or 4 or 5 under himself."
The 60-year-old Watson was tying to become the oldest major winner on the 50-and-over tour. But after making only one bogey in the first three rounds at Baltimore Country Club, he had three in the final round en route to a 70.
"I didn't play with the type of aggressiveness I needed to play today," Watson said. "I played tentative golf. I made a couple of putts, but I hit some wayward shots and didn't have a feel for the distance today.
Haas finished at 13-under 267 for his third senior major title. He has 14 career Champions Tour victories, also winning the Greater Hickory Classic two weeks ago.
"From tee to green, I could not play better," he said. "Under the conditions and under the circumstances, a major tournament on a championship golf course, that was the best I got."
Wearing a brace on his left arm to combat a lingering case of tendinitis, Haas marveled at the progress he's made in the past month since a cortisone shot.
"I'm still a little apprehensive about my arm -- is it going to come back, what does the future hold? A month ago, when I was in Seattle, I thought my year was done."
Haas took advantage of a well-placed 6-iron from 195 yards on his second shot on the par-4 18th hole. His shot dropped on the right side of the green, then rolled within 3 feet of the cup for an easy birdie.
Watson missed the fairway on 18, ending any hopes he could catch Haas. Mark Wiebe (71) and Loren Roberts (71) tied for third at 7 under, and Bernhard Langer (68) and John Cook (72) followed at 6 under.
The two-time Masters winner and runner-up in this year's British Open, Watson pulled ahead by a stroke with a masterful, downhill birdie putt on No. 15. With 35 feet to the hole, he used a five-iron to send a slow roller that briefly broke right before curling left and dropping in to put him at 12 under.
He groaned as the ball went right, successfully pleading for a better fate.
"It decide to go in; I don't know what happened," Watson said. "When I made that putt, I figured if Jay didn't birdie 16, which he didn't, I'd be kind of in the catbird's seat if I just played par golf in."
But Haas birdied 17, converting a 12-foot putt for his 20th birdie of the tournament, to force a tie atop the leaderboard.
A gusty breeze and soft, wet conditions made difficult putting on the sloping greens at the Five Farms East course even more challenging. Watson wasn't able to replicate the 64 he shot Saturday to move into the lead after three rounds.
Haas believed the conditions favored Watson.
"What I thought when I got out here today was what a nice day this was for Tom Watson," Haas said. "Cool and breezy, a tough golf course and coming off a 64 himself."
Instead, Watson allowed Haas to stay close through the front nine and Haas' occasional putting problems -- he missed four putts from short distance in the final round -- weren't a dealbreaker.
"Your lead's not safe unless you do something and I didn't do that something," Watson said.
Watson began the day at 12 under with a four-stroke lead over Roberts, Cook and Wiebe. The leader bogeyed the first hole, and Haas climbed within two strokes with birdies on Nos. 3 and 4, before Watson birdied the fifth hole to lead by three strokes.
"With a four-shot lead, the best thing to do is just make it five and six and seven," Watson said. "But I got off to a bogey start and kind of struggled that hole. ... It got me kind of off on the wrong foot."
But Watson closed the front nine by bogeying Nos. 7 and 9 and Haas' birdie on the 10th hole pulled him within a stroke at 10 under.
Haas missed opportunities to pull into a share of the lead, pushing a 6-foot birdie putt on No. 12 past the cup and failing to covert a long putt on No. 13. But he knocked in a 5-footer for a birdie on No. 14 to pull even with Watson.