News
Funk Out In Front Of The Field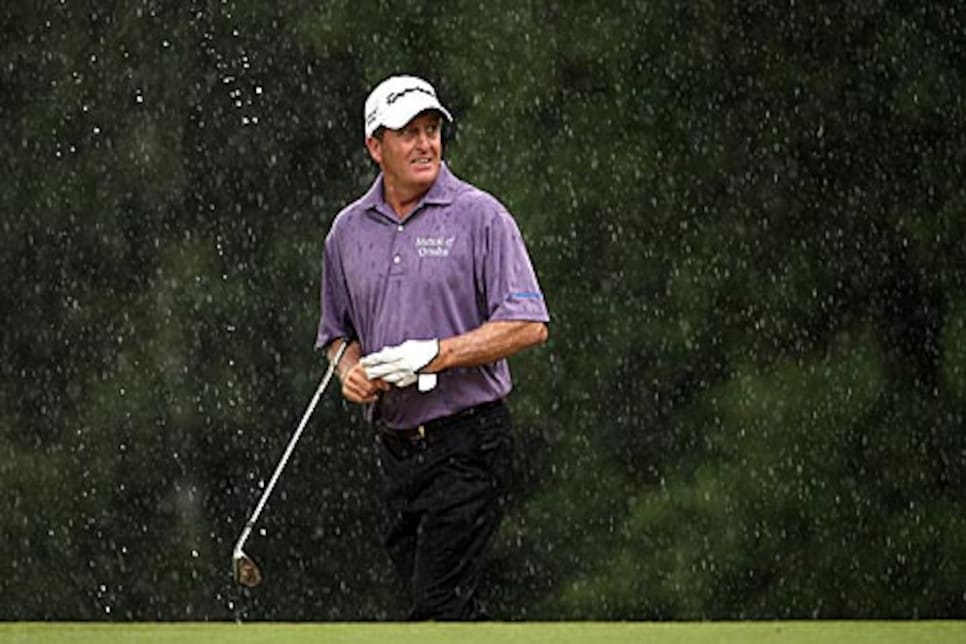 Not even rain could slow down Fred Funk during a round that included holing out an 8-iron for eagle on the final hole.
SUNNINGDALE, England (AP) -- Fred Funk shot a 5-under 65 for a three-shot lead at the Senior British Open on Friday.
He is a tournament-record 11 under through two rounds and leads Tom Watson by seven shots.
Funk has gone 36 holes without a bogey and his round, capped by a 174-yard 8-iron at the last hole for an eagle 2, gave him an 11-under 129, a 36-hole record total for the event.
He has a three-stroke lead over Sam Torrance, who also shot 65 and 2006 winner Loren Roberts another two shots back at 134.
Watson, trying to follow up his British Open runner-up finish on Sunday with a fourth Senior British Open title, shot 69 to share sixth place.
"I turned a good round into a mediocre round ... with poor putting," Watson said. "I had a lot of opportunities to make birdies today and didn't make them.
"If I had putted average it would have been 67, maybe 66. If I had putted well, maybe 64. Tee to green was good."
He knows he has work to do.
"I'm a lot of shots off the lead the way Freddie's playing. We'll have to cut off his knee, or something," Watson joked.
"He's a straight driver of the ball and if you do that you're going to hit a lot of greens."
Watson made a grip adjustment on his putter late in his round which he hopes will help over the weekend.
"I'm just going to try and weaken my grip a little bit so I can feel both hands together a little bit more, to make myself release it better," he said. "We always have to try something."
Senior PGA champion Michael Allen shot a 65 and was tied for fourth with Tom Kite (68).
Watson was tied at 4 under with Greg Norman (69), Mark McNulty (67), Don Pooley (66), Denis Watson (68) and Gordon J. Brand (68).
Funk finished his round half an hour before Watson and Norman were going to start, but they were delayed for two hours by a thunderstorm.
It meant that 18 players did not complete their rounds. They will do so early Saturday.
Funk said his score was better than he played.
"Like yesterday, my front nine was not that solid," he said, pointing to par saves at the second and seventh holes. "Yesterday I wasn't driving well on the front nine, today my irons were a bit ragged."
He birdied the par-5 first and 14th holes, "the ones you're supposed to birdie. In between them I just plodded along."
Then he birdied 16 and eagled the last. "Three under for the last three makes my day look better than it was," he said.
Torrance lives near Sunningdale and has played the course so often, he feels he knows the course and the greens better than anyone.
"I know them like the back of my hand. I know where to hit the ball on them," he said.
"Now I'm in a position to do what I want to do this week," Europe's 2004 Ryder Cup captain said.
He holed three big putts in mid-round, from 30 feet on the 10th, 15 feet on 11 and 12 feet on 13.
His drive on 18 finished in thick rough and his second cleared the green, but he had a flat lie from 20 feet and two-putted for par.
Roberts said he would have to start making a lot of birdies.
"I know Fred is not going to back up. You have to be thinking about 5 under a round over the weekend," Roberts said.
Norman double-bogeyed the seventh where he drove into a bunker and then three-putted.
"You just have to try to shoot the best score you can. You have to play your own game," he said.