News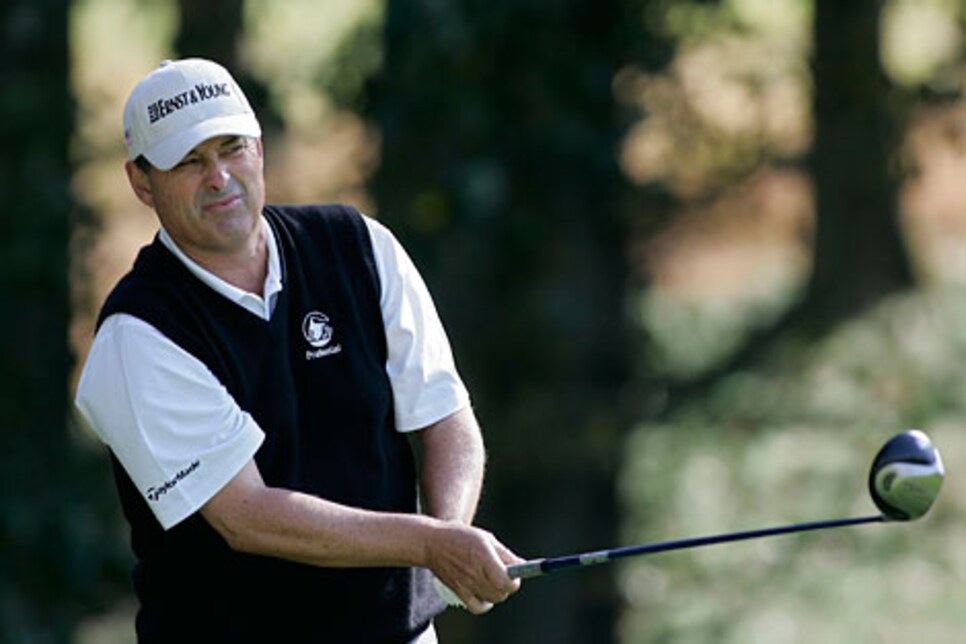 Roberts leads Fred Funk by 165 points entering the season's final event.
The Champions Tour has prepared seven pages of numerical scenarios regarding how the four contenders can win the season-long Charles Schwab Cup at this week's Charles Schwab Cup Championship at Sonoma (Calif.) GC, but amid the many permutations, one thing is clear: A strong performance by points leader Loren Roberts will make it difficult for his challengers to overtake him.
Roberts, who won the $1 million annuity in 2007, holds a 165-point lead over Fred Funk. Bernhard Langer is in third place, 348 points behind, while Jay Haas, seeking to become the first player to win the Cup three times, trails by 602 points in fourth place. They are the only players mathematically eligible to win the Cup, first claimed by Allen Doyle in 2001.
For the first time, Schwab points will be awarded to everyone in the 30-man field instead of only the top-10 finishers, as is the case the rest of the season. Double points are on the line, which means that a tournament victory, worth $440,000, will convert into 880 points. Dollars are turned into points in the same manner down the list.
Haas has the hardest assignment, made tougher when he bogeyed the final hole of the AT&T Championship to miss out on a playoff with Phil Blackmar. He has to win the tournament to have a chance and would need some help as well (Funk finishing no better than a three-way tie for second place and Roberts no better than a four-way tie for fourth).
Victories by Langer, Funk or Roberts would seal a season-long triumph for each. Langer has to finish solo third or better to have a chance. Funk's opening is a bit larger -- if Roberts finishes 30th, Funk could edge him by placing no worse than an eight-way tie for fourth or a five-way tie for fifth place.
Roberts comes in with some breathing room, though. If, for example, he ends up with 2,598 points for the year -- from either a solo 11th, five-way tie for ninth or three-way tie for 10th this week -- Funk would need a two-way tie for fourth, Langer a solo second and Haas a victory to surpass Roberts.
The math gets complicated (there are 11 scenarios, according to the tour, in which Roberts and Langer could finish in a tie), and while the leading foursome is a different order on the money list (Langer is first, followed by Roberts, Haas and Funk), they have been the standout seniors in 2009.
Langer started the year like he was going to own it, ripping off four victories in the first 14 tournaments. Roberts won early at the ACE Group Classic then added the Senior British and Boeing Classic in the summer. Haas found victory elusive much of the season, but once he got some relief from elbow tendinitis, he has been on a hot streak, finishing first or second in his last four starts, highlighted by a comeback victory in the Constellation Energy Senior Players Championship. Funk, battling a bad right knee, counts only one win among his 11 top-10s, but it was a big one -- his flawless, 20-under effort at Crooked Stick in the U.S. Senior Open.
While longtime senior mainstays Hale Irwin (55th on the money list) and three-time Sonoma winner Jim Thorpe (35th) didn't qualify to play this week, other familiar names made it, including Tom Kite, who is making his 10th straight appearance. Gil Morgan qualified for the event for the 12th time after missing it last year and at 63 will be the oldest player at Sonoma.
The Champions Tour's season-ending event has moved around since it was first played as the New York Life Champions in December 1990 -- from Puerto Rico to Myrtle Beach to Oklahoma City and, for the past six years, at Sonoma (Calif.) GC. The seniors will bid adieu to Sonoma after this week, with the event headed for San Francisco's Harding Park GC in 2010 and 2011.
The Schwab Cup race has been decided by fewer than 40 points three times, the most tightly-contested being Haas' 12-point margin over Funk last season. Tom Watson is the only Cup champion to have prevailed in the season-ending tournament, his one-shot victory over Haas allowing him to overtake Dana Quigley for season honors in 2005. The competition generally has been tight at Sonoma GC, with Andy Bean's nine-shot victory over Gene Jones last year being the only margin greater than three shots during the tournament's time in wine country.