News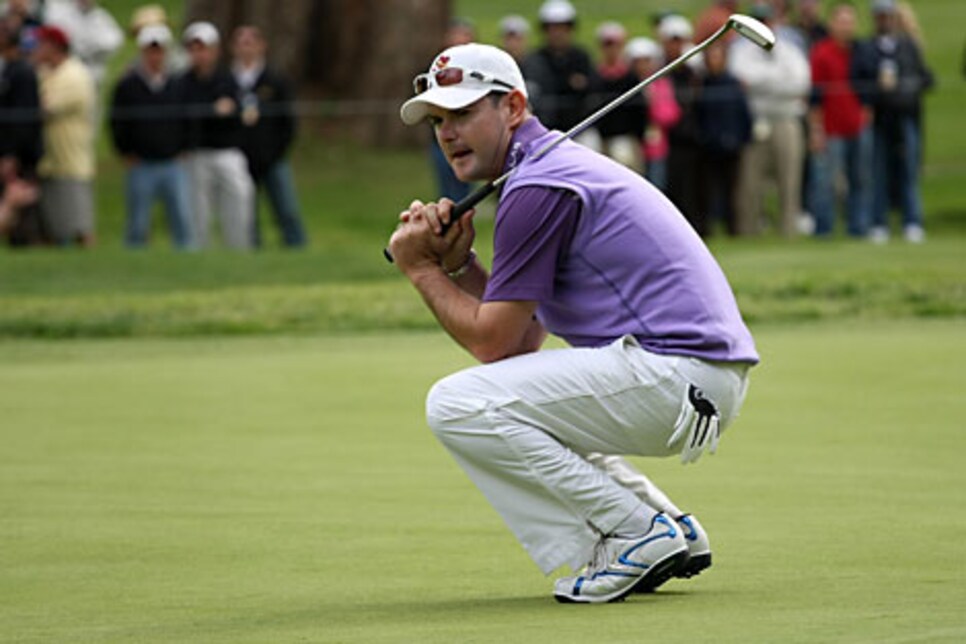 Rory Sabbatini's mouth often gets more attention than his game -- which his critics would argue, is the player's own doing.
There was a stretch during the spring of 2007 when every weekly golf segment I did for ESPN News included a question about Rory Sabbatini's assessment that Tiger Woods was "beatable." Sabbatini had made his proclamation after taking a one-stroke lead on Tiger through 54 holes of the Wachovia Championship that May, fanning the flames for their final-group showdown the following afternoon.

Woods, of course, beat Sabbatini by five and won the tournament by two, then wondered aloud why a guy with three PGA Tour victories would fit himself for a dunce cap in full public view. To a mainstream-sports empire like the Worldwide Leader, the dissing of Sir Eldrick was the meatiest storyline imaginable: some foolhardy punk with a lot more mouth than game, schooled good and hard by the finest golfer in the universe.
What didn't get nearly as much attention was Sabbatini's fourth career triumph at Colonial three weeks later, or that he piled up six top-three finishes in '07 and finished fourth in the inaugural FedEx Cup standings. Negative perceptions change at a glacial pace, if they change at all, and two years after crossing the radar like some misguided meteorite, Sabbatini remains the shooting star better known for shooting off his mouth.
The purpose here isn't to defend him. While doing a feature on Sabbatini in early 2006, I found him to be quite the odd duck, brash to the point of insecurity, so smug that one might have found his behavior charming. Several tour pros in the same age range shared amusing anecdotes about their experiences with the young South African during their amateur and college days, none of them on the record, by which point the personality portrait was hard not to notice.
Like him or not, Sabbatini will always be different by choice, bombastic and inconoclastic, unabashed and wholly unapologetic. I last spoke to him at the Deutsche Bank Championship in September 2007, just to congratulate him on an excellent season and to tell him I thought he'd gotten roughed up a bit too much for the Tiger comments four months earlier.
With an incredulous smirk, Sabbatini's only response was, "A lot of people don't like to hear the truth." I wasn't really sure what he meant, whether he still considered Woods to be less than invincible, which is hardly a crime, or if he was referring to those who aren't ready for someone who begins every conversation with a 98-mile-per-hour fastball and doesn't let up.
Three months later, Sabbatini gave that weak explanation for pulling out of Tiger's year-end tournament with 18 holes to play, sitting deep in last place and of the mind that his commitment to the event had been fulfilled. Some people may not like the truth, but little white lies are far less popular, which is why Sabbatini got hammered from all sides for that stunt as well. Although Woods never said anything publicly about the disappearing act, whatever sections of the bridge that hadn't been burned over the years would officially turn to ashes.
After a typically fast start in 2008, Sabbatini appeared on the verge of reaching the game's top tier, registering a pair of thirds in his first three starts. Then, without notice, he vanished from the competitive scene -- he went 13 months without a single top 10 in a regular-season tournament. His putting, which had gotten him on a bunch of leader boards in 2007, faltered dramatically, as Sabbatini fell from 24th to 107th in strokes per green in regulation.
Since late February, however, there have been three top 10s, including a relatively quiet T-2 last week in New Orleans, plus a T-20 at the Masters, where Sabbs showed up for the final round in purple pants and a matching argyle top. Be it through his attire or his inner fire, the guy is beginning to make some noise again. The question has never been whether Rory Sabbatini can play, but if he'll drive everybody crazy if he starts doing it really well.