News
Pampling Takes Early Edge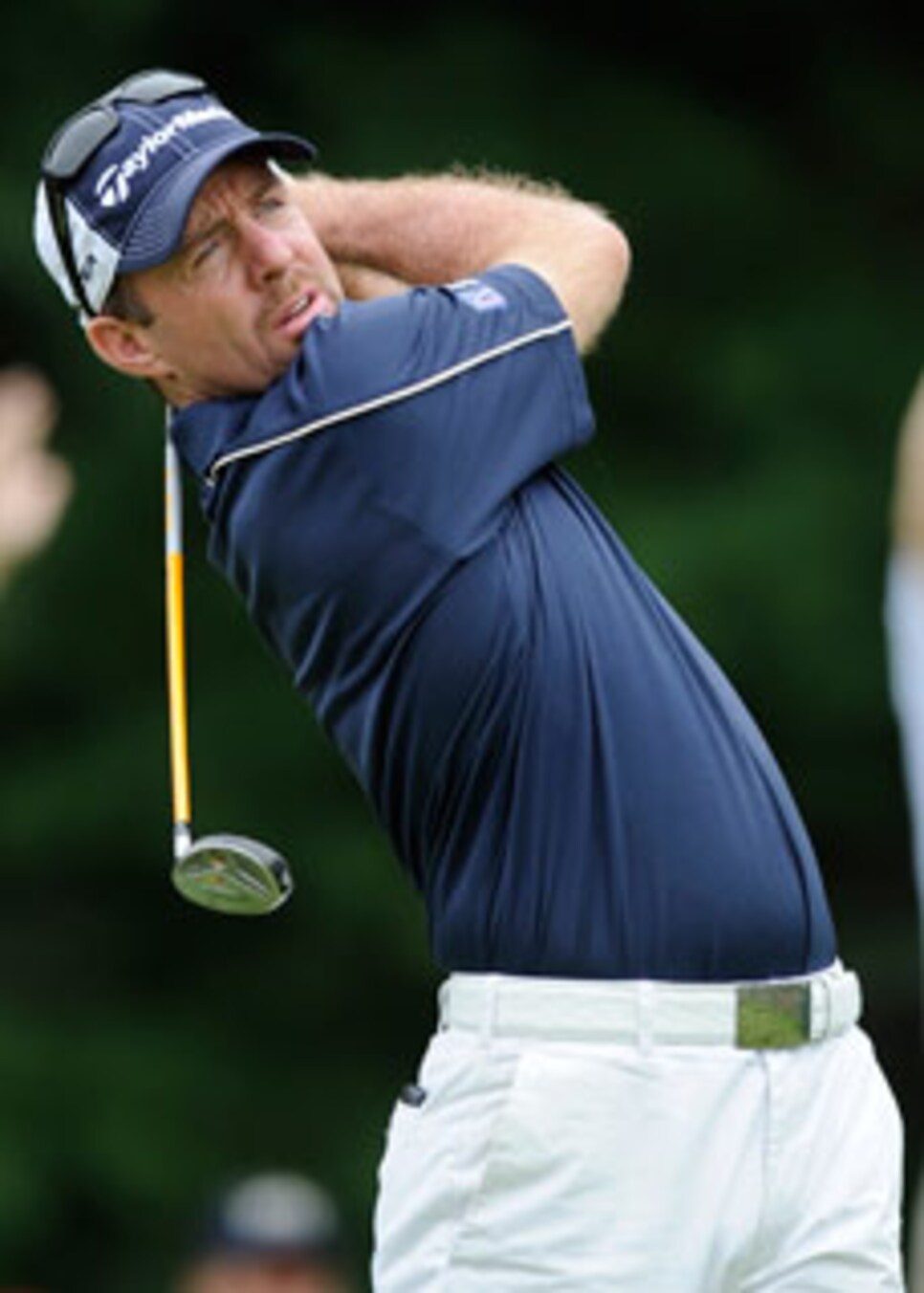 Pampling was nearly perfect off the tee, making 93% of his fairways and averaging 299.5 yards.
RENO, Nev. (AP) -- Rod Pampling shot a 5-under 67 in swirling mountain wind Thursday to take the first-round lead in the Legends Reno-Tahoe Open, a stroke ahead of a group that included two-time winner Vaughn Taylor and former Nevada player Rich Barcelo.
Two-time Reno runner-up Jonathan Kaye, Steve Pate, Grant Waite, Spencer Levin and rookie Marc Leishman matched Taylor and Barcelo with 68s at Montreux Golf and Country Club on the edge of the Sierra Nevada.
Former PGA Championship winners Paul Azinger, Steve Elkington and Shaun Micheel were another shot back at 69 along with Jeff Quinney, James Nitties, Robert Garrigus, Ryan Palmer and Jonathan Byrd.
Pampling and Levin took advantage of afternoon tee times in conditions that were erratic but somewhat calmer than the morning when Taylor, Barcelo and Kaye had to contend with gusts up to 32 mph. The temperature dipped into the low 60s and morning snow was visible falling on the neighboring mountain pass to Lake Tahoe.
Pampling, who tied for third at Reno in 2003, birdied four of five holes during one stretch and finished with six birdies and a bogey.
"To post that number in these conditions, I'm very happy," said the 40-year-old Australian who has won twice on the PGA tour -- the 2004 International and 2006 Bay Hill Invitational. "Sometimes you'd hit a shot and have absolutely no wind. Then a minute later you'd have a 20 mph wind.
"It is kind of bizarre how it would be blowing so strong and then just totally stop. Then it would go a different way, then stop. Then a different way, then stop. You are constantly watching the trees, hoping you pick the right club and hoping it doesn't change in mid-flight."
Levin, a former University of New Mexico led, led at 6 under after 15 holes, but bogeyed two of his final three, including the 616-yard, par-5 ninth after he hit his second shot into a greenside pond.
Taylor, the tourney's only two-time winner, had six birdies and two bogeys. His wins at Reno in 2004 and 2005 are his only career victories on the PGA Tour.
"I have a lot of good memories here," he said, adding that the windy conditions reminded him of his final round in 2004. "It blew really hard then at times it almost stopped different places on the course."
"I think past experience definitely helped me out today," said the 33-year-old Taylor, whose tie for eighth at the Buick Open last week is his best finish this year. "You've been there before type of thing, so you feel comfortable."
Barcelo, the winner of the Nationwide Tour's Omaha, Neb., event last month, was pleased with his bogey-free round.
"It always helps. It was a solid day. All my birdies were in there pretty tight," he said. "The conditions were extremely difficult when we started. You anticipate the wind blowing here in northern Nevada, you just don't know how strong. Today it was really swirling."
The wind complicated the calculations the players and caddies make to adjust to the higher elevation (5,500 feet) where the ball travels farther than at sea level.
"It's kind of like being at home in Colorado -- a little high altitude golf," said Kaye, who grew up and played his college golf there.
"I just think I've got the right formula for clubbing myself up here. Just knowing how far the ball's going to travel in this thinner air. For everyone it's different. Some guys factor in 20 percent because they hit it high. Some guys go 5 percent because they hit it low. I'm somewhere in between."
Nothing worse than a 6-under 66 has led the first round of the 11-year-old tournament on the course designed by Jack Nicklaus.
Byrd, starting on the back nine, rattled off three consecutive birdies in one stretch and got to 6 under when he eagled the par-5 fourth after hitting his second shot 243 yards to 10 feet. But he bogeyed three of his last four holes.
Quinney made consecutive 20-foot birdie putts midway through his round and got as low as 5 under before he bogeyed the last two holes.