News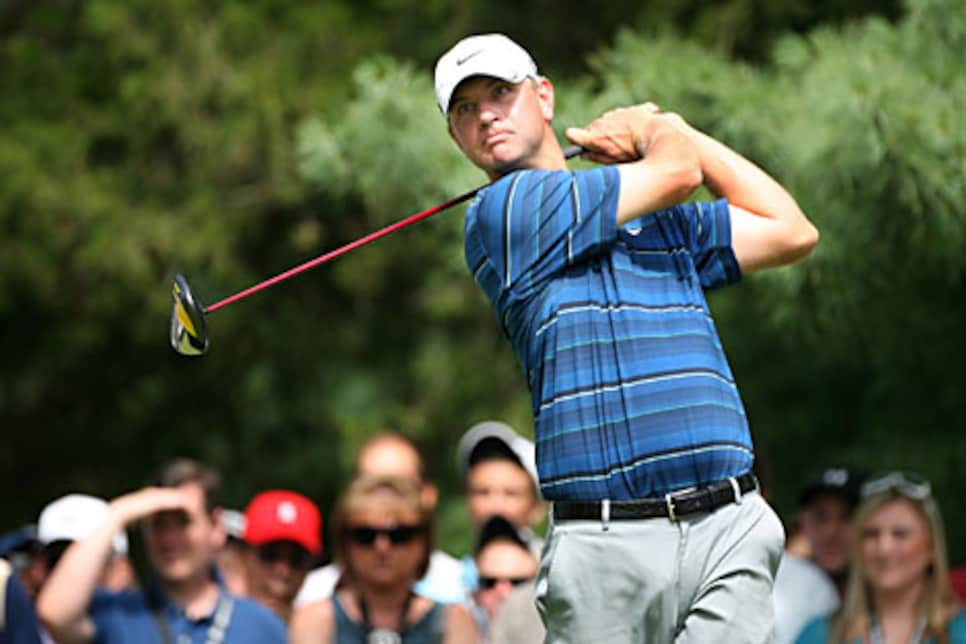 U.S. Open champion Lucas Glover is one of the players in the John Deere who will take advantage of a chartered jet to Scotland.
This falls under the category of a stimulus package that has already paid dividends. Or in the case of Clair Peterson and the John Deere Classic, investing $300,000 in a chartered 767 on the chance that it would enhance his field. Three years ago, the Deere had seven players trying to make connections from Moline to Carnoustie for the British Open. Last year 22 players took advantage of the Air Deere deal (a $1,250 donation to the tournament's charity per seat). This year, the same number of guys will be flying out of Illinois on Sunday night, direct into Prestwick, including U.S. Open champion Lucas Glover. "Lucas is a perfect example," Peterson said on Monday. "Once they win a major, it's more than likely that a player -- not necessarily Lucas -- would have withdrawn. This way they get to the next major relaxed, ready to be competitive." The plane is used by the Dallas Mavericks, so traveling conditions are plush and roomy. Players are allowed up to three seats, unless there are any openings among the 100 available. Tom Lehman, the 1996 Open champion, has taken seven for the trip to Turnberry. As Peterson concludes, "It's hard to imagine spending that would have any greater impact than this on field."
Going the distance for a friend: This should come as no surprise, knowing the principals, but after Thursday's opening round of the John Deere, Glover, Davis Love III and Zach Johnson flew from Moline into Columbia, S.C. to be at the visitation for Jonathan Byrd's father, Jim. Byrd, one of their Sea Island brothers, lost his dad on Monday night after a two-year battle with brain cancer. "It was a shame we had the opportunity to do it, but I'm glad we were able to do it," Glover said. "It's not like we had to do it, but we did Jonathan enjoyed it and Mrs. Byrd seemed to appreciate us being there."
Lesson learned: Anthony Kim walked away from a third-place finish at the AT&T National realizing how close he was -- but close to what? Kim showed signs in his first competitive one-on-one with Tiger Woods that he is close to where he was a year ago, winning Quail Hollow and the AT&T in a three-month span, but not close to taking on Tiger. Kim didn't take the 2009 season seriously until about the same time this year, the first sign being the daily presence of strength coach Darby Rich, an acquaintance since A.K.'s days at Oklahoma. The second was bringing back swing coach Adam Schreiber the weekend before the U.S. Open. Kim is talented enough to overcome his lack of discipline and dedication, win his share of tour events, and make piles of money. He also has the nerve it takes to step on the tee against Tiger and not be intimidated. The fact Kim shot 71 to Tiger's 67 points to the edge Woods carries mentally, knowing he's a better conditioned, harder-working athlete. It is also a tribute to the heart Kim showed when his swing deserted him, under pressure, and lack of reps. We can officially cross him off the list of Tiger "rivals" for now, but the potential is there, at 24, to at least become a regular sparring partner. Meanwhile, Tiger set up camp Wednesday at Isleworth for a three-day session in the gym and on the range with Hank Haney before his departure for Scotland.
Perry's British Open plans: Defending John Deere champion Kenny Perry is just old-school enough to remember the days when Curtis Strange and Scott Hoch skipped the British Open, mostly because they didn't like sucking it up in adverse conditions. Perry has played in five Opens over a 22-year career, indicating a similar distain for rain and cold. But with his 49th birthday coming up next month, and aspirations of 20 victories and a spot in the Hall of Fame, Perry has stepped up his productivity, with two victories and a heartbreaking playoff loss at the Masters. Last year he took massive quantities of heat for not getting on the John Deere charter and skipping the British, playing instead at Milwaukee as part of a plan to lock down a spot on the Ryder Cup team -- where he starred. This year he's scheduled to be on the plane from Moline, but nobody would blame him if he stayed home. Perry was blessed to ride with his ailing father in the Kentucky Derby parade. Now comes news his mother has been put in a hospice with multiple myeloma. Should Perry be able to win one for her, after all he's gone through -- including a controversy involving a videotape of his playoff win over Charley Hoffman in the FBR Open -- it would top the list of candidates for golf's story of the year.
Late-summer return for Phil?: Phil Mickelson has many characteristics, none greater than his resolve. What he's going through, the double whammy of both wife and mother diagnosed with breast cancer goes beyond the realm of traditional emotional setback. Mickelson made it official on Friday that he will miss the British Open, ending a run of 61 consecutive majors. Beyond that, not much is expected, whether he does play or doesn't -- but with a positive diagnosis following Amy's surgery, don't be surprised if Phil shows up at Firestone for the WGC-Bridgestone Invitational and PGA Championship. Mickelson feels like he left two majors on the table with lackluster putting and doesn't want to exit one of his best ball-striking years without a major. Look for him to return listening to Butch Harmon more on his putting stroke. "We talked about it on the plane ride home after the Open," Harmon said. "He makes a lot of 15 footers but he missed the short ones because he blocks them more than releasing the toe. My feeling is he's got to release the putter more."
For Woods, a game of inches, and feet: Caddie Steve Williams keeps statistics that Woods wins 86 percent of the time he goes through a tournament without a three-putt, a percentage that includes his latest win. On the subject of putting and its importance, keep this perspective in mind: Tiger was third in greens hit in regulation last week at the AT&T National, was second in driving distance and a remarkable seventh in driving accuracy, yet when it comes down to it on Sunday, the deciding strokes were the two birdie putts he made outside on the 10th (31 feet, 7 inches) and 16th (19 feet, 7 inches) holes. In all Woods made 363 feet 11 inches worth of putts at Congressional, and he needed every inch to beat Hunter Mahan by a stroke for his 68th career victory. Conversely, at the U.S. Open, the four strokes separating Woods and Lucas Glover were found in the putting department, 120-116.
Tough ride at Golf Channel: Producer Matt Hegarty was glad he wasn't working Monday morning, because after the calls he received Saturday and Sunday mornings, preparing for the 12:30 Golf Central pre-game shows, there was no telling what was next. On Saturday, Hegarty picked up the phone to learn analyst Brandel Chamblee had gone over the handlebars of his bicycle on a mid-morning ride in Orlando. Chamblee broke an elbow and is expected back on air Wednesday. "I flew like shot out of a gun," Chamblee said. "I'm thinking, man, this is not going to end well." Then Sunday, Hegarty's phone rang again with news that anchor Todd Lewis had been involved in a horrific traffic accident less than one mile from Golf Channel studios. Lewis' car, T-boned by an oncoming car running a light, was totaled but the broadcaster wasn't. Inga Hammond filled in on Sunday, but Lewis showed up for work on Monday after a prolonged visit to the emergency room. "I'm sitting here going through the miles of paperwork I have to go through to get a new car," Lewis said Friday morning. "As predicted, each day since the accident I've become more sore and in more pain, but there's nothing structurally that will keep me out. I'm hoping time will take care of it."