News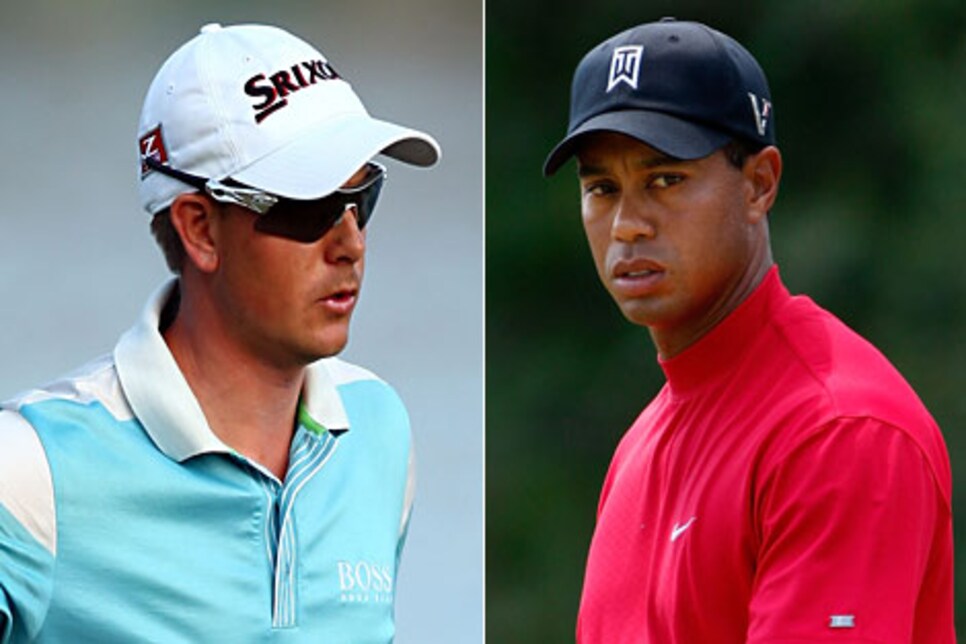 For Stenson the question is can he parlay the Players into a spot among golf's elite; For Tiger it's how long will it take to fix what's wrong
PONTE VEDRA BEACH, Fla. -- The most bizarre golf season in recent memory was 2003, when the likes of Ben Curtis and Shaun Micheel emerged from obscurity to claim major championships; when Tiger Woods was named PGA Tour Player of the Year despite not playing particularly well; and when Phil Mickelson was a virtual non-entity.
Six years later, are we headed for a similar run?
A common debate in golf has one side lamenting when Woods is too dominant over the rest of his competition and the other side complaining when he's nowhere to be found. Woods' season is still young enough, and the questions about his knee still relevant enough that there's no telling how the rest of his 2009 plays out. But it's certainly possible that at 33, he's at the front end of another reinvention cycle that will take some time to bear fruit. The question isn't whether Woods will be back. History and common sense says he will. The question is whether anyone's capable of filling the void in the meantime.
Another candidate presented himself as the sun fell Sunday evening at TPC Sawgrass. On a day when everyone around him succumbed to sweltering heat and greens as slick as slate, Henrik Stenson played flawlessly, his six-under par 66 the most convincing statement yet that he's ready to challenge for a major.
The 33-year-old Swede already has a resume of big-tournament wins with Woods in the field, and he has the length and disposition to contend at Bethpage Black in June. Once a player so despondent about his game that he walked off the course in the middle of the 2001 European Open, Stenson appears ready to take a place among golf's heavyweights.
There just isn't any guarantee of that. Too often when a player enjoys a breakout performance, the expectation is that one significant win will easily translate into another, as if there's a code on the bottom of trophies that reveals the secrets of the game. If only it were that simple.
Because as much as we are seduced by the whole "a star Is born" storyline, it doesn't always play out as planned. For every Padraig Harrington or Angel Cabrera who parlay one significant win into another, there are plenty more whose careers sit on a frustrating plateau. Mike Weir. Jim Furyk. Sergio Garcia. All are upper-tier, name-brand players. But all are still waiting on that next big win that was supposed to be a foregone conclusion.
And that brings us back to this season. With Woods again launching drives in every direction, with Mickelson taking at least one step back for every step forward, we are left with an ensemble cast of players who can all step to the fore on any given week.
Just as was the case in 2003, it's easy to find a player capable of seizing the spotlight on golf's grandest stages. What's harder to find is someone who can do so on a regular basis.