News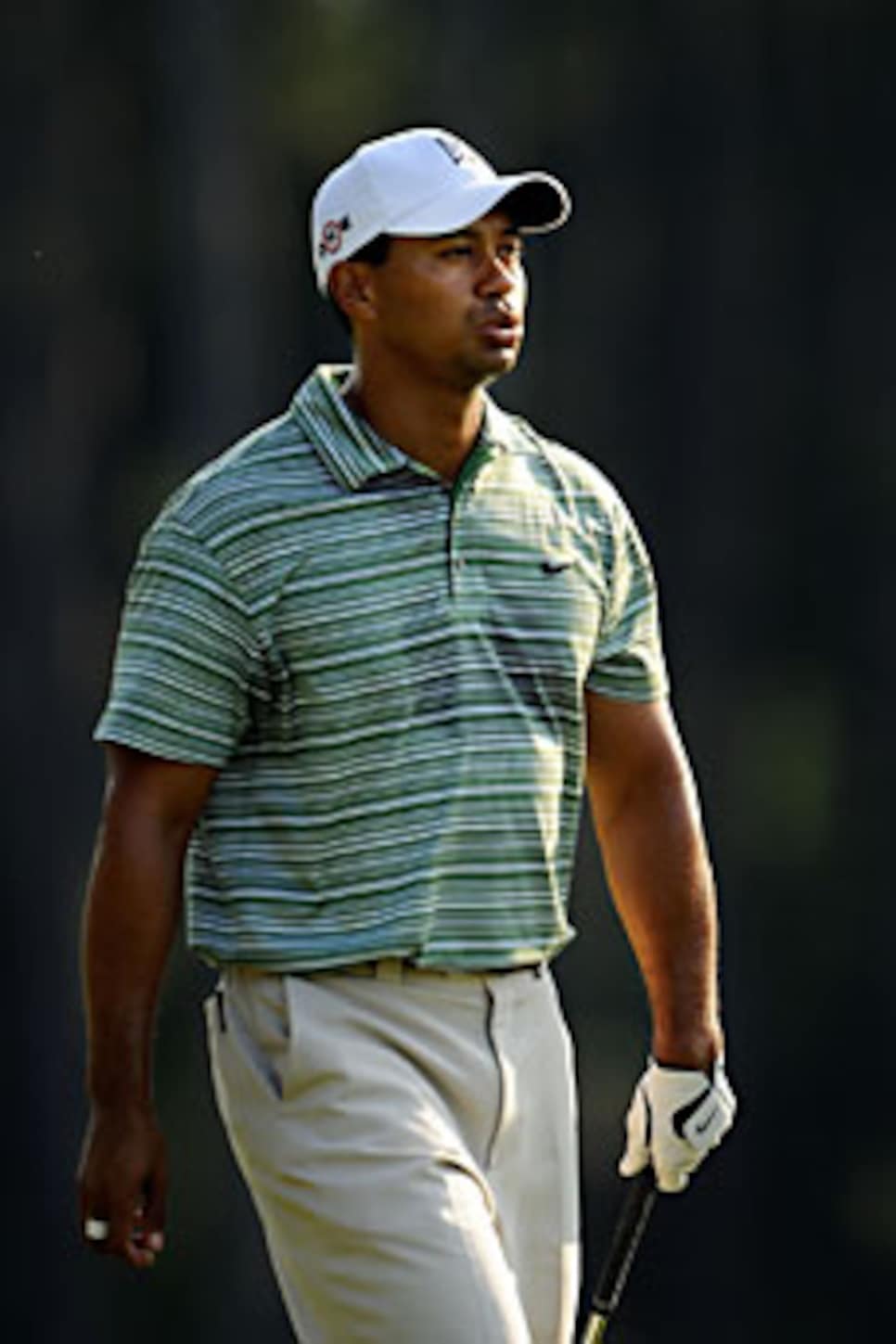 Even the best conditioned players were impacted by the heat on Thursday.
PONTE VEDRA BEACH, Fla. -- How hot is it this week at the Players Championship? Well, let's just say that the sun was booked, so they're playing the thing at TPC Sawgrass.
It's so hot that it could have melted the M&Ms logo on Tim Herron's shirt.
It's so hot that Jeev Milka Singh, who is from India, said he thought he was playing in Malaysia.
It's so hot that Trevor Immelman wore an all-black outfit and questioned his own sanity afterward.
It's so hot that Andres Romero knocked his tee shot into water at No. 5 and the marshals there speculated he did it just to get close to something cool.
Somebody turned the temperature all the way up to melt during Thursday's first round. It felt like the inside of a convection oven almost everywhere, but the hottest spot on the whole course had to be the tee at the 471-yard par four No. 5.
There is no shade in the smallish teeing area and it's enclosed on three sides by shrubs, bushes and saw palmettos that not only block out any breezes, but also reflect the sunlight and heat.
Add it up and you've got the perfect combination for, well, what?
"A sauna," said Paul Casey. "That place could break a thermometer."
The temperature Thursday was in the low 90s, but there wasn't much of a breeze to speak of, except for the occasional electric fans in a few key locations that probably kept some of the gallery from turning into Melba toast.
Back at the 5th tee, you can hear a few birds chirping, but they sound tired, as if their hearts really aren't into it. The 5th tee is the station for marshal Jim McCarty of Orange Park, who's worked this post for seven years. He does it by choice, too.
"It's a pretty hole," he explained.
It's also a hot hole, said Jim Kleck of Queens Harbor Yacht and Country Club, McCarty's marshal partner at the 5th tee.
"We're in this little hole with all these shrubs around that keep the wind out," Kleck said.
At the very back of the 5th tee, there's a drop-off to a creek ringed by trees. Two years ago, a water moccasin crawled up into one of the trees. When Boo Weekley discovered it, he threw tees at it.
Weekley said he wasn't worried about the snake.
"Aw, I just did it to mess with him," Weekley said. "I know they can climb, but I ain't ever seen one jump. Back there, it's the hottest spot on the course. I think that's why that ol' snake loved it."
First Aid reported an increase in the number of heat-related calls by Thursday afternoon coming from the amphitheater-style seating area around the island green at the 17th. But there's room for thousands of spectators there. At the 5th tee, you couldn't cram more than a couple of dozen fans, so the sampling is down. And the fans usually move on from the tee and don't camp out for hours as they do at the 17.
Bob Estes said he's been a lot hotter than he was Thursday. But then again, Estes grew up in Abilene, Texas, where the average summer temperature is burnt.
"Today's the hottest that we've seen this year, but the hottest I've ever been playing golf was in Miles, Texas, when I was 14 and it was 115 degrees and dry and hard pan and dusty and west Texas."
Even Singh, who plays a lot on the Asian Tour, had to admit that heat was a factor, but said it would be a good idea not to make too much out of the situation.
"It's hot, yes, and it's going to get hotter."
Weekley said he's not bothered by mosquitoes in the heat and if any gnats start to bug him, he's ready. He pulls out a bottle of Listerine and uses it on his arms.
"You just pour it on a napkin and pat yourself down," he said. "And if you've got bad breath, all you have to do is lick your arms."
Mosquitoes aren't anything like gnats, Weekley explained.
"That's a totally different brand of giddyup."
In the stifling heat of the first round, Weekley played in the same group as the black-clad Immelman. Weekley said he never worries about what color shirt he wears, heat or no heat.
"Whatever I wake up with in the morning and pull out of the bag. And I sure don't iron it."
The steam pressing was done Thursday.