News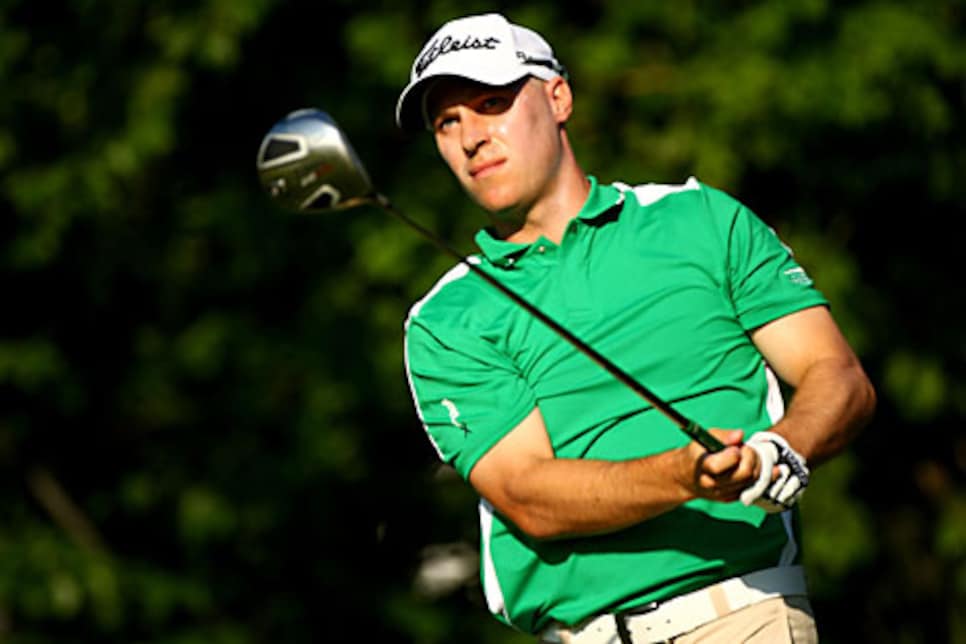 Ben Crane lost ground in his second round at the Players on Friday, but it's still an improvement over his play the previous month,
PONTE VEDRA BEACH, FL. -- For a guy who slammed the trunk on a Friday three of the last four tournaments, whose back issues were diagnosed as being related to competitive stress and anxiety, Ben Crane was surprisingly loose as he pulled under the porte cache at the TPC Sawgrass on Wednesday for a day of practice.
While most of the field arrive for their daily work at the Players in a Buick Enclave, Crane rode shotgun on the back of a Moped being driven by caddie Brett Waldman. "I told him to drive me right up to the front door," the extremely loose Crane said Thursday night, walking through the clubhouse basement with Waldman on the way to the driving range.
The reason for the Moped was that Crane lent wife Heather the SUV for the day. The reason the light mood had carried into Thursday was that Crane had just made nine birdies and was headed to a few more swings just to groove the feeling for the night. As a stand-alone achievement, this was a brilliant round of golf, but with Crane, the reputation precedes him.
Play a word association game with Ben Crane and "slow play" will be the answer. Google "Ben Crane slow play" and there are 21,800 results. There will not be a time when Crane comes into an interview room, as he did after Thursday's brilliant opening-round 65 on the Stadium course, and not be asked about it.
By most accounts Crane has picked up the pace, but he is still in the bottom percentile when it comes to pace of play. "I haven't been on the clock in quite a while," he said in about as non-defensive a voice as one could muster after being asked about this topic ever since he and Rory Sabbatini had their moment at the TPC Avenel four seasons ago.
That well-publicized event saw Sabbatini, exasperated by Crane's languid pace during the final round of the Booz Allen Classic, walking to the next tee before Crane had holed out, and then reprimanding him after they were finished. Sabbatini was on point, but the delivery was unprofessional and he ended up being the villain. No surprise Crane took the high road, said it was his bad, that he was working on it, and that he was going through some swing changes that Butch Harmon and Dr. Greg Rose of the Titleist Performance institute had collaborated on to ease the pain in his back.
So on the day Sabbatini shot 79 while he was shooting 14 strokes less, there was no smugness, no bit of bitterness to the legacy-creating scene at the '05 Booz Allen. "We are friends, no question," Crane said. "And I think he reached out to me and I reached out to him. What did I learn from it? I learned I was too slow, which was accurate. It was the beginning of a process that I need to play a lot faster, because I don't want to upset the guys that I'm playing with, because it needs to be a level playing field."
Crane one-putted his way to two victories and four runner-up finishes before the back seized up again in 2007. He went to all the specialists before Dr. James Sarno introduced the stress and anxiety theory, and played his way through a major medical extension with a series of strong finishes in 2008, including a T-6 at The Players.
The lead up to Sawgrass wasn't accompanied with much positive flow. Missing the cut in three of his last four tournaments, Crane left the parking lots at Houston, New Orleans and Charlotte in the trunk-slamming mode. "I think that's from the movie, 'Dead Solid Perfect,'" he said. "But I think when I trunk-slam it, so to speak, it's more of, 'Why is this happening? What can I do to change it? I feel in my life I've learned the most through the toughest times. When my back was hurting, I didn't know if I'd ever play golf again. And through that came the greatest appreciation for me to be playing out here and how much of a privilege it is and honor just to be in this tournament. A little dose of perspective goes a long way."
Crane went through his support group, and realized he was trying to be too Dead Solid Perfect. He tweaked his setup over putts and changed his approach from the technical to the visual. His swing key was to release the club, but to do that on one of the world's most penal courses would take even more time over the ball -- or so it would seem.
Crane got through it without incident. It either takes less time when there are only 22 putts; or maybe it's the fact that playing partners Tim Wilkinson (74) and Ross Fisher (77) had problems on their own, but there was nothing to indicate that Crane was holding up the golf course.
Friday was not as good as Thursday, but a second-round 73 kept him in touch with the leader, Alex Cejka. Crane's group was put on the clock, but Fisher and Wilkinson were both having tough days and tour officials concur that while they don't want to encourage him too much, there has been an improvement.
Last week Crane's group led off the field at Quail Hollow and didn't hold the field up, so in his world, that's slow progress.