News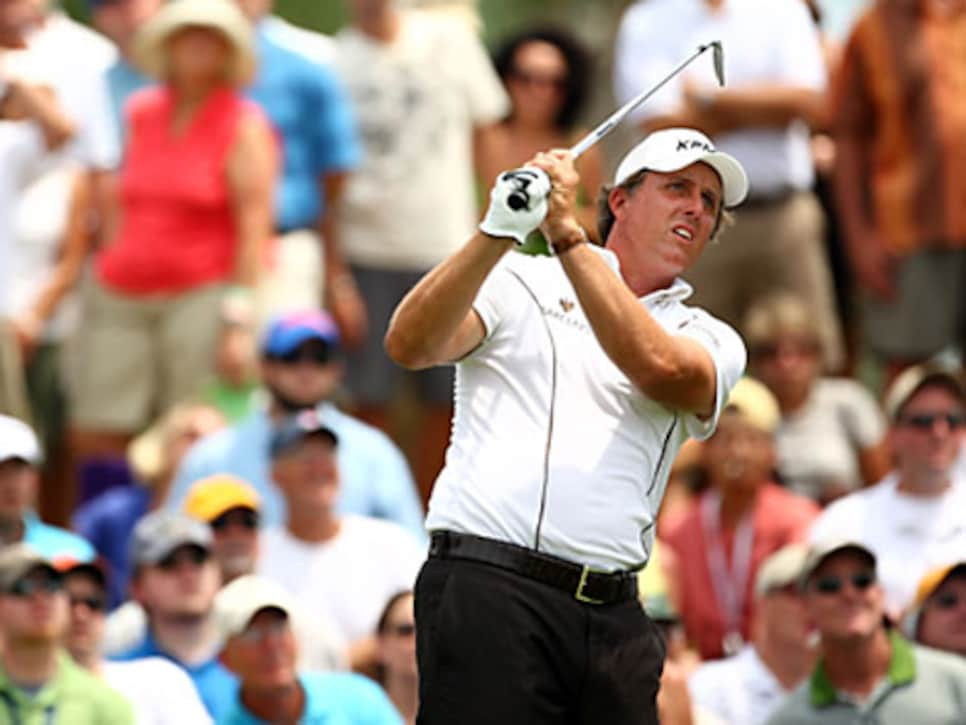 Phil Mickelson's hopes of a second Players Championship might have drowned in the water on the 16th hole.
PONTE VEDRA BEACH, Fla. -- The first round of the Players Championship is in the books. Who flourished? Who faltered? Let's take a closer look with another breakdown of birdies and bogeys.
Birdie: To Paul Goydos. Last year's runner-up shot 78 and then stood his ground when a reporter questioned the integrity of golf in the age of steroids, a subject that came to the fore again Thursday with the Los Angeles Dodgers' Manny Ramirez drawing a 50-game suspension for juice supplements.
"I was tested last week,'' Goydos said, testily. "I think golfers have something called ... Integrity.''
"Have you read the rule book?'' he said, getting a little worked up and defensive. "The second rule of our game talks about being a good sport. Not the 50th rule. We don't cheat. We call penalties on ourselves. We're not the NBA, Major League Baseball, the NFL. And to lump us in there with those failed places is stereotyping all of us."
Bogey: To Phil Mickelson. Three birdies in a row starting at the second put the 2007 champion three-under par. By the time he arrived at the 18th, he was two over. A birdie at 18 salvaged a 1-over-par 73. "I am surprised by what he's shooting today, and if you ask Phil, he'd say he is surprised," said swing coach Butch Harmon. "But he's actually swinging well, and tomorrow he could easily go out and shoot 65. That's just the way golf is."
Bogey: Fred Couples. An 80 on the course where he's won twice isn't what you'd expect from the Presidents Cup captain. Then again, maybe it's days like these that has him relishing his 50th birthday and impending turn on the Champions Tour.
Birdie: Fred Funk. Despite a heavy knee brace and a curtailed practice schedule after being treated for a staph infection in January, Fred Funk managed to bunt it around TPC Sawgrass in 73 strokes. "That's not too bad for a guy who's hitting it about 215 off the tee," Funk, who won the Players in 2005, said jokingly. "Actually, I'm a little disappointed, because the course is perfect right now, but I just don't have the strength and I don't have a good grasp of what I'm doing. I'm just doing the best I can to try and get it around, looking for something that works."
Funk, 52, said he plans to play all but one of the remaining events on the Champions Tour this year, plus three more regular tour events. Then he will consider getting a knee replacement in the fall. He has to wait six months after going off the medication for the staph infection before he can be cleared to undergo the procedure. "It's an ambitious schedule, but I just want to play and try to make the most out of my year," he said. "Three months ago I couldn't even think about hitting a ball, so by comparison I'm doing OK."
Birdie: To the PGA Tour, which paired Masters contenders Angel Cabrera, Kenny Perry, and Jim Furyk together, proving it does in fact have a sense of humor.
Bogey: To Sergio Garcia, for double-bogeying his 17th hole. What made it ugly was that his 17th hole was the par-3 eighth and not the infamous island hole that ruins so many scorecards. Garcia's first shot on the 204-yard hole was struck so poorly that he ended up 40 yards short of the hole.
Birdie: To Cabrera, for keeping the scorekeepers on their toes. The Masters champion opened with a triple-bogey, rattled off three birdies, then made consecutive bogeys before adding another birdie. He didn't make a par until the eighth hole, and finished with a 72.
Bogey: To Steve Flesch, who added injury to insult by suffering a triple-bogey on the fourth hole and then accidentally bended the shaft of his wedge after hitting it against a rope handle on foot bridge leading to the fifth tee.
Birdie: To the bunters. OK, so no one who plays golf for a living is struggling to reach the fairway. But the Players leaderboard -- from Richard Johnson to Scott Verplank to David Toms -- is filled with guys known more for their ball-striking than for their prowess off the tee.
Birdie: To Scott Verplank, who made two eagles in his opening 67, including a hole-out from 150 yards with an 8-iron at the par-4 15th hole. Verplank, who enjoyed his best opening round at TPC Sawgrass, had made just two eagles for the season until Thursday.
Birdie: To Garcia, who can be a petulant sort, for stopping and talking with reporters about his struggles this year.
Birdie: To Jim "Bones" Mackay. His guy, Mickelson, got heckled at the sixth hole after an errant drive. McKay pointed out the troublemaker and had him expelled. Wonder if that had anything to do with Lefty's meltdown. Mickelson shrugged it off. "That stuff happens," he said.