News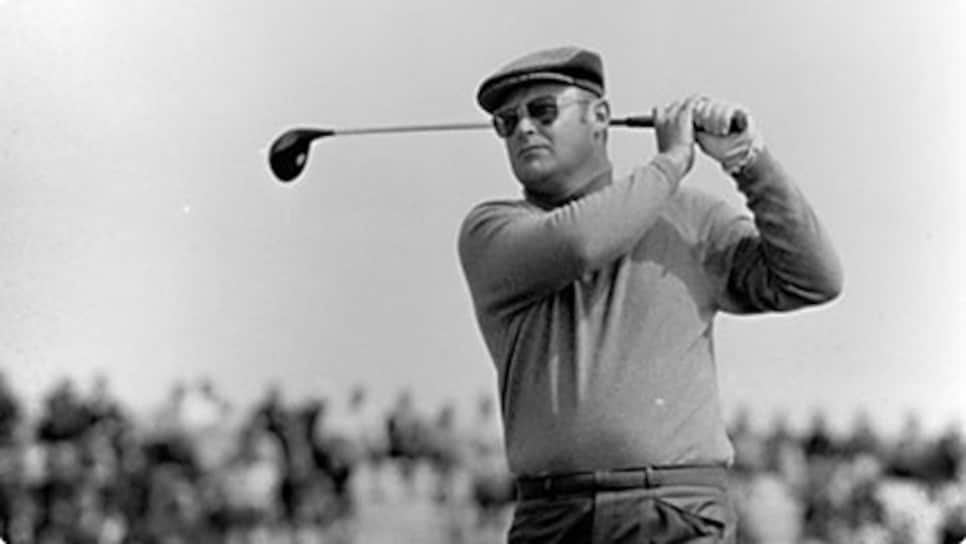 Miller Barber won the 1973 World Open at Pinehurst, which was played over 144 holes.
The USGA will make history when it plays the men's and women's U.S. Opens in consecutive weeks on the historic No. 2 course at Pinehurst (N.C.) Resort and Country Club in 2014. Such a double scoop of major championships is unprecedented, but it isn't the first time this mecca of American golf has been home to two straight weeks of top-level professional action.
But the previous two occasions weren't without their oddities, to say the least.
Pinehurst's North & South Open was a de facto major championship during the first half of the 20th century, a prestigious event that was won by players such as Walter Hagen, Macdonald Smith, Byron Nelson, Ben Hogan, Sam Snead and Cary Middlecoff. As time went on, Pinehurst president Richard Tufts, whose real love was amateur golf, didn't appreciate the game's growing commercialism. He also didn't like it when the PGA began to stipulate a minimum purse size of $10,000.
In 1951, Tufts' philosophy and golf's change of direction were on a collision course. The Ryder Cup matches were played for the first time at Pinehurst No. 2 on Nov. 2-4, with the North & South Open scheduled for the following week. The United States, led by a stellar performance by Jimmy Demaret, scored a comfortable victory over Great Britain.
The next week, though, Demaret, Hogan, Jack Burke Jr. and Lloyd Mangrum -- disgruntled about Pinehurst's ambivalence toward the pro game and the substandard prize winnings on offer -- didn't stay in town for the North & South. Sam Snead withdrew after the first round. Tommy Bolt registered a three-stroke victory over John Barnum, but Tufts had had enough of the pros.
Professional golf didn't return to the Sandhills area until 1971, for a brief, two-year run of the U.S. Professional Match Play Championship at the Country Club of North Carolina (Dewitt Weaver won the first playing, Jack Nicklaus the second).
The Tufts family had sold the resort to Diamondhead Corporation by 1973, when the new owners, who were also busy selling as many condos as they could, decided to make a splash by holding the world's first $500,000 tournament. To play for that bountiful a purse, including the $100,000 winner's check, there was a catch: The 1973 World Open would be 144 holes, conducted over two weeks in November -- six rounds on No. 2 course, two rounds on No. 4 course, recently remodeled by Robert Trent Jones.
Jack Nicklaus, Johnny Miller, Lee Trevino and Tom Weiskopf took a pass. Weiskopf cited an elk hunt, Miller the flu. Once the tournament began, a whopping 41 players withdrew at one juncture or another. "We tried to do something different and worthwhile for golf, and nobody cared," Diamondhead president Bill Maurer told Sports Illustrated. "I'll argue with anybody who says we did it strictly to sell land."
People might not have joked about it being "The End of World Open" if not for the second curveball, the weather. Golfers have always flocked to Pinehurst in the fall, but it but it isn't immune to a cold snap and 1973 was one of those years. During the first four rounds -- particularly an icy third round when starting times were delayed because an icy frost -- turtlenecks were the rule on No. 2's turtleback greens, which also created a lot of conversation because they were thin and bumpy.
"Players bundled up in the freezing temperatures," Dick Taylor wrote in Golf World, "and [Jim] Jamieson looked like a green sundae with a moldy maraschino on top, which was his toboggan cap."
Still, there was some remarkable scoring. Gibby Gilbert turned heads with a course-record, nine-under 62 on No. 2 in the opening round. Everyone thought that score would stand for a long time, but a young Tom Watson matched it in the fifth round. The weather warmed up for the second week, but it was very windy for the sixth round, when tour rookie Ben Crenshaw -- fresh off his first victory at the San Antonio Texas Open --shot a 64 and vaulted from 18 shots out of the lead to second place.
Back in 1973, having a gross of tour pros come to the still-sleepy Pinehurst area for two weeks was a big deal. Residents saw them at the Town and Country Cinema, at the Big Star grocery store and the Knollwood Fairways driving range. Snead was paired with Gilbert for his record round and the 61-year-old made the 72-hole cut and finished 144 holes at 595 and earned $971.33 (it was so long ago, winnings were still figured to the penny).
No. 2 ended up having the having the last word on most of the field. Gilbert was ambushed by an 82 in the sixth round, and Watson followed his 62 with 76-76-77. Despite the poor finish, Watson, who had maintained his lead after the two 76s, finished T-4, while the tournament began a duel between Crenshaw and veteran Miller Barber. Crenshaw hit a wild hook on the 16th hole and that was that. Barber, wearing his trademark sunglasses and an Amana cap, shot a 69 to finish at two-over 570, three ahead of the upstart from Texas.
"I plan to play four or five more years then sit back and watch Ben and Leonard [Thompson, who was third] sweat over putts," Barber said.
Despite the quirks and the lackluster reception by many to the first PGA Tour event at Pinehurst in 22 years, the beginning didn't turn out to be the end of the World Open. It was staged, as a traditional 72-hole event in September in 1974 and 1975 and was won by two of the stars missing from the inaugural, Miller and Nicklaus. In fact, a tour event was held at Pinehurst through 1982 and more marquee players -- Raymond Floyd, Hale Irwin and Watson (two times) -- were among the winners prior to No. 2's emergence as a U.S. Open site starting in 1999.
Frost delays won't be a worry for the best men and women in the world in 2014, and no-shows don't figure to be a problem either. But when you look at how the makeup of the sport has changed, particularly in women's golf, the name of that wacky fortnight in 1973 makes a lot of sense.