News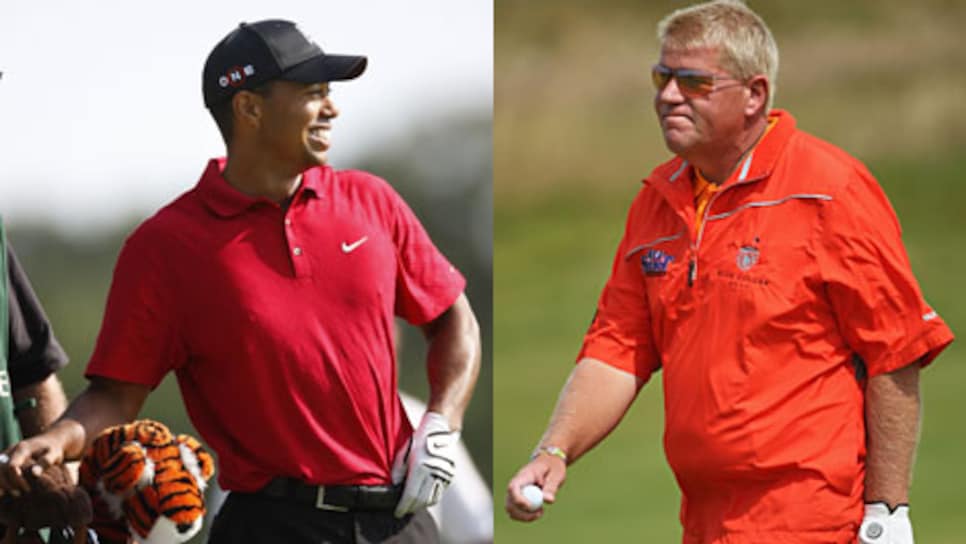 A Tiger Woods-John Daly Sunday duel at Hazeltine would be a memorable way to conclude the major championship season.
If there's no such thing as a lousy major championship, some are a lot more memorable than others. Vintage final-round performances, star-stacked leader boards and a hearty dose of suspense are what separate the unforgettable from the regrettable. In 2009, we've been dealt a serious case of regrets only.
Through no fault of the men who have claimed the year's three biggest titles, each '09 major has been defined by those who lost the tournament. Kenny Perry's Masters meltdown was a disheartening finish to an otherwise great week, but four months later, KP's demise seems upbeat compared to the crash landings that punctuated the U.S. and British Opens.
Again, not to take anything away from Lucas Glover and Stewart Cink. You play to win, and those guys did, but when Phil Mickelson and David Duval both reach Bethpage's 17th tee with perhaps a 50 percent chance of forcing a playoff, each script featuring a teary-eyed finish for the ages, it's hard not to feel demoralized when both fairy tales dissolve in the time it takes to miss a five-footer for par.
Glover played the final hole with a two-stroke lead in his pocket and a 6-iron in his best interests, which left him nothing more than a 9-iron to the green and the rest of us wondering how a day of stunning developments could end with such an anticlimax. As dreary endings go, however, the U.S. Open couldn't touch the British. If Tom Watson's second shot at the 18th travels one yard shorter than it did, he taps in for par, wins his sixth claret jug and sidles right up next to Jack Nicklaus (1986 Masters) as owners of the greatest victories in golf history.
That four-hole tiebreaker at Turnberry? It wasn't a playoff. It was a massacre. Watson arrived in the media center and immediately announced that it wasn't a funeral, but he was only half-right. In 2009, we've witnessed the death of the spectacular storyline, not once, not twice, but at least three times, maybe four.
So we're due. Next week's PGA Championship promises nothing more than 72 holes of premium competition at Hazeltine, a venue that has defied the law of averages before, but until the golf gods quit showing off their morose sense of humor, we're slaves to the bounce of the ball. It will take a terrific PGA from start to finish if 2009 is to be saved. On that note, I've already worked up a full-scale recovery plan.
Tuesday: The pre-tournament presence of Dave Hill delights those familiar with the former tour pro's disparaging remarks about Hazeltine during the 1970 U.S. Open. Asked what the eight-year-old course needed, Hill replied, "Eighty acres of corn and a few cows. They ruined a good farm when they built this place." Almost four decades later, the old-school curmudgeon has returned to make peace at age 72. "When I die, I'd like my ashes scattered across the grounds," Hill says. It's touching stuff, great early-week copy, but seriously? Talk about ruining a good rant.
Wednesday: A smiling, clean-shaven Sergio Garcia declares himself "born again" as a competitor on the eve of the final major and says his boorish, pouty-puss days are a thing of the past. During a lively, eyebrow-arching visit to the media center, Garcia admits he thought about quitting the game after breaking up with Morgan-Leigh Norman, Greg's daughter, shortly before the Masters, but says now he recognizes how fortunate he truly is. "Ladies and gentlemen, say hello to the New Sergio," Garcia announces. The European press can't stop drooling.
Thursday: The 93rd PGA Championship begins with an onslaught of record-low scoring: close to half the field in the 60s and nine guys at 65 or better, including Woody Austin, who becomes the first player ever to shoot 61 at a major. A double-bogey at the 18th derails Woody's pursuit of golf's magic number, however, leaving the first-round leader in no mood for self-glorification. "I choked my guts out," Austin says.
Friday: Tiger Woods rebounds from an opening 71 with a 65 in much tougher, breezier conditions, a day when the field scoring average rises more than six strokes. After missing a three-footer for par at the 18th, Garcia slams his putter against his bag, then tells the media the course was set up too hard. Among the five co-leaders at 10 under is John Daly, who played the entire second round in a pink polka-dot sweater despite temperatures in the low 90s.
Saturday: An early highlight is provided by 2002 PGA champ Rich Beem, who aces the par-3 fourth, then climbs a large oak tree just right of the tee box and is ultimately penalized two strokes for an excessive celebration. In a persistent weekend breeze, scores have flattened out, and Woods, who began the day two back, rises to the top of a leader board that still includes Daly and an onrushing Garcia. "The course was way too easy today," Sergio quips. "They must have let Tiger pick all the pin positions."
Sunday: An all-star cast has assembled for the thick of the afternoon hunt. Woods and Rory Sabbatini comprise the final pairing with Daly and Garcia one group ahead, right behind a resurgent Fred Couples and Mickelson. Long John Sweater birdies the seventh, eighth and ninth to grab a two-stroke lead, but when Couples holes out his second shot at the par-5 11th, he assumes sole possession, at least until a couple of four-foot misses end his Watsonian charge.
Here comes the dude in the red shirt. A pair of spectacular recovery shots from the right trees lead to back-to-back birdies, pushing Tiger one ahead of Sabbatini and Sergio, but just when it appeared safe to stick a fork in this tournament, there is a magnificent roar from the 14th green. After driving the 352-yard par 4, Daly holes his 35-foot eagle putt, earning him a share. Sabbatini's birdie on the same hole 15 minutes later makes it a three-way tie at 16 under, but it's the mock fist-pump and flawless Tiger impersonation that has everyone talking later.
Needless to say, Tiger is not amused. His bunker shot at the par-3 17th takes one hop and leaps into the cup, sending him to the 18th one ahead, but after a titanic drive up the hill, Daly jabs a 9-iron to seven feet. He yips the birdie attempt, but as his ball rolls helplessly right, it hits Garcia's coin and veers in the opposite direction, stops on the lip for a couple of seconds, then tumbles into the hole like a drunken sailor.
Woods is in serious trouble off the tee, but his left-handed second shot from behind a tree rolls onto the green, where he'll have an 18-footer to claim his 15th major title. Money in the bank? Not so fast, Barney Frank. Woods rolls the game-winner six feet past, then reminds us one more time who he is and sinks the comebacker. With CBS anchor Jim Nantz hyperventilating and 40,000 Minnesotans in a tizzy, we've got a three-hole playoff between Eldrick Almighty and Long John Staple Surgery.
At that point, I've definitely gotten my money's worth. Figuratively speaking, of course.