News
The Steady Progress of Michelle Wie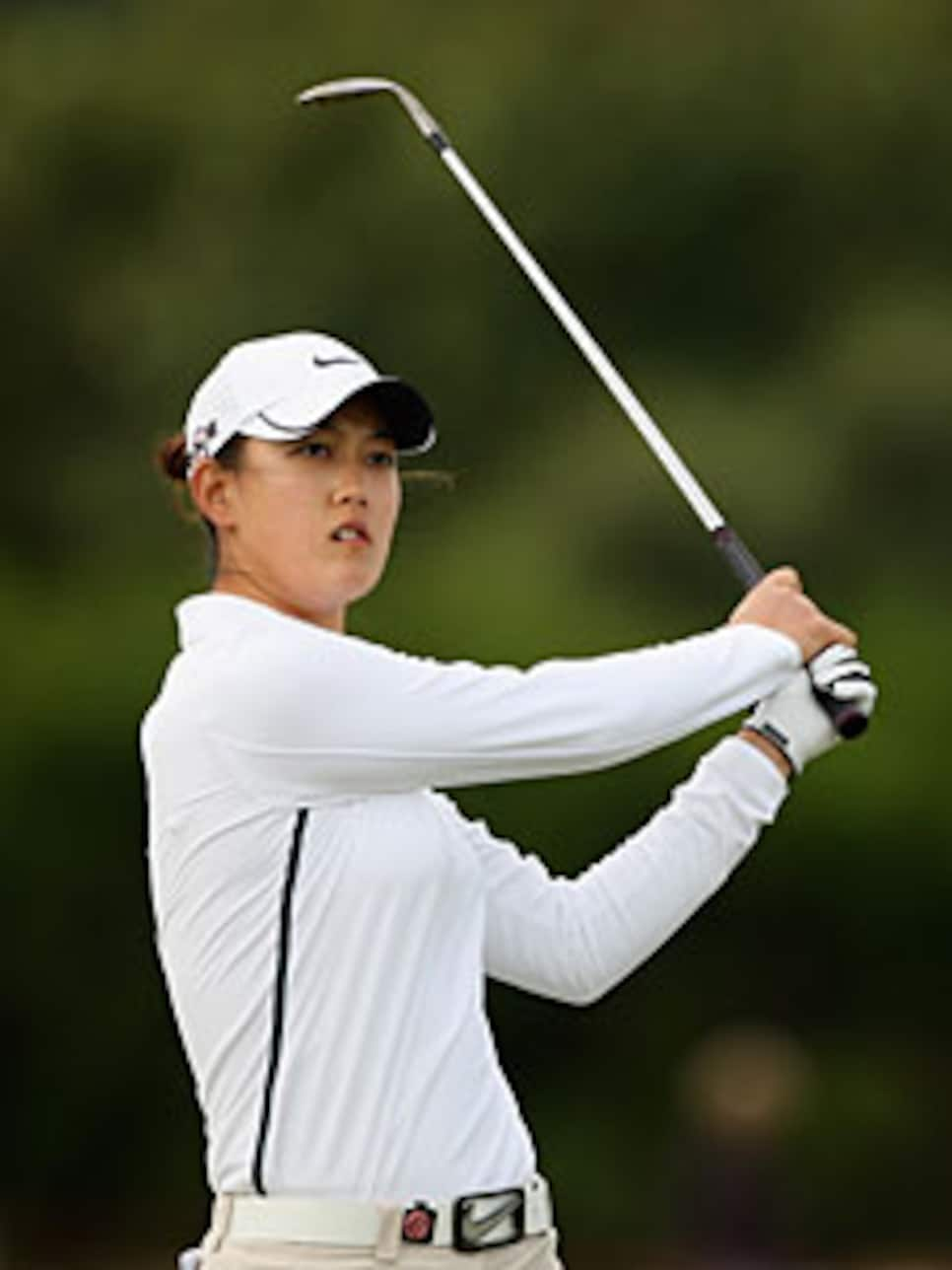 Michelle Wie during the Women's British Open Championship.
The original plan was for Michelle Wie to appear on last week's "Grey Goose 19th Hole," one of those TV interviews where no one gets hurt, although U.S. Solheim Cup skipper Beth Daniel insisted that Juli Inkster, her other captain's pick, join Wie for the segment, and the Golf Channel accommodated the request.
As a panelist on the show with no say in the matter, I didn't see Inkster's inclusion as a battle worth fighting. It did leave me wondering why a young lady with so much media experience would need a babysitter for a quick game of slow-pitch softball, but if a hedgehog breaks more ground than our group QA, the exercise proved to be time well spent.
Inkster, as always, was fabulous before, during and after the taping. Wie, meanwhile, seemed as relaxed as I've ever seen her, perhaps because making the Solheim squad ranks as her biggest accomplishment since invading golf's universe as Little Miss Too Much Too Soon back in 2004.
Fifteen minutes isn't enough time to pass judgment on anyone, much less a misguided phenom who spent five years lugging around tons of silly expectations, but eight months into her "rookie" season on the LPGA Tour, Wie is showing signs of long-awaited progress, as much by fitting in with her colleagues as her on-course performance. She earned her spot on Daniel's roster. She brings a set of skills that could make her exceptionally valuable in the team format, and that combination appears to have made Wie a popular selection among her Solheim peers.
"I think that making it through Q school [last fall] and becoming a member of the LPGA, going through the grind, has endeared her to the other players," says Wie's agent, IMG's Clarke Jones. "There's a measure of respect that can only be earned by doing things the right way, and she has done that. I think everybody recognizes her as a special talent. A great team effort, a fresh start."
But only a start. Wie still hasn't won a tournament at any level since the '03 U.S. Women's Public Links. Her parents still hover, which might be why Wie's ability to handle pressure remains highly questionable, and is probably another reason she is so excited about spending next week at Rich Harvest Farms.
It's just her and the girls, no leashes allowed, a foreign environment prior to this year but suitable now in terms of the spotlight-reduction factor. After Daniel added Wie to the team at the conclusion of the Ricoh Women's British Open earlier this month, the U.S. contingent flew directly from England to Chicago for two days of practice—the first time Wie has traveled without her mother and father.
For all the blame heaped on Bo and B.J. Wie for allowing their daughter to dine on style over substance, for all the poor decisions and fantasyland scenarios that had her changing the game forever by competing against men, the Wie/IMG relationship, which began in March, seems to have turned things around. Jones is as straight a shooter as any agent in golf, a guy whose past and present clients include Vijay Singh, Sergio Garcia and Anthony Kim. That's three handfuls for those of you scoring at home.
One of Jones' first moves was to assign IMG client manager Nickole Raymond a semi-fixture role in Michelle's professional life: a confidante with a working set of ears and something other than empty space between them.
Bo and B.J. are still around, if not omnipresent. Their only child turns 20 in October, which is important to remember when assessing the young lady's career, and makes it all the more imperative for IMG to find a compatible balance on matters involving parental influence. If Wie's previous managers found B.J. to be demanding and intrusive, Jones has no problems with the old man. Once you've done a lengthy stretch managing Singh, no barbell feels quite as heavy.
Even if things don't go splendidly for Wie next week, one senses she has found happiness playing the game for a living. When my 6-year-old daughter rode a bicycle on her own for the first time this past weekend, the joy she experienced was so obvious. "I'm doing it, I'm doing it!" she exalted. Little Miss Too Much Too Soon is doing it, too. Sooner or later, she's going to start doing it really well.