News
Last Thoughts On The Open That Wouldn't End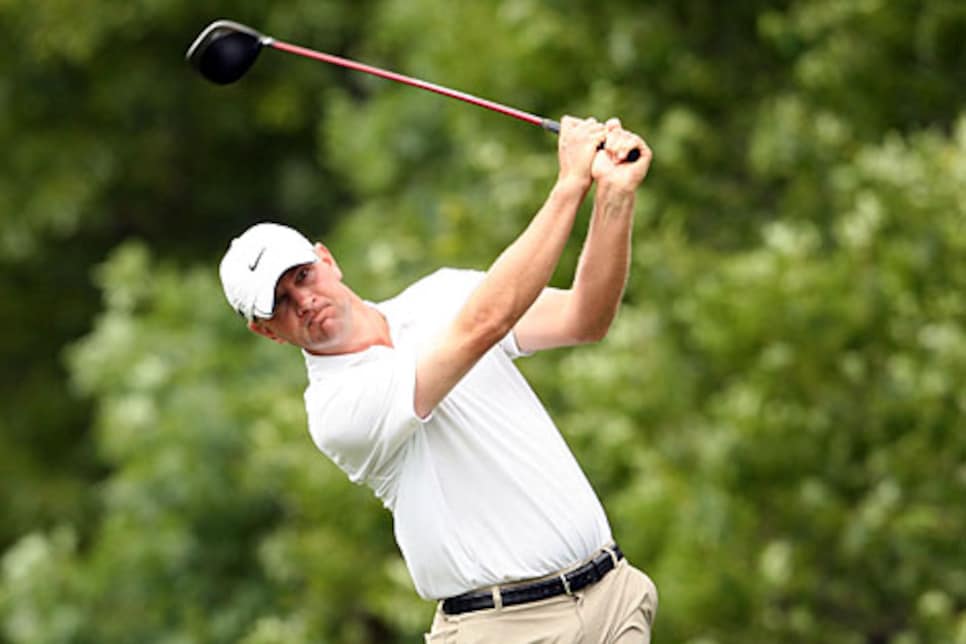 Lucas Glover watches his tee shot on the fifth hole during the continuation of the final round.
It was a good Monday to rob a bank in New York, if indeed there are any banks left in New York. But it was an even better day for golf as thousands of deep throats converged on Bethpage Black, although not specifically to be heard supporting Lucas Glover. In fact, as he approached his well-placed tee shot on the 16th fairway, this Southern gentlemen might have felt like a stick in the mud. To Glover's right, denizens of the bleachers surrounding No. 17 arose for their "LET'S GO PHIL-IIL!" hymnal, a reminder of how Mickelson enjoys all the comforts of home while three time zones away. Then, up ahead of Glover, there was tumultuous merriment over David Duval, who just made birdie to create a three-way tie for first at the 2009 U.S. Open, no tiny step for an old friend ranked 882nd in the world.
Glover, lightly raced in such elite conditions, recoiled not one bit. He pulled 8-iron, steadied over his ball, then pured an approach from 172 yards. He would birdie there from four feet for a lead he would retain, then pad. Glover is no lightning rod when it comes to standing ovations, but when he wins his second major, at least he'll be as thoroughly appreciated by the public as by his peers. Glover's victory spread significant cheer about the sport's inner sanctum, and not because he got it done in regulation.
Glover double-bogeyed his first hole of the championship, but instead of passing through, he shelved his customary foot-to-the-floor mode and aced a final exam featuring juicy multiple choices. Obviously, Mickelson taking the trophy home to Amy would have been off the charts. He performed nobly; now comes the hard part. Duval, happier than he has ever been, kept saying he was getting close, closer than the scores indicated. Now, the pieces are falling into place, not that he must return to No. 1 to feel whole. Tiger Woods, because he knows no other way, did not bow quietly. Ricky Barnes, the 2002 U.S. Amateur king, almost scratched a seven-year itch. He showed up in a cap that said he was either here to paint your house or conduct your locomotive. He got it to 11 under, looked like he would walk on water and wound up with his own police escort. Hunter Mahan? He'll get his.
Nothing could be done about the weather, although the Bethpage Black staff is to be commended. But for all the delays, downpours and delirious drinkers bearing umbrellas, this Open will be spared comparisons with five-day cricket matches that reach no conclusion or five-month chess tiffs (Anatoly Karpov vs. Garry Kasparov, 1984) ending in apathy. What Olympic windbags take from this is another matter. Golf is bidding to become part of the 2016 Summer Games, and the '09 Open underlined and highlighted how inconvenient this game can be for stage, screen and television. I don't recall synchronized swimming being postponed or suspended because of rain, although that doesn't sound like a bad idea.
If it seems like an eternity since Jeff Brehaut, Johan Edfors, Andrew Parr and Ryan Spears slept on the Thursday night lead, that's because it was an eternity. By the end of the third round, Brehaut was 21 shots south of Barnes and Edfors was being mistaken by some louts for his twin brother separated at birth, Roger Federer, or as one play-by-play spectator declared, a guy who "looks like Jesus but putts like Mary." These New Yorkers are such a howl. But the so-called People's Open wasn't about them or the rain forest they inhabit. It was about golf, gripping even if it wasn't great. Bethpage Black wasn't always fun, but we challenge you to fuggetaboutit.
Glover, who hails from South Carolina but roots for the Yankees and can't handle NASCAR, will not make much of this conquest on Father's Day weekend. He and wife Jennifer do not have children yet. Since age 12, Glover has neither seen nor communicated with his father. But mom Hershey was on hand, along with her husband, Jimmy, plus three friends who drove all night from North Carolina: "LUCAS LOCOS" according to their T-shirts. Glover was unlucky early and often Monday: an unplayable from a bunker at No. 5, a mud ball that could not be cleaned because it settled inches wide of the 13th green. When he finished his 73, Glover was drained. He hugged caddie Don Cooper, Jennifer, then joined a communal prayer of gratitude for no playoff. The best man won, a good man won and, besides, as Lucas Glover eyed his trophy, it rained again.