News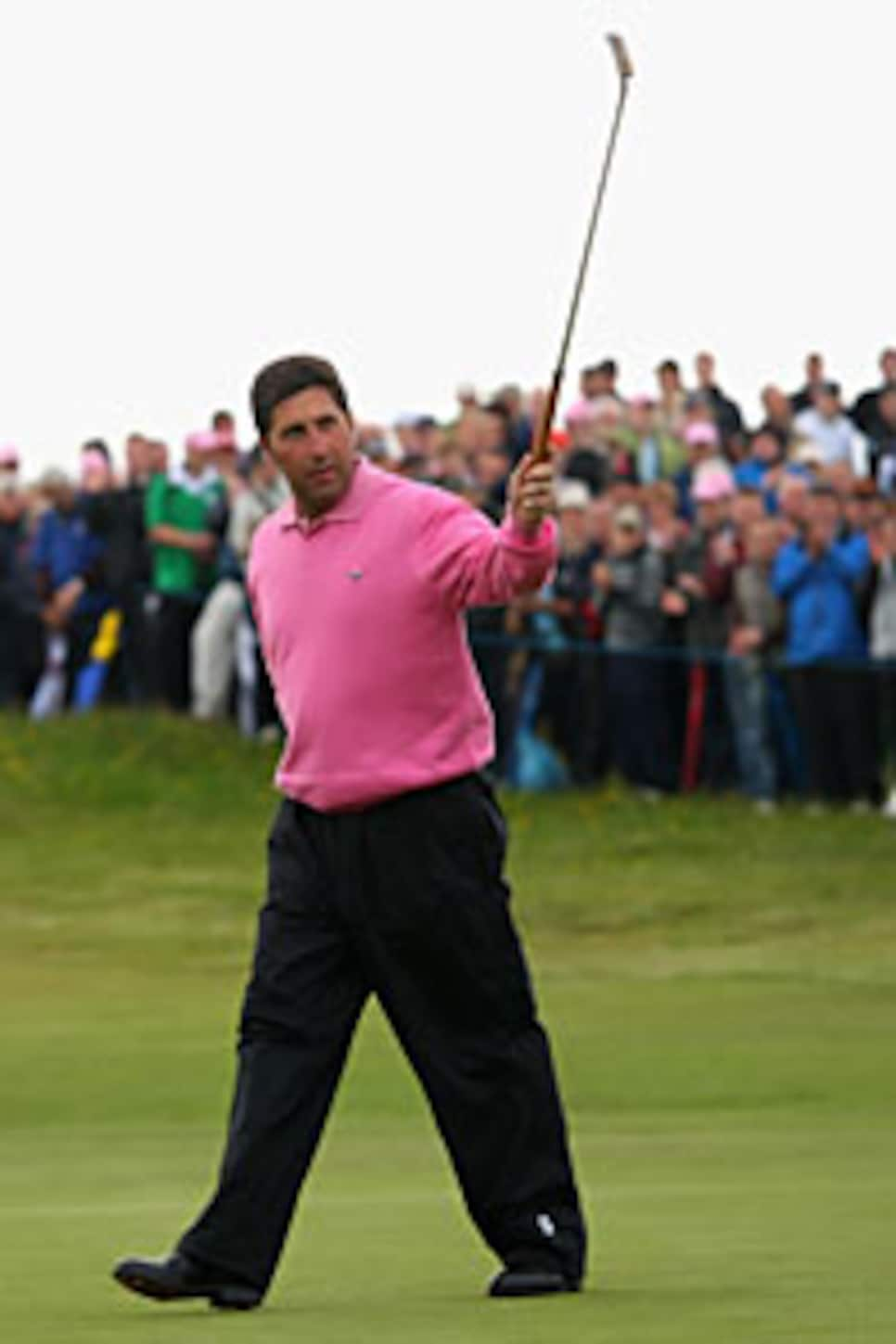 Jose Maria Olazabal carved out a legacy as much for his play in the Ryder Cup as for his two Masters titles.
Jose Maria Olazabal and Seve Ballesteros, known as the "Spanish Armada" during their indomitable partnership in the Ryder Cup, never had to exchange ideas because they thought and played so much alike.
"We were erratic off the tee, solid with irons, extremely good around the green," Olazabal said Wednesday. "Whenever we had to make a decision, there was not much thinking to do, not much talking. We saw the same shot, the same flight, we had the same ideas."
Linked by their Spanish heritage and superb short game, they will be together again in the World Golf Hall of Fame.
Olazabal was elected on the International ballot with 56 percent of the vote, joining Ballesteros as the only Spaniards in the shrine. He will be inducted Nov. 2 at the World Golf Village in St. Augustine, Fla.
"It's a very special feeling to be part of that group, and for me in particular, knowing that Seve is there, with the relationship I've had with him through my career," Olazabal said. "He made me believe in myself. He made me believe my game was good enough to win tournaments. I owe him everything."
Olazabal did his part with 29 victories worldwide and two Masters, the second green jacket the most unlikely of all.
In the prime of his career, Olazabal feared he would never play with a mysterious ailment that later was diagnosed as rheumatoid arthritis in the joints of both feet. He battled Greg Norman along the back nine of Augusta National and won by two shots.
He spent two years on the couch, needing help just to get to the bathroom, his only access to golf what he saw on television.
"More than once, I thought my career was over, I was not going to be able to play golf again," he said. "To be where I am now, after what I went through, is quite remarkable."
Two victories on the PGA Tour defined his resiliency and explosive style.
He made the cut on the number in the 2002 Buick Invitational at Torrey Pines, then closed with rounds of 67-65 for a one-shot victory. The other was the World Series of Golf at Firestone in 1990, when he opened with a 61 and went on to a 12-shot victory.
"All the players kept telling me that was the toughest golf course we play all year," Olazabal said. "Once the week was over, it seemed easy. I went back the following year to defend the title, and after a practice round Tuesday, I was shaking my head at how the hell I managed to score that well."
Butch Harmon, one of three swing coaches in Olazabal's career, knew the answer.
"He's always been the ultimate warrior," Harmon said Wednesday. "He reminds me of the gladiators in the Coliseum in the old days, when the put them in there with the lions. He didn't know how, but he was coming out. I always felt like Jose Maria and Tiger Woods are very similar, but God gave Tiger more talent. You look at his heart, desire and work ethic, and he had the ability to rise to the occasion."
Olazabal grew up on a golf course in Spain, the son of a greenskeeper, learning golf with a putter cut down to his size. Olazabal never thought he had a great swing, but he compensated with a big heart.
"Two words spring immediately to mind when reflecting on the wonderful career of Jose Maria Olazabal - courage and determination," said George O'Grady, chief executive of the European Tour.
Among his early feats was beating Colin Montgomerie in the 1984 British Amateur at Turnberry. Olazabal won his first European Tour event at the Swiss Open when he was 20.
He met Ballesteros when he was 14, and they became the greatest partnership in Ryder Cup history with an 11-2-2 record.
Most satisfying to the 43-year-old Olazabal was that he achieved so much without having a sound swing.
"I had to work hard to be competitive," he said.
Election requires 65 percent of the vote from a panel of Hall of Famers, media and various golf officials. Olazabal got in through a loophole that takes the player with the most votes provided it is more than 50 percent.
The class of 2009 thus far includes Lanny Wadkins (PGA Tour ballot) and Christy O'Connor Sr. (Veterans Category).