News
Sabbatini Goes Low, Ties Mallinger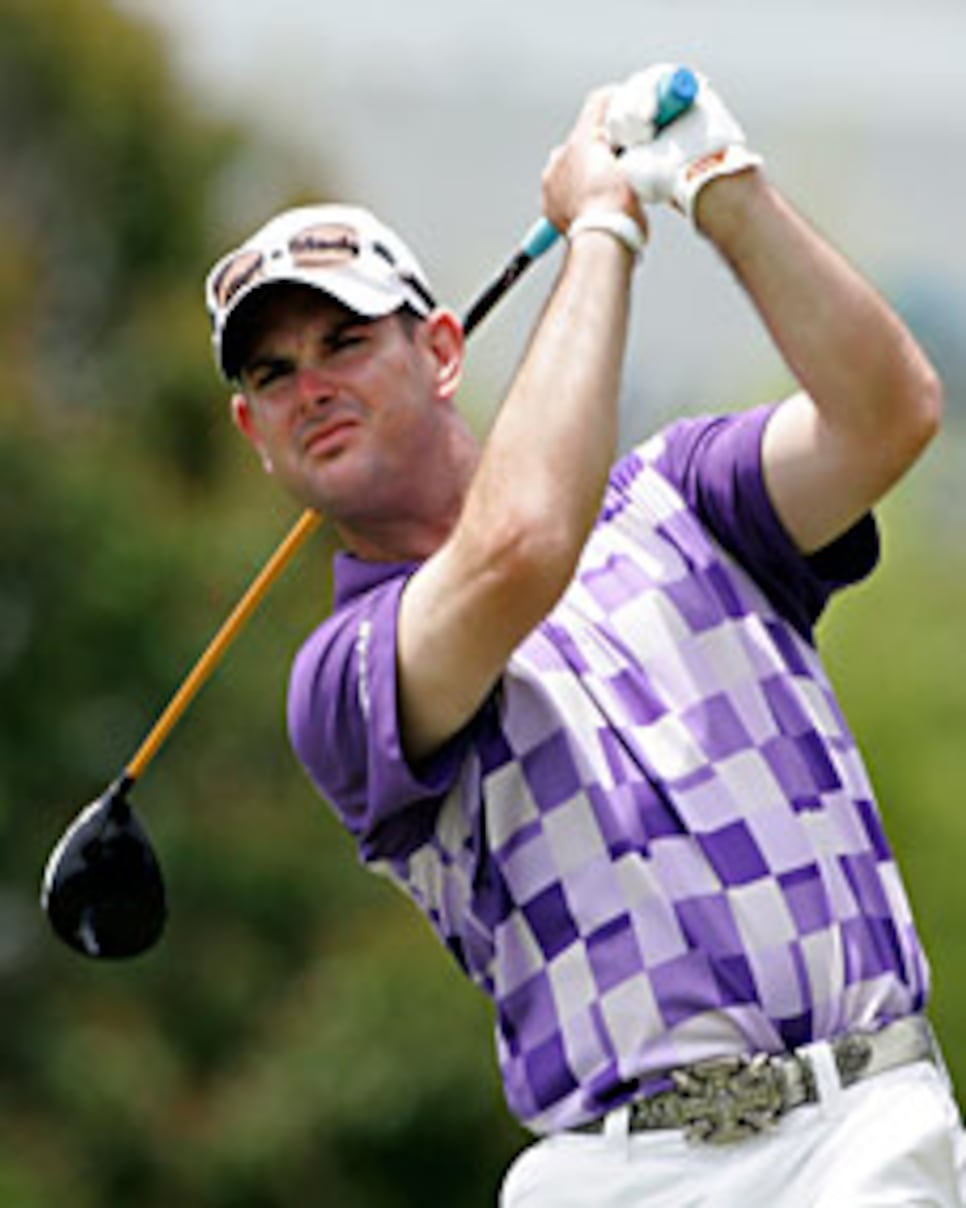 Sabbatini hit it in the water on 12, but holed out from 96 yards to save his par.
IRVING, Texas (AP) -- Rory Sabbatini had just finished detailing his four consecutive birdies when wife Amy reminded him about the hole before the streak that put him in the lead at the Byron Nelson Championship.
"My par on No. 3 was better than any of the birdies," Sabbatini said. "I drove it in the water, then hit a 5-iron in the right greenside bunker, then holed it. Just a regulation par."
That 96-foot par-saving bunker blast at the 528-yard third hole, his 12th of the day, and the birdie quartet came in his season-low round of 6-under 64. Sabbatini matched John Mallinger (65) at 8-under 132, a stroke ahead of five players.
Mallinger eagled both par 5s at the TPC Four Seasons, holing a 45-foot shot from the greenside bunker at No. 7 and sinking a 14-foot putt at No. 16. He also had three bogeys and four birdies, the last a 15-footer at No. 18 for a share of the lead.
First-round co-leader James Nitties (68) overcame a double bogey when he hit his first tee shot out of bounds. The PGA Tour rookie was in the group at 7 under that included playing partner Brian Davis (65), who finished his sixth consecutive round in the 60s after an early three-putt from 5 feet for double bogey.
Briny Baird (64), James Driscoll (66) and Dustin Johnson (65) also were 7 under. Driscoll, who lost in a playoff at Justin Leonard last week in the Texas Open, finished with consecutive bogeys, three-putting the 198-yard 17th and missing the fairway off the tee at No. 18.
"It stinks to end like that, but I did a lot of things great out there, too," Driscoll said. "So it's kind of what I'm going to focus on."
Defending champion Adam Scott missed the cut by three strokes after consecutive 71s. Since a runner-up finish at the Sony Open in January and two World Golf Championship events that have no cuts, Scott has missed the cut and gone without a paycheck his last six tournaments.
Ken Duke, who shared the first-round lead, shot a 69 and was two strokes back with Robert Allenby (67) and D.A. Points (66).
Sabbatini had consecutive top-10 finishes at Hilton Head and New Orleans before missing cuts at Quail Hollow and The Players Championship.
"I just got sick during (Quail Hollow) and lost a lot of energy. I made a bad choice of playing while I was sick," he said. "A few bad things crept into my swing that week and it carried over. ... Luckily, I've kind of worked that out a little bit."
Sabbatini's only bogey came on his third hole, the 455-yard No. 12, where he drove into the right rough and hit his approach into a greenside bunker.
After the unconventional par at No. 3, Sabbatini pitched inside 9 feet at Nos. 4 and 6, made a 13-footer at the 174-yard fifth and two-putted from 65 feet at par-5 7th.
Even though Sabbatini lives only a few miles from the TPC course, he is playing there for the first time since missing the Nelson cut last year.
Sabbatini hasn't won since 2007 at Colonial, where next week he will be the most recent champion after Phil Mickelson's withdrawal.
Mallinger, who tied for third at The Players to match a career-best finish, got back even for his round with a 16-foot birdie at the par-4 sixth and followed immediately with his first eagle and another birdie.
He gave strokes back with bogeys at Nos. 11 and 12, but finished with four consecutive 3s -- the second eagle, two birdies and a par in that closing stretch.
"I was proud of myself for coming back," Mallinger said. "It was kind of slipping away. Now we're in a perfect spot."
The fun-loving Nitties knew the biggest challenge after leading the first round could be the early morning tee time Friday. In the second group of the day, he knocked his opening tee shot way left.
"It was a poor shot, there's no excuse," Nitties said. "It's not fun. ... You think, I'm going from leading to way behind, but you can't get in that mind-set."
Nitties followed eight consecutive pars, a stretch he called "a little frustrating," with five birdies in a seven-hole stretch.
Divots: Leonard had the best round of the day, a 7-under 63. That followed his opening 75. ... With inclement weather forecast for Saturday afternoon, players will tee off early in threesomes off Nos. 1 and 10. ... David Toms missed the cut, but still has a chance to earn exemptions to the U.S. Open and British Open as long as more than two players behind him do not knock him out of the top 50 in the world ranking. Among the closest behind Toms, who is No. 47, are Davis Love III, Graeme McDowell and Ben Crane. All of them made the cut in either the Nelson or in Europe.