News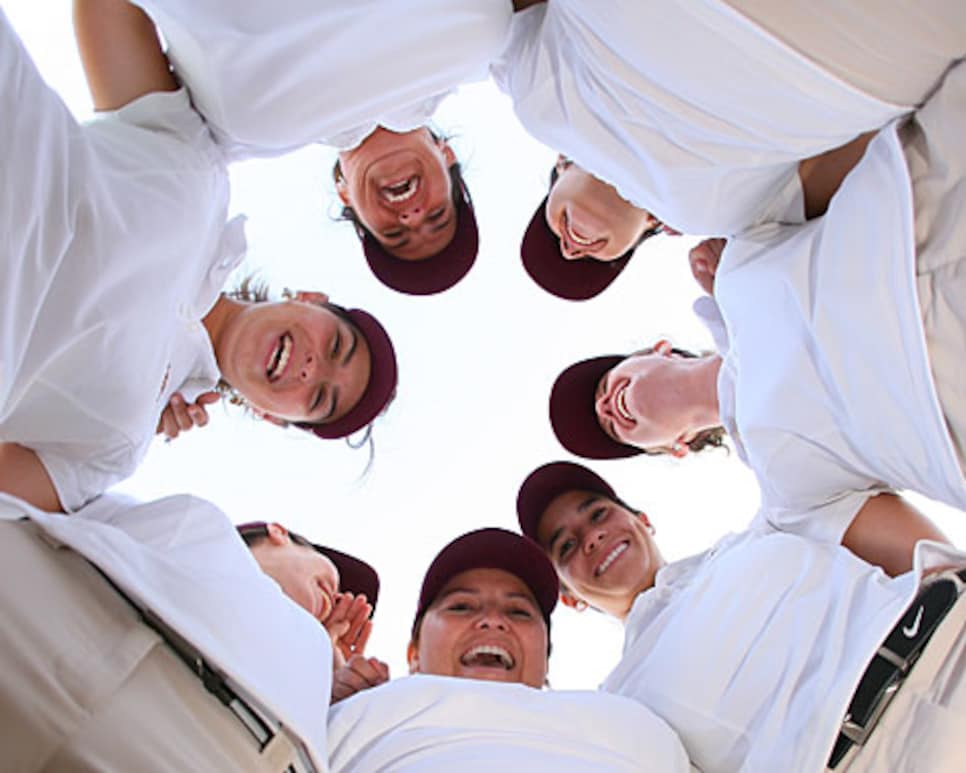 Something old, Something new: A team win by Arizona State's women (above) was old hat, but individual winner Hernandez (below) made history for Purdue.
Has it really only been nine months since the start of 2008-09 college season? It is hard to believe given the seemingly endless emotional journey the Arizona State women's team has traveled since first teeing it up last September. Along the way the Sun Devils grimaced when their best player left for the pro ranks, cried as their associate head coach fought breast cancer, embraced three mid-season additions to the roster and matured by knocking heads with their Pac-10 rivals on a regular basis.
Perhaps there's some justice, then, in the final narrative that played out at Caves Valley GC and the 28th NCAA Women's Championship, the dream of returning a preeminent program to national glory ultimately fulfilled.
A record six NCAA titles already were on display at the Arizona State Sports Hall of Fame—five earned in a six-season span from 1993-98—but it had been 11 years since the school acquired its last. With a final-round three-over 291 that gave ASU a 30-over 1,182 total, it became time to make room for trophy No. 7 as top-ranked Arizona State beat familiar foes UCLA and USC by eight and nine strokes, respectively.
"It's been a long time coming," said head coach Melissa Luellen, who in her seven seasons in Tempe had tried almost everything to get the Sun to shine again on the Devils' program. "It's a little bit of a relief, kind of having the monkey off our backs and to come through when we had to."
As Arizona State was adding to its storied legacy (it won another seven national titles before the NCAA recognized women's golf in 1982), Maria Hernandez was leading the Purdue women's program into new territory. No Boilermaker had claimed an NCAA individual title before the 23-year-old Spaniard birdied two of her final three holes for a closing one-under 71 and one-over 289 total, one stroke clear of Jennifer Song after the USC freshman stumbled with a double bogey on the 72nd hole.
Hernandez's triumph, the sixth of her senior season and 13th overall, brought with it the NGCA national player-of-the-year award, another school first. "I knew today I had to go all out," said Hernandez, who lingered on the leader board with scores of 74-72-72 despite missing nearly a dozen putts from inside 10 feet the first three rounds. "I don't think I believe it right now."
As expected, Caves Valley neatly carried out its duties as a national championship venue. It wasn't just the course's wearisome rough or notable length (6,443 yards) that got the attention of the 126-player field—and produced a 77.28 average despite four days of blue skies in the Baltimore area—but its speedy greens. "I've never played a college tournament where they have been faster," said Duke's Amanda Blumenherst, the three-time player of the year who closed her standout career with a T-4 finish, four back of Hernandez.
Conventional wisdom said those who controlled their lag putting, keeping pars from becoming bogeys or worse, had the edge. For the opening round, that honor belonged to Denver, the upstart East Regional champions (see page 44) taking a two-stroke lead with a six-over 294. Eighteen holes later, UCLA was in front at 13 over, thanks to a 66 from Maria Jose Uribe, the tournament's low round by two strokes.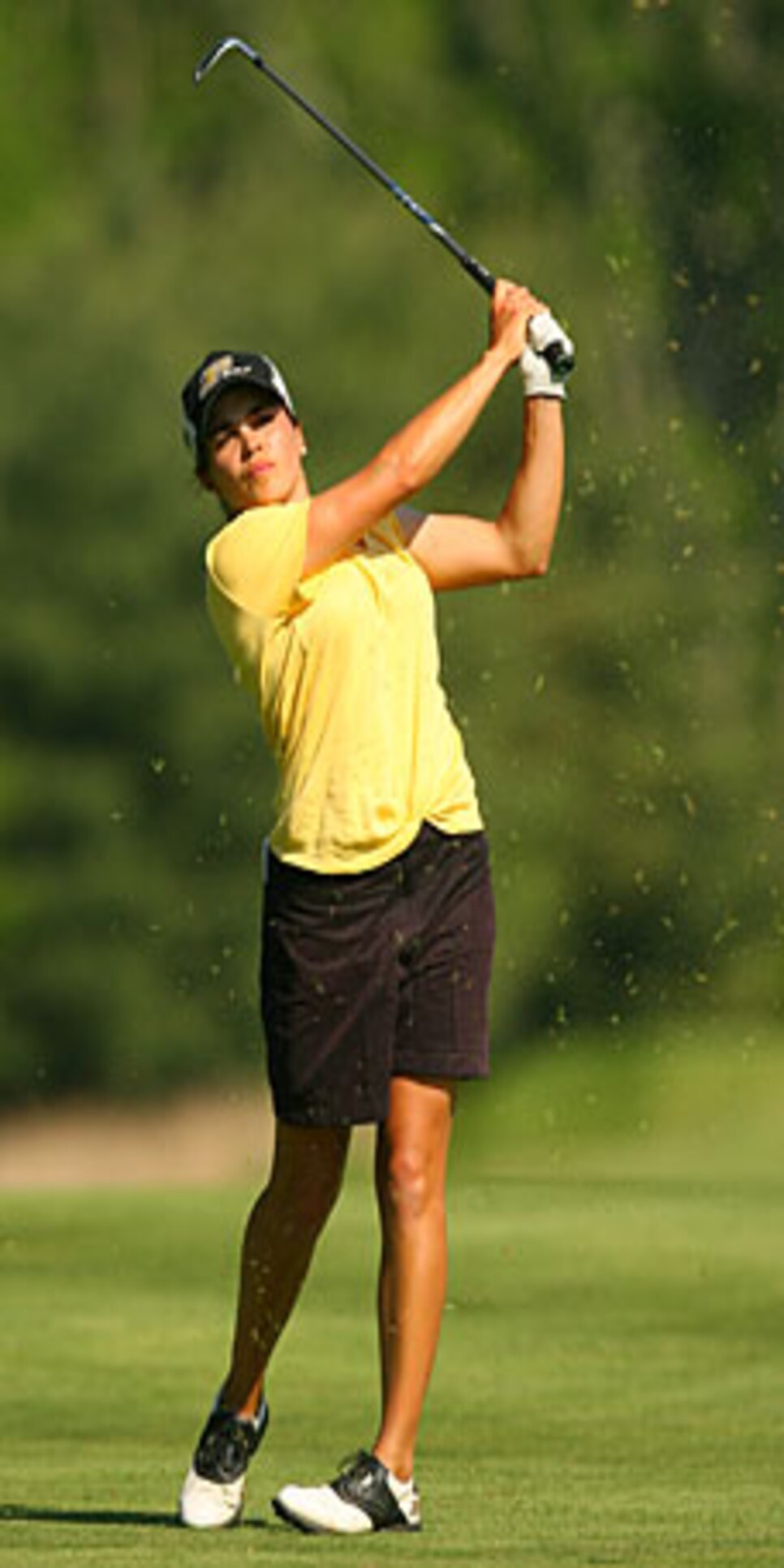 Not until Day 3 did the dominant storyline of the 2008-09 season materialize, as ASU and USC joined UCLA in turning the tournament into a private party of Pac-10 powers. With a six-over 294 the defending NCAA champion Trojans took the lead by one stroke over the Sun Devils, who posted a three-over 291, and three over the Bruins. The conference foes, who had 11 wins and nine runners-up among them, had predictably separated themselves; fourth-place North Carolina sat 13 strokes out of third with little hope of threatening for the title.
Surprisingly, though, the same could be said for the Trojans and Bruins as the final round unfolded, with ASU starting quickly and never looking back. By the seventh hole the Sun Devils had the lead for good, extending it to as many as 10 strokes. Senior Azahara Munoz (last year's medalist who finished T-4 in her title defense), junior Juliana Murcia and freshman Carlota Ciganda each posted even-par 72s, while senior Jennifer Osborn and sophomore Jaclyn Sweeney closed with 75s.
"We just couldn't get anything to drop," said USC coach Andrea Gaston, whose squad had just four final-round birdies. Same for the Bruins, who saw departing senior Tiffany Joh post a 74 and Uribe struggle with a second-straight 77.
With the team title settled early, the individual race remained close. Song, who had five top-three finishes but no wins in her rookie year, began the day at even par, two strokes ahead of Hernandez and Uribe.
Starting on the 10th hole 50 minutes before Song teed off, Hernandez thought she had cost herself the title when she bogeyed two of her first five holes to drop four back. Birdies on her eighth and 10th holes helped build confidence before she bogeyed the 15th.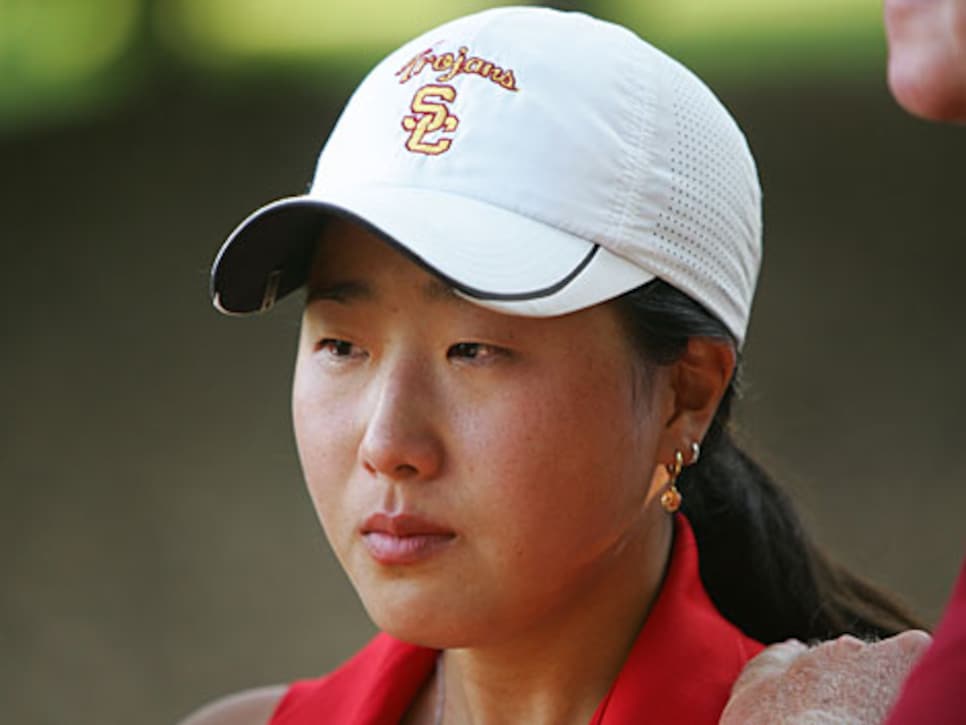 It was then that the moxie Hernandez repeatedly showcased as a collegian surfaced one more time. On her 16th hole she rolled in a 12-foot birdie putt and followed it with a birdie from the same distance on 17 to tie for the lead at one over. Hernandez nearly made it three straight, but her birdie try from 10 feet on 18 was left hanging on the lip.
Hernandez had to wait as Song finished her back nine. After making the turn one over, Song birdied the 14th to get back to even par and retake the lead. Up by one stroke on the par-4 18th, Song hit a perfect drive, leaving her 158 yards to the hole. Yet when her 7-iron opened slightly at impact, her approach shot found the bunker short of the green. Out with her third, Song had a 12-foot putt for the win but pushed it, rolling the ball three feet past the hole. A playoff looked imminent, but Song's bogey putt hit the left edge of the cup and lipped out, a gasp exhaling from the watching crowd.
"If I was able to change what I'd done," Song said, "I would have gone with a 6-iron and hit an easy shot or at least hit it on the green."
Before Song made her freshman mistake, ASU's Munoz and Osborn demonstrated their senior experience. After a pedestrian 36 holes left a squad that had five victories (including the Pac-10 and West Regional titles) to its credit sitting at 24 over, 11 off the lead, the pair had speaking parts in a team meeting outside the clubhouse. The message contained no bluster, only heart: Relax, stay patient and our time will come.
The duo were constants on a roster that underwent dramatic turnover between the fall and spring semesters. It started when Anna Nordqvist, who had a win and a 71.57 average, decided to turn pro in December. Thankfully for the Sun Devils, reinforcements were already coming. All along the plan was for Ciganda, a former British Amateur winner from Spain, and Italy's Giulia Molinaro to enroll in January after competing in October's World Amateur Team Championship. Serendipity, though, brought Sweeney to ASU, the former Oklahoma State standout transferring to Tempe in December.
Suddenly, depth—the Achilles' heel of recent ASU teams—was no longer was an issue. "We all felt energized," Osborn said. "With so many good players, it forced everybody to work harder."
The return of Missy Farr-Kaye also galvanized the team. ASU's associate head coach had undergone chemotherapy in the fall for a recurrence of breast cancer, the disease that took the life of her sister, LPGA player Heather Farr.
Farr-Kaye had attended five spring tournaments, but nearly missed nationals when post-chemo complications brought her to the emergency room four days before the start of play. Doctors ultimately cleared her to rejoin the squad. "It wouldn't have been as meaningful without her here," said Luellen, who hired Farr-Kaye upon arriving at ASU in the fall of 2002.
The victory, meanwhile, was particularly satisfying for Luellen, a former NCAA individual champion who has never run from pressure. In her first job as a head coach, she took over the Tulsa program from a Hall of Fame coach who also happened to be her mother, Dale McNamara. Two years later, when presented the chance to revive the ASU program, Luellen jumped.
"There is a lot to live up to as a golf coach at Arizona State," said Linda Vollstedt, who guided the Sun Devils to their six previous NCAA titles, by phone after the win. "But you always felt it was going to happen for her. She's such a dynamic individual."
"She's stepped out of her mom's shadow and Linda's," added Farr-Kaye. "She's a great coach in her own right."
One who just might make the ASU trophy case even more crowded in the years to come.