My Game: Anthony Anderson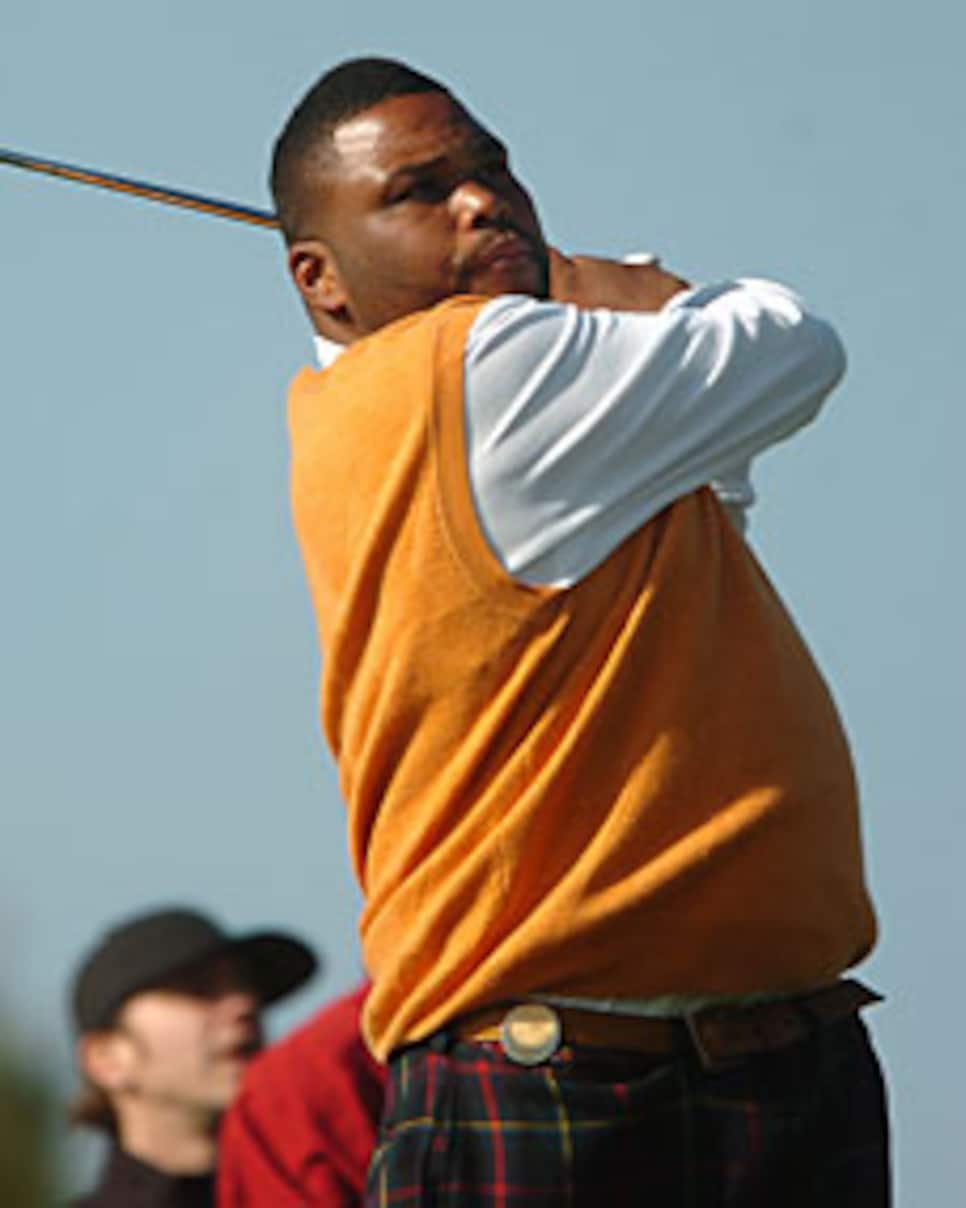 Actor Anthony Anderson's regular foursome includes fellow actors Don Cheadle and Samuel L. Jackson
Editor's Note: In "My Game," a weekly series, GolfDigest.com asks noted personalities to expound on their experiences in golf, and what keeps bringing them back. This week, Anthony Anderson, actor ("Law and Order", "Barbershop"), comedian and host of the new show on the Golf Channel, "Golf in America," (scheduled to debut in June) boasts of his addiction to what has became his greatest passion outside of his family.
I'm like a junkie. I'm hooked. My passion for the game goes deep and long.
I started when my father-in-law took me to the driving range maybe 14 years ago. He's a left-handed golfer, who had one right-handed club in his bag, and he made me swing it, and I've been addicted ever since.
I immediately went out and spent $60 on a set of Northwestern clubs. From there I went out and spent $120 on a set of Dunlop clubs (I thought they only made tires), to where I am right now, a 14-handicap, a member of a country club, and with my own show on the Golf Channel.

I love it, just the opportunity to be outside, enjoying nature. And it's you against the course. You're not competing against anyone other than yourself, just you and the ball. You can't blame anyone else for, say, not playing the right way, for not passing the ball properly. It's just you and the sticks, and the tee and the ball.
And Samuel Jackson, Johnny Gill, Don Cheadle and Barry Bonds. We're all members of the same course, MountainGate Country Club in Los Angeles, Calif. Our typical foursome is Sam, Johnny, Don and me or someone else. Our standing tee time is at 6:45 every morning. If we're not out of town or working, we're at the course, talking trash and betting big. I talk trash with the best of them. I try to play at least three times a week. That was the only way I could justify to my wife joining the country club and paying monthly dues.
As for equipment, for me it's like electronic gadgets. You always want to have the newest and latest. Fortunately, I have great relationships with some of the golf manufacturers and professionals. They always want to give me something to aid my game, so I'm happy about that.
Like I said, it's an addiction. And I love it.