News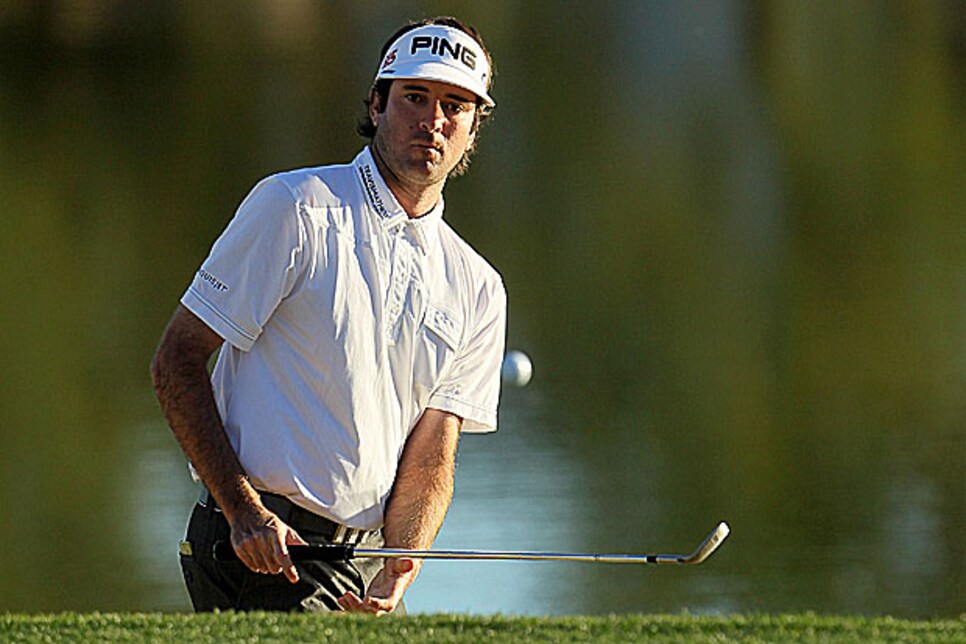 Watson showcased his many skills in La Quinta.
The Bob Hope Classic was largely devoid of star power, though there was a Watson on the leader board, and though it wasn't the right one, it was a welcome one.
Bubba Watson brings with him a wealth of talent and a refreshingly quirky personality that deserves greater exposure on the PGA Tour. He can raise his own profile, of course, by delivering better golf, more of the kind that he produced at the Hope, where he flirted with his first tour win before finishing a shot behind winner Bill Haas.
Watson, 31, a Twitter devotee, sent a Twitter post to Ellen DeGeneres, "because I'm not right in the head," he said laughing. "If you look at my Twitter, I called out Shaq (Shaquille O'Neal), I called out Larry Fitzgerald, and now I'm just trying to get on the (Ellen DeGeneres) show. I'm just trying to make her happy. I guess her birthday is next week, so I was just having fun with it."
When Thursday's round was postponed by rain, Watson stayed home and filmed videos for Twitter.
"Hit some shots from out of the house," he said. "Hope the person I rented it from doesn't know I hit balls from out of their house."
After a lackluster performance in the third round on Saturday, he declined to wallow in disappointment.
"Always satisfied," he said. "I'm playing golf for a living. I wouldn't want to switch with any of you all. So I'm satisfied every day I get to play. Do I want to win a golf tournament? Yes. I want to win this one, the next one, all of them."
Want more? There is that Dukes of Hazzard replica car, General Lee, that he intends to buy.
We all should want more of Watson.
A devoted family man for whom an off-season ostensibly was always too short, Phil Mickelson returns to work this week conceivably wishing this one hadn't been so long.
He was last seen on Nov. 8, when he won the WGC-HSBC Champions, his second straight victory and one that ratcheted up his enthusiasm to return to the PGA Tour. He even began re-booting his game earlier than usual, and not simply the result of having foregone his annual ski vacation.
"I think he has the possibility of having the best year he's ever had in his life," his teacher, Butch Harmon said, a heady forecast for a player closing in on his 40th birthday, with a Hall of Fame career already on his resume. "He's chomping at the bit to get out there."
Mickelson makes his 2010 debut this week at the Farmers Insurance Open at Torrey Pines GC, a short distance from his home in Rancho Santa Fe, Calif. He spent Jan. 15 and 16 working with Harmon at the Bridges at Rancho Santa Fe, where Mickelson is a member.
"This is our fourth year together and it's the best I've ever seen him going into a season," Harmon said. "He's hitting the ball beautifully. And it's the most confidence I've ever seen him have. He's really looking forward to the season."
What to expect this week? There is no discernible pattern to his performances in season openers. On four occasions (five, if you count the Northern Telecom Open he won as an amateur in 1991), Mickelson has won his PGA Tour season opener, most recently at the Bob Hope Chrysler Classic in 2004. But he also missed the cut in his '09 debut and finished out of the top 20 on five other occasions.
His expectations have been heightened by his late-season victories in '09 and his preparation in early 2010.
"He knows that that puts more pressure on him," Harmon said, "but great players respond to that. He's driving the ball so much better, the best he's ever driven it in his life, his putting is coming around from his work with Dave Stockton, but more importantly, mentally, he's as confident as I've ever seen him.
"He has a great understanding of his golf swing and what he's trying to do with it. He can correct it on the fly, too, on the course. His work with Dave Stockton has helped. He doesn't have to go flag-hunting on every shot. He was putting so bad, for him, for 18 months, he felt he had to take on every pin."
Mickelson's practice was interrupted only by inclement weather in the San Diego area last week. And speaking of inclement weather …
The PGA Tour has been taking on water, courtesy of the weather phenomenon known as El Nino. The Bob Hope Classic lost a pro-am round to heavy rains and wasn't able to finish the tournament on Sunday, while Torrey Pines, site of this week's Farmers Insurance Open, was submerged as well.
The rainfall for the week at PGA West, which had two of its courses used in the Hope, was 3.35 inches, nearly three times as much rain as fell there in all of 2009 (1.2 inches).
At least Torrey Pines will have had a few days to recover, though adequate is perhaps the best it can hope for by the start of play on Thursday.
"What's your definition of adequate?" Jon Maddern, San Diego's city golf manager, said, laughing. "We'll be playable, but we have a rough that's going to be lush. Getting the ball in the fairway will be a premium. As it should be.
"We're saturated and had quite a few trees blow over (Thursday)afternoon as well as Tuesday afternoon. We're in cleanup mode and have been in cleanup mode."
The weather forecast for La Jolla this week: Rain on Tuesday, morning showers on Wednesday, and a few showers on Saturday, according to weather.com.
When Thursday's second round of the Bob Hope Classic was postponed by rain, it was rescheduled for Friday, without amateurs, which just so happened to throw Craig Stadler into a pairing with his son Kevin.
An enjoyable day was had by all, save perhaps for the twosome playing behind them. On soggy greens, the Stadlers, a heavyweight pairing, father and son alike, were bound to have left some imposing footprints.
The PGA Tour deserves kudos for its business success last week, even as an event was being played without a title sponsor (the Hope). Farmers Insurance stepped up to sponsor for one year what was to be known as the San Diego Open, a tournament harboring hopes that the company will recognize the value of participating in the event and will sign on long term.
Meanwhile, the tour filled a void on the Fall Series schedule with the announcement of a new tournament at Sea Island, Ga., the McGladrey Classic. RSM McGladrey signed a three-year contract to sponsor the event, which will be played Oct. 7-10.
Given that Davis Love III and Zach Johnson live there, they can be expected to play and give the field a notable boost.
STUMBLING OUT OF THE GATE
The most heralded young players on the PGA Tour, Rickie Fowler and Billy Horschel, each are 0 for 2 in 2010, both of them missing the cut at the Sony Open in Hawaii and the Bob Hope Classic.
Jamie Lovemark, who like Fowler lost to Troy Matteson in a playoff at the Frys.com Open last fall, made the cut at the Hope.
PGA Tour commissioner Tim Finchem addressed the loophole that allowed John Daly and Dean Wilson to use old Ping Eye 2 wedges with square grooves at the Sony Open in Hawaii (they were built prior to the USGA settling a lawsuit with Ping in 1990 and have been grandfathered):
"It is a bit of a loophole, but last year we looked carefully at this, and our experts did not view this distinction of any significance. So rather than part ways with the USGA in terms of what they would have to do at the U.S. Open, at that time we elected to stay the course. We just the other day reviewed the data again. We just don't see any competitive advantage, any material competitive advantage to a player by going back and getting a club that was made pre-1990."
Rory McIlroy is an exceptional talent and at 20 presumably will continue to improve, but at some point doesn't he have to start winning with a little more frequency before he is anointed the next Chosen One?
McIlroy had yet another high finish that wasn't quite good enough on Sunday, third in the Abu Dhabi Golf Championship. Last year, he played 25 times and won once, the Dubai Desert Classic.
Sergio Garcia made a case that the U.S. Ryder Cup is better off without Tiger Woods. "Tiger's absence made a difference (in the 2008 Ryder Cup)," Garcia told Mark Reason of the Telegraph. "It made some of the other players step it up. They wanted to show everyone they could win without Tiger. Maybe when he's there, he's the leader and everyone falls in behind him. Without him, everyone wanted to be the leader. They played amazing golf. You could see a different energy in the team."
Maybe. But shouldn't his theory apply to the Presidents Cup, too? Woods went 5-0 in the 2009 Presidents Cup, and the U.S. defeated the International team by five points.
The LPGA's Sandra Gal: "I really didn't like the [television]coverage of the Sony Open - too many Ads and too many Faldo's&Faldon'ts! Right?" And this: "I mean Faldo is ok don't get me wrong, but they're trying to make the coverage more exciting which results in less golf and too much blabla"
PGA Tour: Farmers Insurance Open at Torrey Pines Golf Course in La Jolla, Calif. Defending champion Nick Watney. European Tour: Commercialbank Qatar Masters presented by Dolphin Energy. Defending champion Alvaro Quiros.
Kenny Perry eschewed playing in the Bob Hope Classic last week (a tournament he won in 1995, so that he could travel to the Middle East to play in the Qatar Masters this week.
The field at Torrey Pines is stronger than that of the Hope Classic, but still has only one player (Mickelson) in the top 10 from the World Ranking. Robert Allenby and Ernie Els give the field three players from the top 20 in the World Ranking.
Robby Krieger, amateur contestant at the Hope and a member of the legendary rock group the Doors, on the Rock and Roll Hall of Fame (as reported by the Desert Sun): "It's kind of (nonsense). Who knows who gets picked and why? It's political. It's the same as the golf hall of fame. A lot of guys who should be in there are not. Yeah, like Jesper Parnevik should definitely be in the hall of fame."
Why was the PGA Tour's San Diego tour stop known as an invitational last year (the Buick Invitational) and is an open this year (the Farmers Insurance Open)? The answer, of course, is that the designations no longer mean anything.
The Masters is an invitational, even going to the trouble of sending out invitations to each of the participants. The Buick Invitational was never an invitational. It was always an open (but Grand Blanc, Mich., already had a Buick Open) -- open to anyone who could qualify, professional or amateur alike.
Open or invitational, either perhaps is preferable to calling a tournament a classic, which infers something extraordinary, a standard. The Greenbrier Classic, for instance, is a new tournament, with no history or anything that would warrant calling it a classic.