News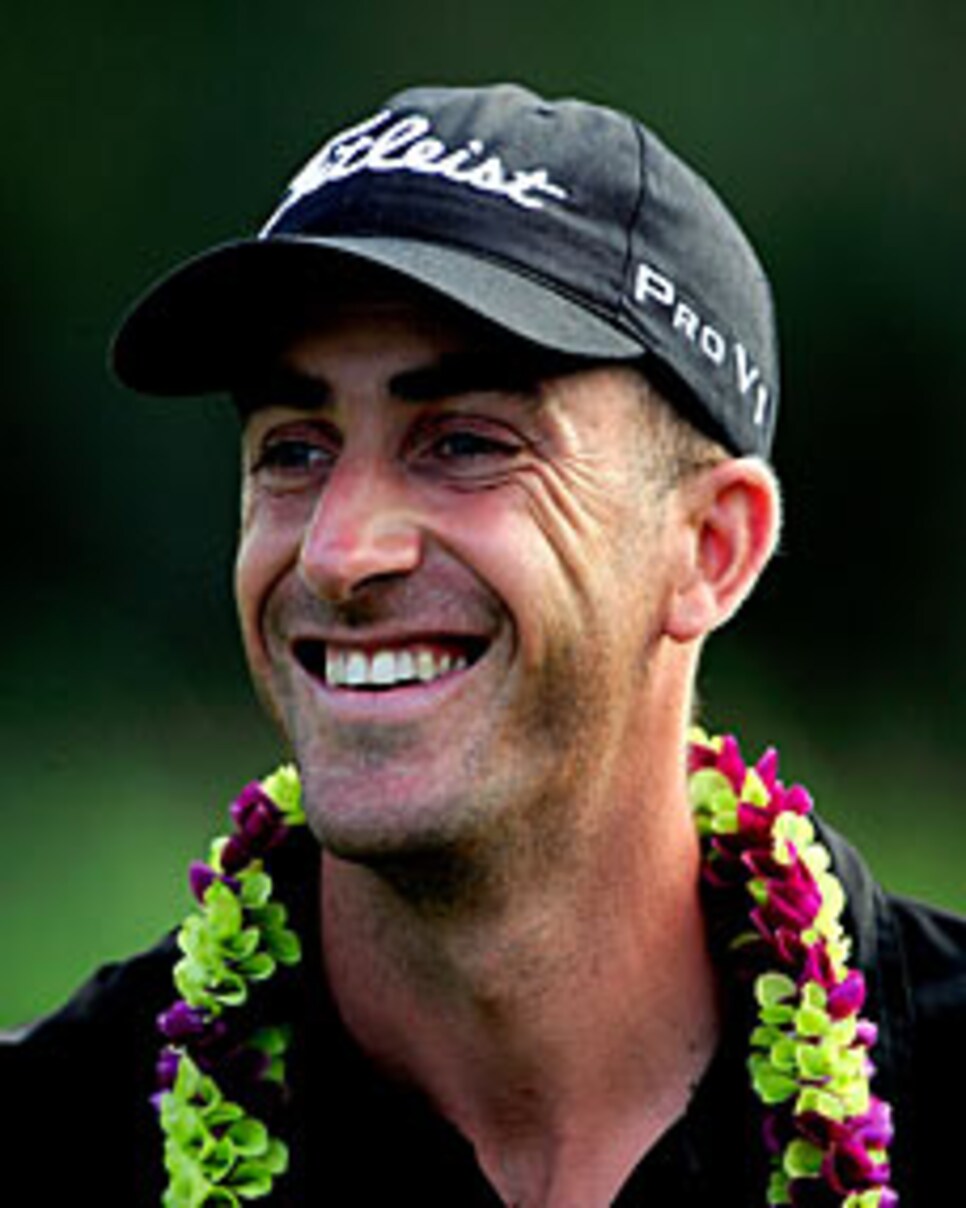 Geoff Ogilvy's repeat performance was only one of the storylines to emerge from Kapalua.
The PGA Tour's postcard from Maui each year is not unlike that of any other visitor who is missing someone from home and wishing they were here. The difference is this: the tour's sentiment is perennially addressed to Tiger Woods and Phil Mickelson.
It is the bane of the tour's season opener at Kapalua, now called the SBS Championship, that the greater news emerging from an event that deserves better is always about the players who aren't there rather than those who are. So it was again, with a twist: A missing Tiger mostly went it alone on this news front.
The story of Woods' hiatus, topic one in the golf world these days, was advanced last week by discussions of the opportunity others might have to topple him from the No. 1 World Ranking that he now has held for 240 consecutive weeks. The most prominent name mentioned among those who were in attendance in Maui was Geoff Ogilvy, who began staking his claim with a one-stroke victory over Rory Sabbatini on Sunday.
A more compelling development would involve Mickelson closing in on Woods, even overtaking him. If Woods requires incentive to return to work, this might do it. Imagine the possibilities then. Celebrated sports television producer Terry Jastrow, a Mickelson friend, has done so and it has him salivating at the prospect.
"We understand that at this particular moment our beloved ancient game of golf is little bit on the ropes, or even on the mat," said Jastrow, who produced 68 major championships and has won seven Emmy awards, and was the medalist in the U.S. Junior Amateur in 1966, where he lost to Lanny Wadkins in match play. "But Mickelson is going to have the best year of his life with or without Tiger. Now back comes Tiger and Phil's number one. This is going to be unbelievable, gigantic, not just a golf story. What James Cameron and Avatar did for movies, this is going to do for golf."
See what we mean? Ogilvy wins the SBS Championship and we're talking about Woods and Mickelson.
WHAT HAVE YOU DONE FOR US LATELY?
The field of 28 did feature the winners of the four major championships, each of whom trumped a better story in '09. In their own bids to evolve into the better stories, they stumbled in the season opener.
Stewart Cink, who toppled Tom Watson in the British Open, was at ninth, the high finisher among them. Lucas Glover, who held off David Duval and Mickelson, among others, in winning the U.S. Open, began the final round with a one-stroke lead and fell to a tie for 14th. Angel Cabrera, who beat Kenny Perry in the Masters, tied for 10th. And Y.E. Yang, the biggest upset winner with his victory over Woods in the PGA Championship, finished 19th.
WHAT WE DON'T KNOW ABOUT TIGER ...
... is when he will return to golf, though assuming his career goal has not been altered by off-the-course issues, sooner is favored over later. If he remains determined to eclipse Jack Nicklaus' record of 18 professional majors, capitalizing on 2010 is imperative.
"If Tiger is going to pass my record, I think this is a big year for him in that regard," Nicklaus said in a conference call. "If he doesn't play this year, obviously the chore is going to be a little tougher."
Woods will be playing with a stacked deck in the event he ends his hiatus this spring: Augusta National, Pebble Beach and St. Andrews. When he's at the top of his game (and not facing unusual distractions), that lineup brings the Grand Slam into play. He's won the Masters four times. He won the last U.S. Open at Pebble Beach by 15 strokes and is two-for-two in British Opens on the Old Course at St. Andrews. Only Whistling Straits, site of the PGA Championship, is an unknown quantity; he tied for 24th there in the PGA in 2004.
... is that television will be the biggest benefactor when Woods does return, a fact emphatically reiterated by Jastrow, who knows both television and golf.
"Oh my God, the ratings are going to be monumental," Jastrow said. "To quantify it, the year he won the Masters and ran away with it (1997), it was a ridiculously high number. It'll be at least that. The ratings will be at least the size of a popular Masters."
HAPPY(?) BIRTHDAY, SERGIO
Sergio Garcia reached the age of 30 on Saturday, a number that does not necessitate the sounding of alarms for potential unfulfilled, but is disturbing nonetheless. It is less clear now where his career is headed than it was more than a decade ago, when he scissor-kicked his way into golf's consciousness and finished second to Woods in the PGA Championship at Medinah.
He was 19 then, destined to win major championships, to emerge as a foil for Woods. He has done neither, presumably damaging his psyche and undeniably burnishing his image as an enigma.
The Ryder Cup is still nearly nine months off, but European captain Colin Montgomerie apparently is determined to turn it into an eternity. Is it necessary to hear this much this soon from this man about an event that can't escape the notion that it is an exhibition (albeit an interesting one)?
Last week, Montgomerie captained the European team in its Royal Trophy matches with Asia and sold it as crucial to Europe's chances in the Ryder Cup at Celtic Manor in Newport, Wales, in October.
"It is vitally important to start the year the way we want to end it -- on a winning note," Montgomerie said. "Having lost last year we will be even keener to get the job done here. My team talk to my players will focus on one thing -- the need for us to return to winning ways after also being beaten at the last Ryder Cup."
Momentum in golf is as rare as Montgomerie missing an opportunity to hype the Ryder Cup (the PGA of America must love him). Europe's victory in Thailand on Sunday portends nothing of its chances at Celtic Manor in October.
When you also consider that the European team was sans Lee Westwood, Rory McIlroy, Paul Casey, Padraig Harrington and Ian Poulter, what bearing could its victory in January possibly have on the Ryder Cup in October?
Darren Clarke of Northern Ireland was playing in the Africa Open last week strictly for the purpose of jump-starting his Ryder Cup bid.
"I missed it the last time when I thought I had a good chance and I desperately want to get back on the team again," he said on the eve of the Africa Open. "I'm playing here so I can get off to a good start this year. I like the golf course, which is pretty obvious after last year, and I want to get this season off to a fast start."
A tie for 28th wasn't part of his blueprint.
Cink, responding to a follower's question about the general feeling on the PGA Tour regarding Tiger Woods and whether the controversy will hurt the tour: "yes it will make the business much tougher. We have had a clean image when other sports haven't."
The Sony Open in Hawaii at Waialae Country Club in Honolulu. Defending champion Zach Johnson. The Wendy's Champions Skins Game at Royal Kaanapali Golf Course on Maui, Hawaii. Defending champions Ben Crenshaw and Fuzzy Zoeller.
John Daly. Given his aversion to tight fairways and crossing oceans (he prefers driving to flying), he no doubt would rather wait for the PGA Tour to return to the mainland before embarking on a season on which his future depends. These days, Daly has to take his playing opportunities where he can find them, relying on the benevolence of sponsors with exemptions, and he was given one by Sony, perhaps the first of maybe 20 he'll receive in 2010. He's a sideshow now and fortunate that his appeal has not yet been dependent on his performance. That is subject to change, to wit the fact that the Bob Hope Classic denied his request for an exemption.
Past performance, meanwhile, indicates that his Hawaiian trip is unlikely to provide the impetus for a comeback; in six starts there, his average earnings are $10,819, a number boosted by his only respectable showing there, a tie for 28th that earned him $36,140 in 2007. The Wild Thing on Waialae Country Club's narrow fairways is the definition irreconcilable difference.
Rickie Fowler. Potential stardom is a load of baggage with which to start a career, but Fowler already has demonstrated his game is strong enough to support it. In his first two PGA Tour starts as a professional last fall, he tied for seventh and lost in a playoff. He makes his debut as a card-carrying member of the PGA Tour at the Sony Open.
Ernie Els, 40, and Vijay Singh, 46, ordinarily would play through Maui en route to Honolulu, but neither won a tournament last year, a disturbing turn for a pair of perennial stars. Singh, incidentally, was shut out for the first time since 2001. Els hasn't won since March of '08, his only victory in the last four years.
Fred Couples. Is the fix in for him? The king of the silly season, Couples won the Skins Game five times and won the Telus Skins Game five times. So how does he start his Champions Tour career? By playing in the Wendy's Champions Skins Game at Royal Kaanapali Golf Course on Maui. Now he can start the season the way he used to end them, with a Skins Game victory. Even luckier than Couples, perhaps, is Nick Price, who gets to tag along as his partner.
GOLF, HELPING OTHER SPORTS FEEL GOOD ABOUT THEMSELVES
Peter Windsor, the Sporting Director of Formula One racing's new US F1 Team, attempted to distance his sport from past controversies by invoking Woods and golf in in an interview with formula1.com.
"Look at golf now," he said. "The PGA Tour is absolutely petrified at what's going to happen after Tiger Woods announced he is to take an indefinite leave from the tour. You can also look at tennis after Andre Agassi admitted he took drugs. So it's not only Formula One that has dramas. Formula One can actually feel pretty good about itself for the first time in a while because we've got a sense of direction, whilst at the same time other sports are showing that they are not so perfect."
"Anybody who hasn't talked about the Tiger thing in the last two months was on the moon." -- PGA Tour commissioner Tim Finchem
The SBS Championship is not likely to change its format, inviting only winners of PGA Tour events, though it ought to consider doing so. Twenty-eight players is more a Friday afternoon horse race (or shootout) at your local club than a tournament field. Among suggestions floated in the media: Inviting past champions or providing two-year invitations to tournament winners.
Here's ours: Get the LPGA involved, invite its winners to play a tournament simultaneously, with twosomes of men and twosomes of women alternately teeing off (the women from a shorter set of tees). SBS, a Korean broadcasting entity, no doubt would welcome the influx of Korean women into the proceedings and would provide a boon to women's golf as well.