News
Talking Sticks (And More)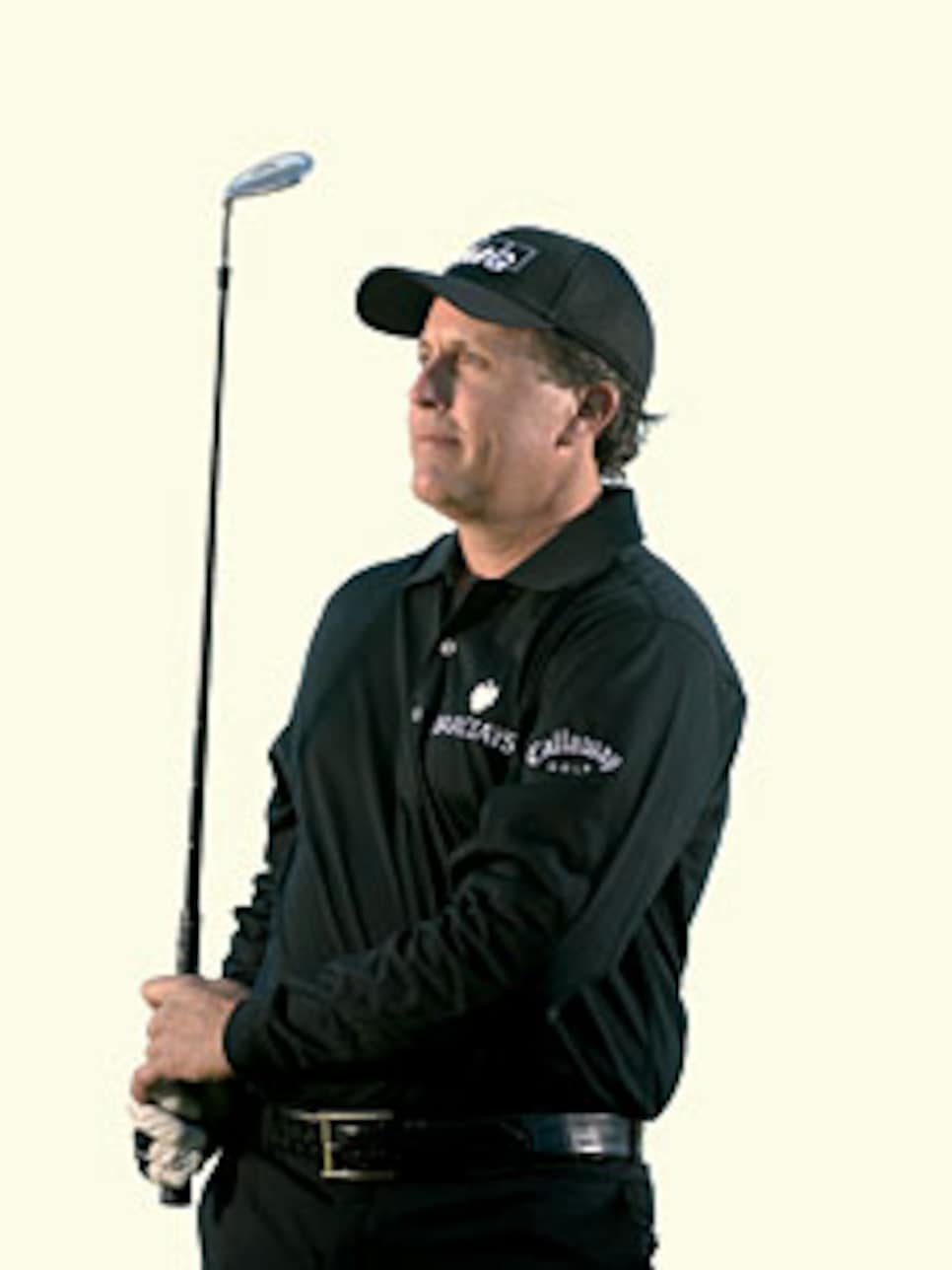 When it comes to equipment, few tour pros possess the insatiable curiosity and savvy of Phil Mickelson. A three-time major winner, Mickelson has, at various times, carried two drivers (including during his second Masters win in 2006), no drivers (an unsuccessful experiment at Torrey Pines during the 2008 U.S. Open) and swapped out his sand wedge for a 3-iron prior to a playoff at the 2005 BellSouth (which he won). In an interview with Golf World's senior editor for equipment, Mickelson spoke about, among other topics, his involvement in club design, the impact of the new groove rule and his frustration with the USGA over equipment regulation.
You've collaborated with Callaway's design team on some clubs. Do you enjoy the process?
A lot. It's a critical element to my success, and the hybrid I used at Bethpage is a good example. We were able to create something unique. We took away the back [of the] toe, and now I can open the face and have the leading edge stay low to the ground. Then we placed the center of gravity close to the face. That prevents fliers, giving me the same distance control out of the rough that I have out of the fairway.
What does this club do that your previous hybrid didn't?
The hybrid I had been using was a good club but on shots from the rough the back of the club would hit the ground and close up the face, de-lofting it and making it more difficult to get height on the shot.
How long was it from conception to having that club in your bag?
That club was fairly particular and took about four months, but most of the time it's faster.
Give me an example of a driver experiment?
I've been training myself to swing the golf club faster. So I had two drivers made: One was 12 percent heavier in the head and one was 12 percent lighter. Making a club heavier is easy. Making a club lighter and have it be durable enough to hit is not. Because of their Fusion technology, Callaway has 45 grams of weight we can move around. That club allowed me to identify what it felt like to swing the club faster.
You also went to a driver with a hosel this year. What was the benefit of that change?
The primary reason for changing is that a hosel, in addition to being a different look, adds four or five grams of weight in the heel and that helps promote a draw. But the biggest benefit is that a hosel allows you to bend the lie angle flatter or more upright. That allows you to fine-tune your launch condition for a draw or a fade. So if I was hooking it, I could make it flatter or if I was fading it, I could make it more upright and get dialed in.
What are some other things you've worked on?
Some of the things are subtler. Like the X-prototype irons I'm using. Thinning out the sole and having a smaller touch point to the ground. That makes it more versatile for a good player because there's less contact with the turf. You can hit from a variety of lies so much easier because the heel and toe aren't touching the ground at impact.
Not a lot of people outside of the tour talk about putter loft, but it's pretty important, isn't it?
It is. Four degrees at impact gives me optimum roll. If you have too little loft it beats it right into the ground and then the ball has a hop to it, as well as what I call a hot roll where the ball takes off on you. If you have too much loft it is coming up off the ground before it starts to roll, and will often come up short. So you want to have four degrees of loft at impact. That doesn't mean you need a putter with four degrees of loft, though. The amount of loft you have on your putter is going to be dependent on your hand position and ball position. My hand position is ahead, so I need more loft. Sometimes I have five or six degrees on my putters. But as I move the ball forward in my stance, then my hand position goes slightly back and then I need less loft. So it is all relative to how you set up, but four degrees of loft at impact is what you are looking for.
You shuffle clubs in and out of your bag. How do you decide which 14 to use?
I look at the par 3s, and the clubs I typically rotate are the longer clubs: the hybrids and the long irons. I travel with 18 clubs.
What's the biggest equipment mistake pro-am players make?
Inconsistency in their sets. They'd be better off if their equipment was set up so their misses would be the same. If you have irons that tend to draw a little, then you want a driver that does the same. Most tour players take one side of the course out of play. Amateurs would benefit from doing the same.
How vital is fitting the ball to your clubs?
The ball is the most important piece of equipment.
So do you find a ball you're comfortable with and then match your clubs to that?
That's it. Back in the '90s we would take the clubs we had and try to get a ball that would kind of fit to them. But now we can take a ball that spins a lot and find a driver that knocks off the spin. The ability to adjust our clubs to the ball is a huge benefit. Take my irons: Because I play a ball that spins, I've been using grooves in my irons for the last couple of years that would conform to next year's standard.
You've tested wedges with the new grooves. What shot will they affect the most?
The biggest difference is 40 yards and in. You're not getting the same compression of the ball. It's not a big difference on a full shot because I can compress the ball to catch enough of the groove.
You were one of the first to use a 64-degree wedge. Do you think more players will add a club like that to mitigate the loss of spin?
I'm not sure which way this is going to go. The answer could be no. It is more difficult for a 64-degree wedge to [produce] spin with these new grooves because the ball slides up the face. That upper groove needs to be much sharper with a 60- or 64- degree wedge, and it can't be with the new rule. I'm not sure a 64-degree wedge will help.
How long do you think the learning curve will be for players with the new groove?
For those without experience with this type of groove I think it is going to be a little bit longer than anticipated.
What do you think of two sets of rules on equipment?
I believe it is our job to entertain, and it is difficult to do things others can't when we roll back equipment rules. If we play with a golf ball that is 10 percent rolled back and we used to hit it 300 yards, now we're hitting it 270 yards. Well, fans that come to a tour event are not going to be impressed by that. It is detrimental to the PGA Tour that we will no longer be able to hit those shots around the green that we were able to in the past -- the shots people pay to see.
How much more can tour players gain through equipment?
You can gain with club fitting and optimization of set makeup, but the USGA over the last five or six years has capped much of the improvement. Basically the attitude of [USGA senior technical director] Dick Rugge, who is the omnipotent one in the game of golf, is that if something comes out that is beneficial to tour pros, then he's just going to change the rule [Ed. note: the USGA, citing that the configuration did not adhere to the intent of the rule, disallowed a groove design Callaway submitted although it met the technical parameters]. So there's no opportunity for real advancement when we have that type of governing body.
What would you do if you were in charge of equipment regulation?
I would definitely rescind the right for one man to approve or disapprove a club regardless of whether it conforms to the rules that were set forth. Dick Rugge has that power. I think it is wrong to have that much power in one person's hands.
As far as other areas, I won't go into specifics, but technological improvements are not as evil or bad as the USGA is making them out to be. Historically, they have been beneficial for golf.