News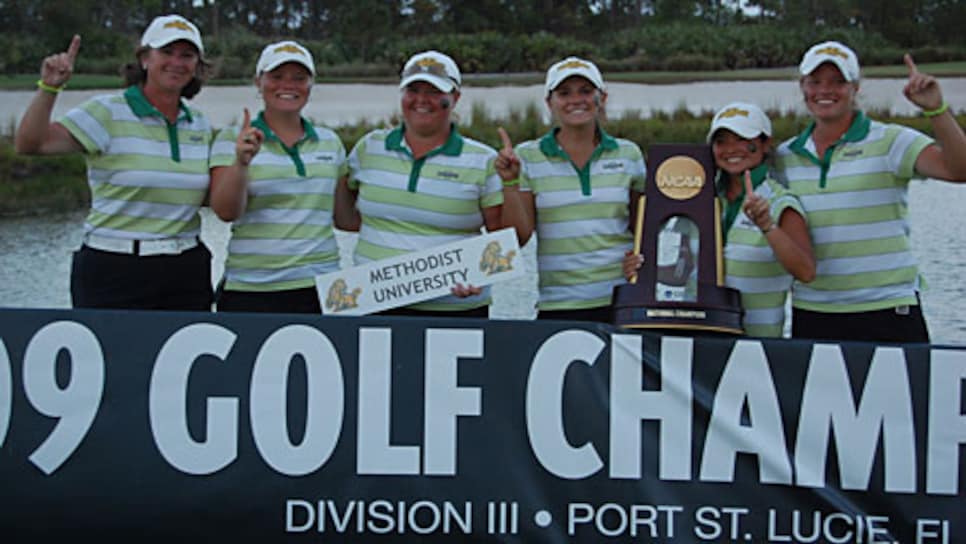 The Methodist University women's golf team, from left to right: Coach Vici Pate, Gretchen McLean, Susan Martin, Paige Caldwell, Junko Suzuki, Sara Dickson
Back on campus this week, Vici Pate was celebrating her seventh straight national championship by cleaning out her office and moving out of her dorm room at Methodist University. On Sunday night the women's golf team returned from a 12-hour ride from Port St. Lucie, Fl., where they won the Division III title by 25 strokes against schools like Wisconsin-Steven Point and Gustavus Adolphus. Crammed into a minivan because the school's travel bus broke down, Pate and her five players rode in the rain with the trophy by their side, playing games to occupy time and deflect from the eventual end of this final road trip.
When they returned to an empty campus in Fayetteville, N.C., at 11 p.m., Paige Caldwell, the team's MVP from Ohio, didn't want to get out of her seat. The team's two seniors, Junko Suzuki from New Jersey and Sara Dickson from Rhode Island, were especially emotional. Pate also had to console Susan Martin, her two-time national champion from Atlanta, and Gretchen McLean, a sophomore from Fayetteville.
"The biggest thing was, saying goodbye, that was hard," Pate said on Wednesday. "I knew if I didn't leave, or if they stayed any longer, that I'd burst into tears. I told them, 'You guys will always be a part of my life.' It was so sad."
Pate, 42, attempted to step down a year ago, but one extra semester turned into a full year, and now she has more national championships the legendary golf coach Linda Vollstedt of Arizona State and went one up on the iconic Tennessee basketball coach, Pat Summit. But this isn't the high-profile life of a Division I college coach. In most cases, this is traveling through the back roads of North Carolina and into Virginia in a 15-seat passenger van. All the while, Coach Pate has been behind the wheel.
"I am the bus driver, that's one of my titles," she said, adding that most schools have a clause that on trips of over 300 miles, the college must charter a bus or fly the team. When asked, "What about you?" Pate just laughs.
That's just the way it is down on D-III, but from this level comes more life messages than professional careers. For inspiration, Olin Browne dropped by PGA Golf Village before the tournament began, telling his story of not starting golf until he was 19, of playing in this same tournament as a senior for Occidental in 1982, of getting close to the lead, only to shank eight straight shots. Here he was, three PGA Tour wins later, having shot 59 in a U.S. Open qualifier, one of the most respected statesmen in the modern game, to tell them that somewhere in that crowd, someone could make it, too.
If there's a player from Pate's team who has the playing record to scratch out a pro career, it could be Martin, who has another year to bring her scores down. Like Browne, she suffered through a bad case of the shanks nearly all season. "She had personal issues that just ate her up," said Pate, who besides bus driver also lists "counselor" on her job description.
There is a lot of sharing on those bus rides, and a lot of growing up, too. Sitting in the front row of the grandstands that Monday night at PGA Golf Village, listening to Browne, were two players who were heading out into the workforce, two young women that epitomize the spirit of college athletics on this level, the two seniors who didn't make the team until they were upperclassmen, Dickson and Suzuki.
"They're actually the kids that comprise 95 percent Division III sports," Pate said. "They're the ones who love to be there. They just want to play. They're the ones you don't have to ask to practice. They'll do it on their own. They're coachable. They're excellent students. They're going to be successful in anything they do, even though they won't be professional athletes, although you never know. They're just hard-working kids who enjoy the game."
They both played key roles in their school's 12-straighth title, with Dickson playing to her 8-index and Suzuki playing above her head with an 11th place finish. The only drama, after a sluggish opening round, was the sad news that Pate's 72-year-old father, Vic, had been diagnosed with cancer of the esophagus. Vici grew up learning the game from him at Turtle Run CC in Danville, Ill., and went on to make all-conference at Illinois State. She wasn't going to share her father's illness with her team, but then they had a collective meltdown over the stress of the third round, and Pate sensed the timing was appropriate
"The girls were more emotional than I thought they would be on the golf course," Pate said. "Sara never shows emotion, but on her last shot on 18 over water, she turns around and she's got tears in her eyes. The whole thing is like it was meant to be. It was pretty magical. I guess winning made it a whole lot easier to part ways, although it was still difficult."
Pate is walking away on top in two ways. The reason for living in Weaver Hall this year was that she married on Jan. 2., to Greg Flesher, the head pro at Owensboro (Ky.) CC. She packed her Mustang on Friday, leaving behind a chapter in her life, and a legacy in college athletics. Following Pate in a Honda with Rhode Island plates was Dickson, who was going to work for Pate's husband as well in Kentucky.
"It's bittersweet," she said. "Getting married was the happiest day in my life. I tell the girls that one day they will understand that. But the years I had with them is right underneath that in happiness."
Pate wouldn't rule out coming back to college coaching someday, or going into the field of golf instruction. She admitted this was probably one year too many, but the ending was magical and not because of a 7-0 record or another national championship ring.
"It's the kids," she said. "That's the only reason I came back, because of the kids."