News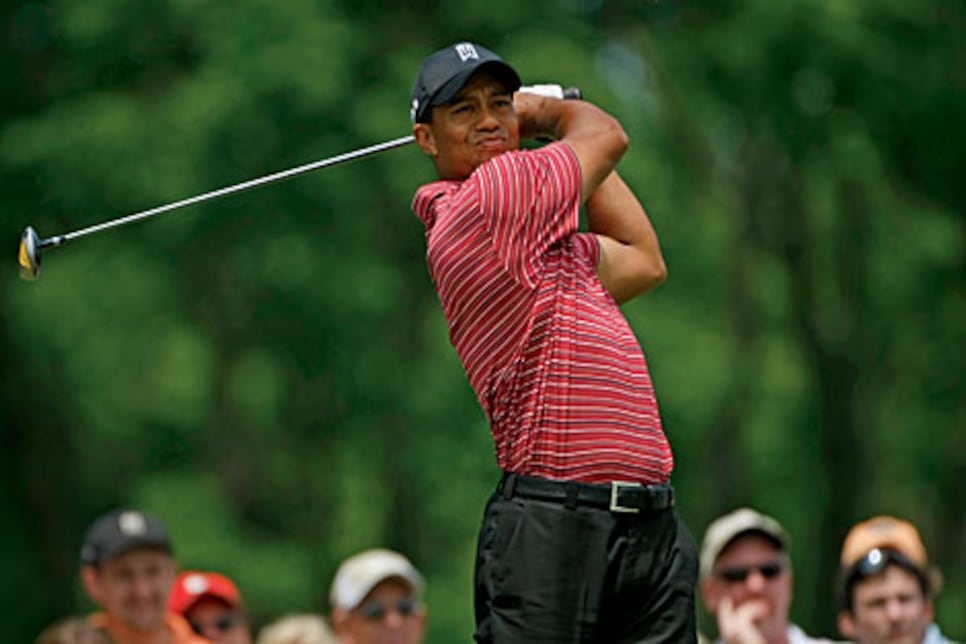 DRIVING FOR DOUGH: Woods was accurate off the tee, hitting 49 of 56 fairways, including 14-for-14 in the final round, when he made up a four-stroke deficit.
On the practice range at Muirfield Village GC about noon before the final round, Tiger Woods discussed the plan. Under normal circumstances, after 18 holes he would rush toward that private plane well before nightfall and be home in time to watch his beloved Los Angeles Lakers in Game 2 of the NBA finals. "I'll at least catch the second half," reasoned Woods, "unless something happens." Something like a playoff surely would have destroyed his itinerary because basketball will not wait. So Tiger strategically broke loose from a four-way tie by banging the gavel on his final-round symposium with a birdie putt from nine feet on No. 17 and a tap-in birdie from 14 inches on No. 18 to shoot 65 for 12-under 276 and win the Memorial by one stroke.
Do we dare use "normal" and Tiger Woods in the same paragraph? This victory was his 67th, and he's only 33. That's an average of more than two trophies a year since he was born—perhaps enough material to sedate recent critics, a few of whom have gone the extra mile and actually watched him play! You've heard all the theories. Tiger is too muscle-bound. He's favoring his right leg. No, it's the left leg that will never be the same. Tiger is watching too much hoops. He misses Buick. He's becoming too fatherly. Hank Haney is spending too much time with Charles Barkley. In reality, Tiger Woods is sick. He's so good, it's sick.
Analyze this. Woods hit 49 of 56 fairways in regulation over four gloriously dry days—matching his career-best radar at the 1998 Masters—and he missed absolutely none Sunday, when the turf was only becoming firmer by the hour. Tournament host Jack Nicklaus—a high-pitched voice of genuine authority amid the wilderness of spam—sent up a warning earlier in the week if anybody was listening, then punctuated it at the award ceremony. Tiger seems rather healthy now, suggested the Golden Bear, and if he drives the ball this way at the U.S. Open, watch out.
Then there was Michael Letzig, Woods' sidekick in the fourth-to-last twosome. They were four swings off the 54-hole lead shared by Matt Bettencourt and Mark Wilson. To say Tiger ran over a number of world-class foes and really nice guys is to say Letzig left the premises quite dazzled, as if he witnessed a flying saucer. "Unreal," gushed Letzig, who took 75 blows. "I was trying to pay attention to what I was doing and not watch him, but that's pretty hard. That's the best golf I've ever seen. Incredible irons. People have been writing that Tiger Woods isn't striking the ball well?" Letzig revealed that there wasn't much banter, save for his repeated, unoriginal small talk: "Good shot. Good shot. Good shot."
Low mortal in Woods' fourth Memorial conquest was Jim Furyk (see page 40), a grizzled veteran who has attended this movie often. "Nothing Tiger does surprises me," said Furyk after his 69 for an 11-under 277. "To hit it that close on those last two holes, where the pins were … that's what he does better than anybody else out here." Furyk rued a missed birdie putt at No. 15 and a bogey at No. 9, where he heard a noise during his backswing. Furyk scolded a member of the CBS field staff, then with typical class made amends later. "I was more mad at me than him, because I made bogey there," said Furyk. "I could have and should have handled it better." His 21st runner-up in 400 trips to the post was solidified with a birdie at the last while Jonathan Byrd and Davis Love III—who once were among the quartet of co-leaders—doubled and tripled there, respectively.
A couple hours earlier, Byrd had stood on the No. 10 tee, hard by the clubhouse, leading the tournament at 11 under par. But he heard thunder in the distance, and there wasn't a cloud in the sky. Woods had authored a miraculous eagle with a 44-foot, one-handed chip-in from behind the par-5 11th to move within a shot. "It was a nasty little lie there," Woods recalled. "I cut a 5-wood in there, flushed it, and thought it was going to land in the middle of the green and maybe go up the slope and come back down. I was trying to get the blade working underneath the ball as fast as I possibly could. The right hand just happened to come off the club." And the ball just happened to disappear into the cup.
It should be noted that Woods' nasty little lie there would have been a lot nastier last year, when Nicklaus nobly admitted "a lot of the problems here were caused by me." The rough behind No. 11 was so imposing one June ago that Phil Mickelson, faced with a similar task after his ball bounded through the green in two, couldn't hold his third on the green. He declined this year's invitation, months before wife Amy took ill with breast cancer. "We let the guys play this year," said Steve Rintoul, the tour's advance man for the Memorial. "Last year it was a bit much."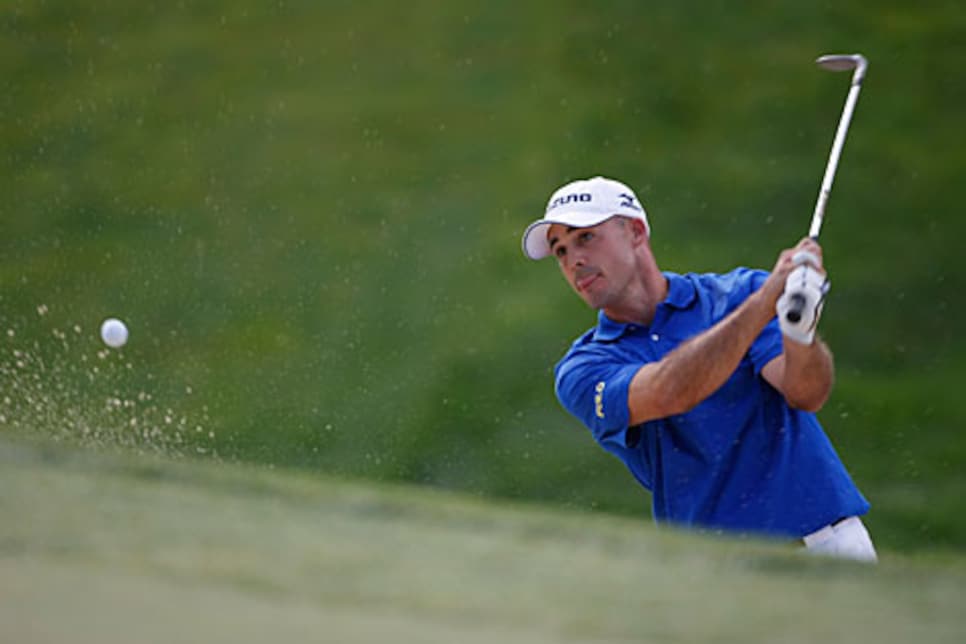 Byrd did advance to 12 under with a birdie at No. 12, but the end was near. He three-putted No. 13 for bogey and doubled No. 14 from the sand. Meanwhile, Wilson was en route to a 73 for a T-3 with Byrd, and Bettencourt shot 75 to forge a T-5 with Love and Matt Kuchar. Strange how the best golfers in the world tend to retreat when the best golfer in the world is prowling.
"I kept talking about being patient," Woods said, referring to his rehabilitation from knee reconstruction. "When I first came back [in February], I was pretty limited in my shot shapes. I wasn't able to work the ball both ways very well. I didn't have the speed in my body yet. But, you know, I knew all that would come along. Just give me a little time. I started to feel a little bit better each week. I won in March [at Bay Hill], but I'm much further ahead now of where I was then. I can practice like I used to. I can play the holes at home like I used to. You can't put it all together just thinking about it. You have to go out there and do the reps. I've been able to start doing that now. I've been saying to Hank lately: 'Now we can practice and play like I want to.' Don't stretch the graft out. Don't do this. Don't do that. There were a lot of don'ts."
The tournament could not have come at a better time for a region reeling from embarrassment. The beloved Ohio State Buckeyes were slaughtered 37-6 the previous Sunday, and it wasn't even their usual bowl-game drubbing. This was baseball, the NCAA regional. The Buckeyes' bullpen must have been tired because two days earlier, OSU gave up 24. So, golf's arrival seemed therapeutic, especially when the usual pro-am Wednesday was replaced by a charity skins game for the archives. Hundreds of fans showed up on a raw, wet afternoon for good reason. Nicklaus and Woods were competing in the same group along with other notables such as Stewart Cink and Kenny Perry in their group, one of two foursomes.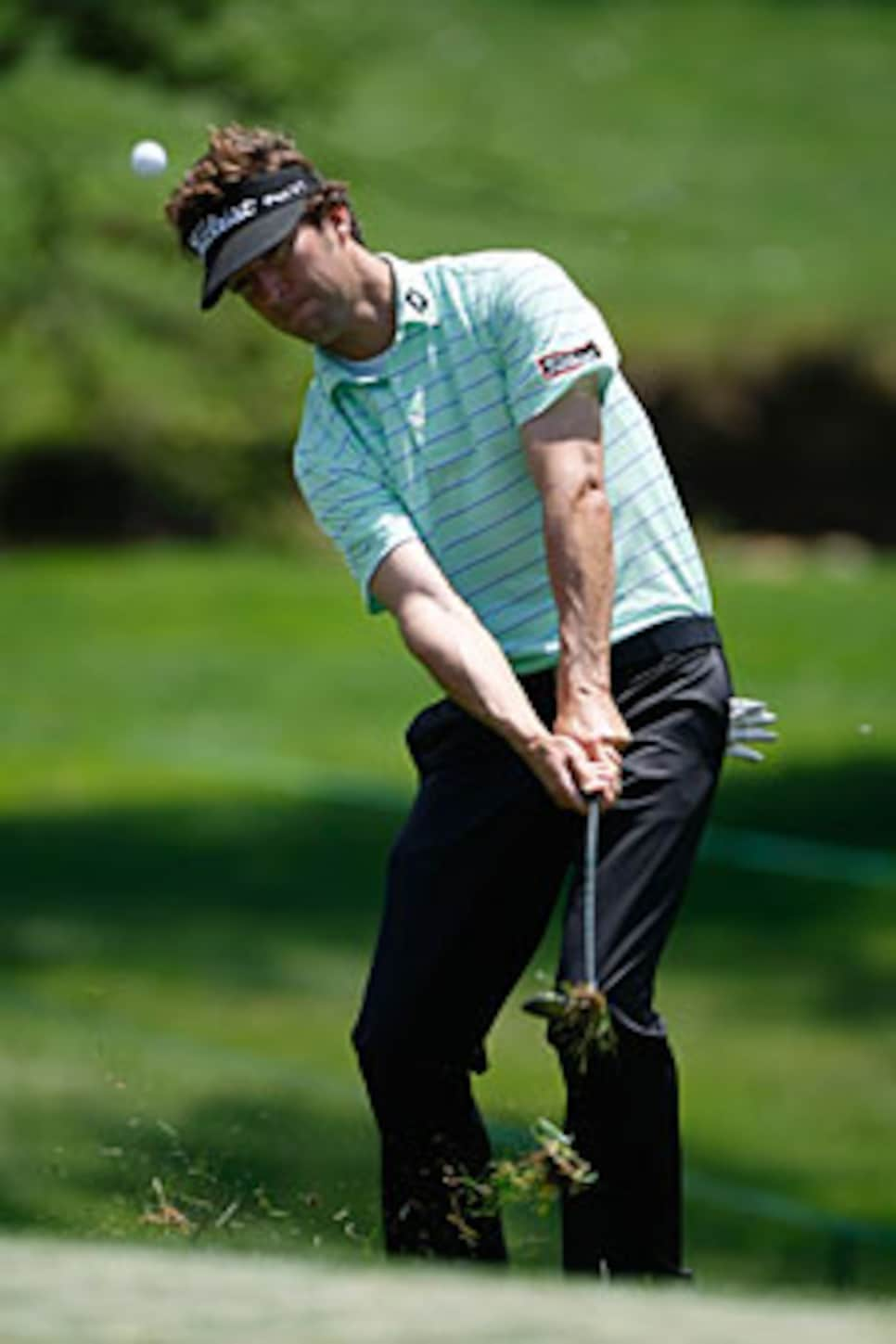 The ticket cost just $30, making it one of the greatest bargains in sports history. That word "history" is not to be taken lightly, either. Jack and Tiger had not played together since the 2000 PGA Championship, and they might never be under the same umbrella again, chatting about family and whatever. The picture of Jack holding the signature Golden Bear bumbershoot was shown worldwide. For the record, Woods won six skins for $37,000 and Jack two for $8,000. Woods chipped in as a finale, prompting Nicklaus to remark, "It didn't surprise me, and it didn't surprise him."
Nicklaus, 69, has dropped 25 or so pounds but none of his zeal. He doesn't tee it up much anymore. When he does, however, "the competitive juices flash … that's just me. I don't care whether I'm playing against my wife." Woods termed the experience "neat." He could have been relaxing in his hotel room. Instead, he did nine holes gladly, marveling at his idol. "Anyone who has ever played the game at the highest level always wants to come out and give their best," said Woods. "You could see Jack on certain holes, certain shots and grinding over putts kind of revert back to the old Jack."
Nicklaus chuckled over concerns about Woods' single victory since his return from knee surgery. "Terrible comeback," quipped Nicklaus, citing Woods' four other top-10s. Jack noted that Woods "hasn't been moving out of the way of the ball like he used to. I think that's probably protective. I thought his swing was a lot more aggressive [in the skins game] than I've seen in previous tournaments on television. I thought he's been babying his leg a little bit previously, and rightly so. I think that's what you would expect. I didn't see much babying today. I thought he went at it pretty good."
Woods concurred with Carnac The Magnificent's diagnosis about the somewhat cautious re-entry onto the scene. "Absolutely, had to be that way," said Woods. "Worst thing you can do is stretch out the ligament right away. The surgery would have been all for naught. That's one of the reasons it takes most athletes a lot longer to come back. You just don't want to stretch out that ligament. That's one of the reasons why I haven't been able to hit balls as far as I normally do, but that's coming. Each week, I'm able to hit a little bit longer." Woods also revealed that he has implemented a driver with a 10-degree loft, up from 9½. "My release has changed over time with Hank," he explained. "I needed a little more loft to get the ball in the air."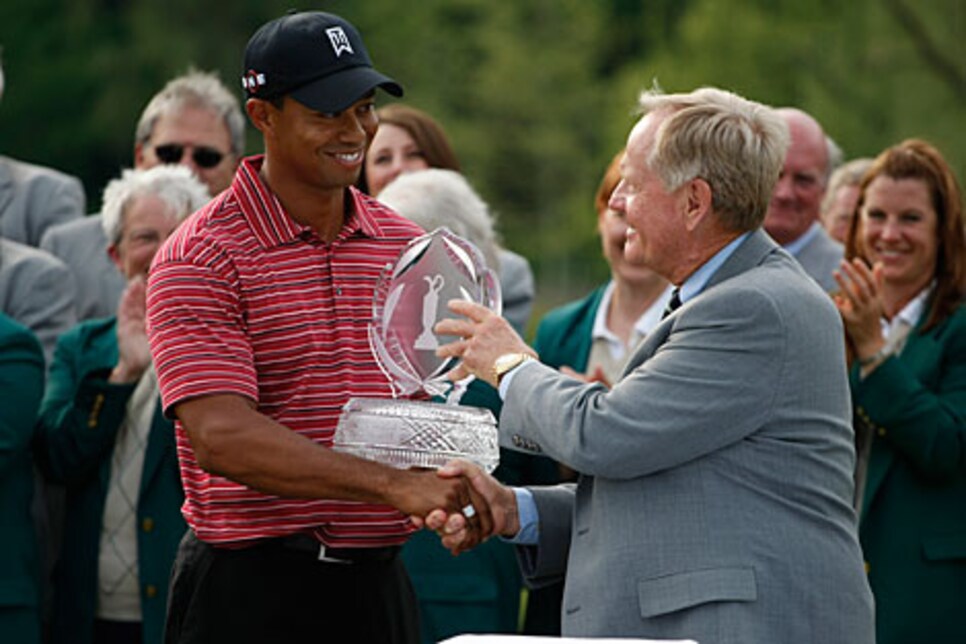 In concert with the tour, Nicklaus presented a fairer course than a year ago. The rough was not quite as imposing. "We lowered it a half inch, and it is not as thick," said Nicklaus, who sought fewer "hack-out shots which I don't like anyway … I never liked hack-out golf." The furrowed bunkers also disappeared, along with the unconventional gap-toothed rakes that created them. Nicklaus, however, resisted entreaties about the greens. He heard players were wary of speed traps, but he wanted fast putting surfaces and he got them. They were Bernie Madoff slippery. Even Woods, who likes it that way, took note. "It rained earlier in the week," said Tiger, "and they were still running about 14½ [Sunday]. That's not slow."
For his closing act, Woods could have landed his ball on a lily pad. Chafing from a bogey at the 16th, he drilled a 5-wood to the fairway at No. 17, then a 9-iron to set up the go-ahead birdie. At No. 18, he laced a 3-iron off the tee and then stiffed a 7-iron to inside the leather. Woods twirls his club after a solid swing, after he surveys the ball flight, after he knows he's executed on this side of perfection. At the Memorial, Woods did a whole lot of twirling. "I'm excited about what happened here, and I like the fact that I'm doing it leading up to Bethpage," said Woods, who paid homage to Nicklaus, referring to him as the greatest golfer ever.
Before his tour de force, Woods spent Sunday morning observing another friend, Roger Federer, capture the French Open to complete his Grand Slam résumé with his 14th major title—same as Tiger. Woods said he talked with Federer and texted him throughout the weekend. After a brief visit with volunteers Sunday evening, Woods checked his cell phone again and there was a congratulatory message from Federer, authored no doubt during a party veering toward the wee hours somewhere in Paris.
"Look at this … this is cool," beamed Tiger. "I really like Roger, and I'm so happy for him. He hits shots nobody else can hit."
Now Tiger Woods knows how other golfers feel. Michael Letzig couldn't have said it any better.