News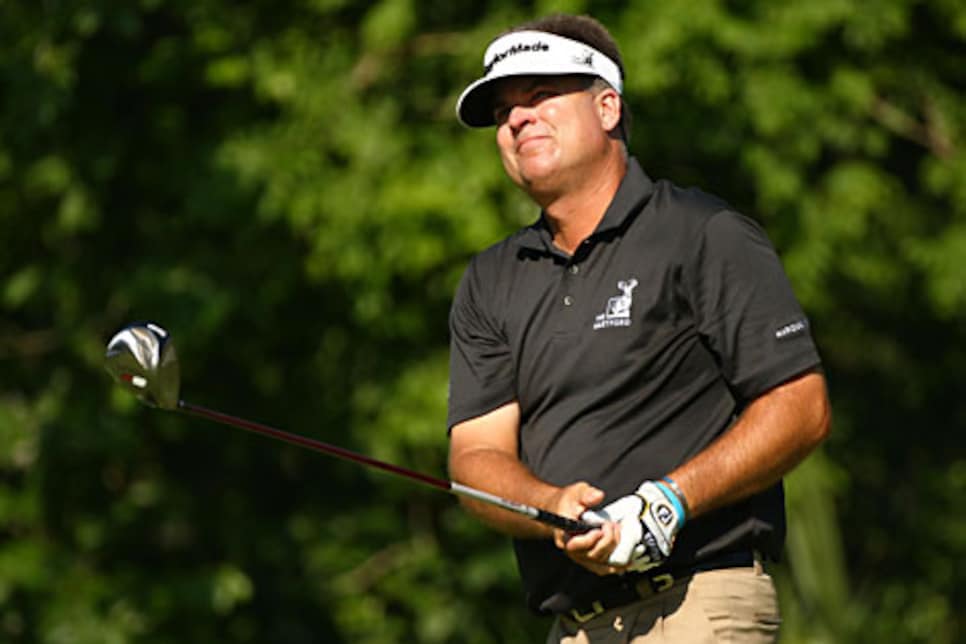 Kenny Perry has heard the talk about an alleged infraction during the FBR Open, but said no one had asked him about it until Tuesday.
DUBLIN, Ohio -- Kenny Perry looks as though he has lost no sleep whatsoever over a "controversy" concerning an "incident" surrounding his victory at the FBR Open last February. In fact, he's somewhat puzzled that people are talking about it without talking to him.
"You're the first one who asked," said Perry Tuesday at the Memorial Tournament, where he will defend his title starting Thursday. "But you know what they say: the truth shall set you free. All of a sudden, three months after the fact, I started hearing about this at the Players Championship. That's where the PGA Tour made its statement about the whole thing, that there was no infraction."
"People like dirty laundry, I guess. But the people out here on tour know me."
On the first playoff hole -- No. 18 at the TPC Scottsdale -- Perry is seen by his ball in the left rough. Not much of the ball is visible. A video of what followed has gained a life of its own, but much of the discussion regarding Rule 13-2 involves intent. Rules officials from the PGA Tour absolved Perry, as did John Paramour, rules guru for the European Tour. He detected neither intent nor excessive tamping down of the grass.
"You're allowed to ground your club in the rough," Perry said. "Now, if they want to change the rule where you can't ground your club in the rough, that's different. I've looked at it 100 times since I became aware people were talking about it. I set the club down behind the ball to find the ground. Then I set it down to the left of the ball, again just to find the ground. If you lay your club behind the ball, the grass is going to move. Has to. But if there is no intent to improve your lie, then it's within the rules.
"There was a camera guy from CBS eight feet behind me. I was on TV in front of the world. David Feherty was right there. We asked (playoff opponent) Charley Hoffman about it. He had no problem. You'd think, the way people watch for rules infractions on TV now, that someone would have called in. Nobody did. That's life, though. Everybody wants to put dirt on you. People like dirty laundry, I guess. But the people out here on tour know me. They know who I am.
Since Perry arrived at Muirfield Village GC, he has been a range rat -- almost five hours Monday, after a weekend in Texas. He has been fighting a case of the pulls and is trying to locate the sweet spot again. It's not a Masters hangover, either. The playoff defeat is behind him.
"I'm just a streaky player, a feel player, and I've got a glitch in my swing now that I'm trying to fix," he said. "I've been playing very poorly."
Perry went to Augusta National well in advance of this year's Masters, and he almost won. Next week, he is heading to Bethpage to prepare for the U.S. Open on a course where, he groused, "I can't remember one hole that's a birdie hole."