News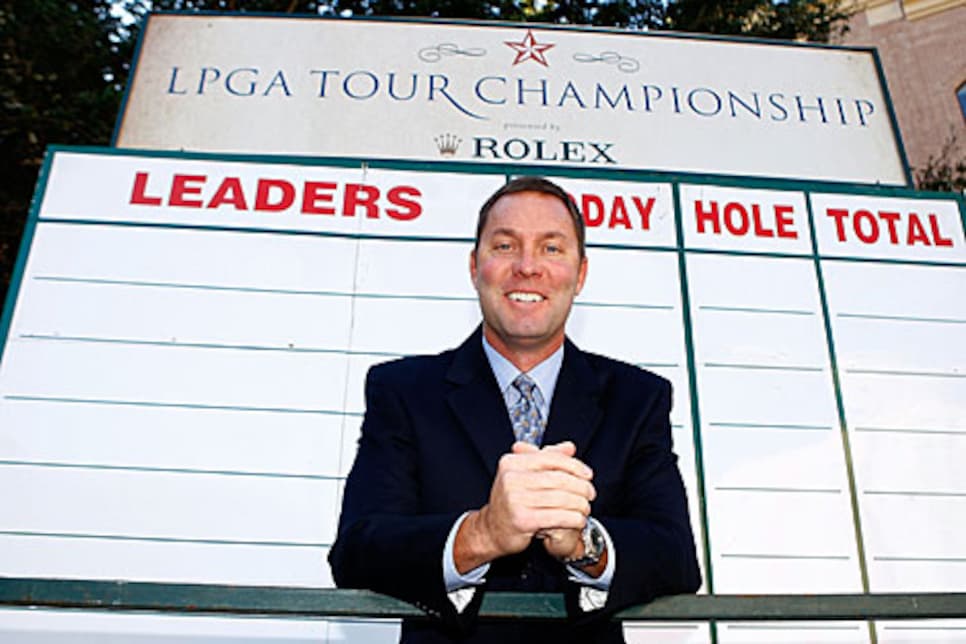 Michael Whan will have his hands full as the next LPGA commissioner.
SUGAR LAND, Texas -- This is a story about cups that are half empty and those that are half full. The LPGA schedule for the 2010 season, released Wednesday on the eve of the LPGA Tour Championship, the final event of an embattled year for the tour, is the sparsest since 1971. That's your half-empty cup.
But the fact acting commissioner Marty Evans managed to squeeze out 23 events -- 24 if you count the expected addition of an event in Korea later -- in the face of the toughest economy since World War II and with sponsors alienated by ousted commission Carolyn Bivens should qualify the retired rear admiral for a battlefield promotion. "It's a buyers' market," Evans said, and clearly the buyers knew that.
Eight of the returning tournaments are coming back at a reduced purse, six remained the same and three increased, including the Wegman's event in Rochester, N.Y., which got a battlefield promotion of its own and became a major, taking on the LPGA Championship for one year. Three purses are yet to be determined and the other events were not played in 2009.
In all, when the TBD's are filled in -- there are several on the schedule -- the best the total purse is going to be is $41.9 million, down from $47.6 this year and $60.3 in 2008, when there were 34 tournaments. The last time the LPGA had so few events was in 1971 when there were 21. Only six times in its 60-year history has the LPGA had fewer events, and four of those were in its first five seasons.
One of the startling things that jumps out is that the first 2010 event in the United States will be the LPGA Classic presented by J Golf at the La Costa Resort & Spa in Carlsbad, Calif. March 22-28 -- more than four months after the Tour Championship ends here this week. Also startling is the fact that there are 17 off weeks between the opening of the season Feb. 18 in Thailand and its close Nov. 21 at the Tour Championship at a place as of yet unknown. One of those off weeks in October may be filled by Korea.
Among the power plays made and lost by Bivens are these:
The tour assumed ownership of the LPGA Championship, driving off McDonald's, a long-time supporter of women's golf. When talks with ExxonMobil and DuPont, among others, fell through, Wegmans rescued the LPGA Championship for one year and increased its purse from $2 million to $2.25 million.
"At a time when we could use some assistance to give us some breathing room" Wegmans stepped in, upped its purse and saved the day, Evans said. Speaking about the search for a sponsor for the LPGA Championship in particular and for other events in general, Evans said: "2011 was a more practical opportunity for us to bring on new partners."
The tour gave the season-ending dates for the limited-field ADT Championship at Trump International to Stanford Financial for the LPGA Tour Championship. Stanford, of course, dropped out when its founder was arrested for fraud.
ADT was offered a date at the beginning of the season but rightly felt that made no sense. Having an event with a $1 million first prize to start the season totally skews the money race. The limited-field, multiple-cut format with a $1 million first prize was a perfect way to end the season. It's a huge loss that needs to get back on the LPGA schedule.
Lost from the new schedule are the Sybase Classic, taking away the long-time stop in the New York City-area market. Also gone is the long-time tournament in the Phoenix area, a golf-passionate community that embraced the LPGA.
"We would love to go back to Phoenix," Evans said. "It's all about finding a sponsor." And in a rather cryptic reference Evans said of Sybase: "They have not informed us of their intent."
"It was a total team effort," Evans said about putting together a schedule that, when she took over for Bivens in July, appeared as if it would have fewer than 20 events. "We reached out to sponsors we previously had and those we thought might want to come on board. It was an amazing show of people who just wanted to get the job done. And we are not done. We are working hard for 2011 and beyond."
Asked if other events might be added during the course of 2010, Evans said that was a possibility but should not be expected. "This is the schedule as of today."
And as of Jan. 4, Mike Whan will be the LPGA commissioner. He takes over in the tour's 60th year and at perhaps its most critical time. That task of putting together a schedule for 2011 and beyond now falls to him. The challenge is enormous, but there are a few reasons for Whan to view the cup as half full.
First off, the LPGA is an amazingly global tour with members from 27 nations. With golf now an Olympic sport beginning in 2016, the game is sure to grow in areas were the LPGA has already planted its flag: Thailand, Singapore, China as well as stalwarts Korea and Japan. The LPGA also has players from Brazil, Colombia, Ecuador, Mexico and Chile. There is every reason to think women's golf will grow overseas.
And then there is the fact Michelle Wie won last week in Mexico, picking up her first LPGA victory and first win anywhere in more than six years. She just could be the Tiger-like star upon which the LPGA can hang its visor. That's something Whan can't control, only dream about.
Evans, however, seems to have given Whan something extremely valuable: Time. He now has a year -- sparse thought it is -- in which to hope for economic recovery so that when he comes calling, touting the great bargain it is to sponsor his tour, he'll be heard by corporations with checkbooks in hand. He'll certainly have enough off weeks on the schedule to make those sales calls.