News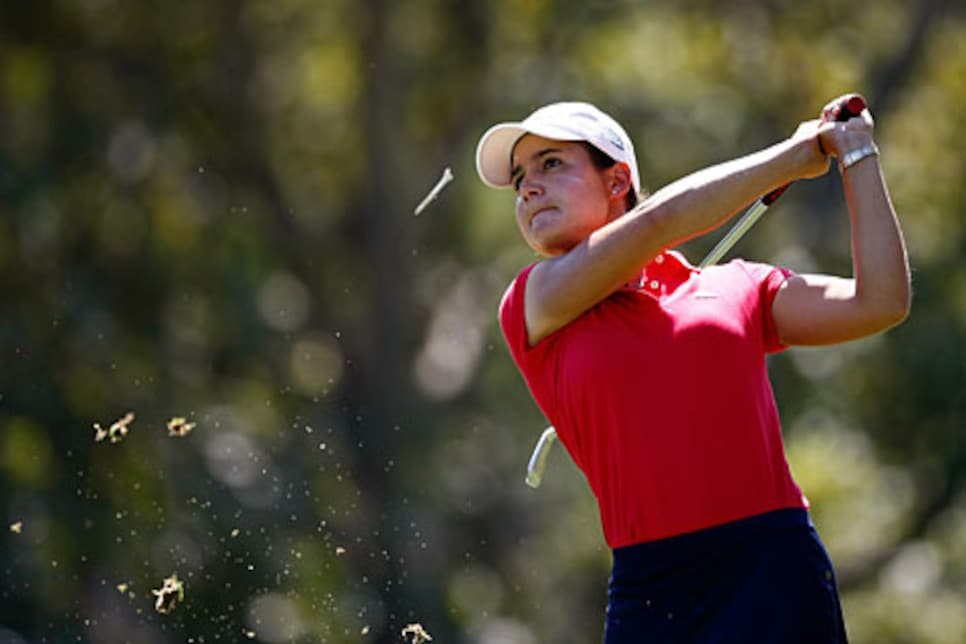 Lorena Ochoa is looking for her first win since capturing the Corona Championship in her native Mexico in late April.
DANVILLE, Calif. (AP) -- Lorena Ochoa insists she wasn't bothered when critics questioned her game earlier this year. If anything, the world's top-ranked player agreed with them.
"I respect the opinion of the media and the players, and the results show I wasn't playing my best golf, so it's OK for people to talk," Ochoa said. "I also say that I've been working hard and I feel much better. I feel that I'm getting in a better rhythm and that's why I'm here today."
Ochoa birdied five of her last seven holes for a 7-under 65 on Saturday and a share of the third-round lead with Sophie Gustafson in the CVS/pharmacy LPGA Challenge.
Winless in 10 starts since taking the Corona Championship in her native Mexico in late April, Ochoa has only two victories in 16 events this year after winning 21 times in the previous three years.
She was four strokes back after 10 holes, then used the strong finish - including a 16-foot birdie putt on the 18th hole - to match Gustafson at 16-under 200.
Gustafson, winless since 2003, had a 66. She spent 30 minutes on the putting green working on her stroke following Friday's second round.
"My putting was much better," Gustafson said. "My caddie figured out what I was doing wrong and worked on that. My backstroke was too short and I was seriously moving my head."
Angela Stanford and Sun Young Yoo were six strokes back at 10 under after 69s, and Paula Creamer (69), Morgan Pressel (67) Leta Lindley (66) and Maria Hjorth (72) followed at 9 under on the Blackhawk Country Club course.
Ochoa, playing in the same group as Gustafson, couldn't match the Swede's power off the tee, but made up for it around the greens. The Mexican star had a bogey-free round, overcoming swirling winds that seemed to change direction on every tee box.
She had only two birdies on the front nine then warmed up on the back after falling four strokes back when Gustafson birdied No. 10 to reach 15 under.
"I left some birdie opportunities out there on the front nine, definitely," Ochoa said. "I told myself, 'Just keep doing the same thing and be patient.' I dropped a few good putts and that was really the difference today."
Ochoa made consecutive birdies, while Gustafson three-putted the par-3 12th for a bogey. Ochoa birdied No. 15 to move into a tie.
Gustafson then birdied No. 17 to reach 16 under.
Ochoa's approach shot on the 18th rolled past the hole, but she sank the 16-foot putt for birdie, raising her first as the crowd cheered. Gustafson made a par.
Unlike the first two days when her putting gave her problems, Gustafson was fairly steady around the greens with five putts of 20 feet or longer and came within one stroke of matching her opening-round 65. She sank a 20-footer for birdie on No. 10, survived her three- putt on the 12th, then made short birdie putts on Nos. 16 and 17.
Gustafson has had seven runner-up finishes since winning the 2003 Samsung World Championship. To end that streak of near-misses, she needs to hold off the No. 1-ranked player Sunday.
"I'm not really that worried," Gustafson said. "It's a full-time job taking care of myself so I don't really pay that much attention to what other people are doing."