News
Rookie Nordqvist Remains In Front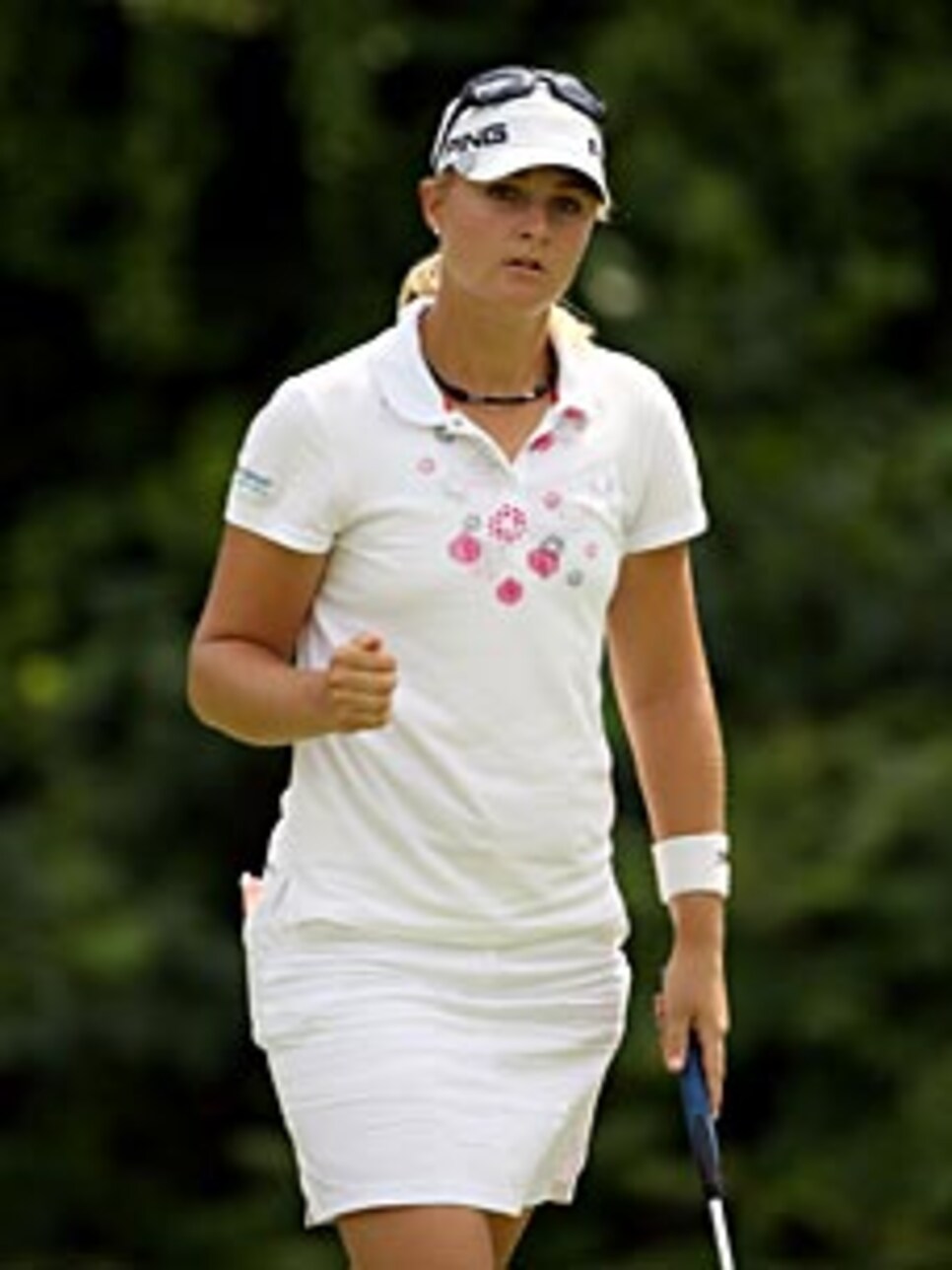 Playing in the final twosome for the first time, Nordqvist held up well.
HAVRE DE GRACE, Md. (AP) -- As a rookie playing in the third round of the LPGA Championship, Anna Nordqvist probably figured the only problem she might encounter was a little bit of nervousness.
That wasn't an issue Saturday. Neither was a lengthy rain delay or fading daylight. Nothing, it seems, is too much for this cool Swede to handle.
Nordqvist took a one-shot lead over Lindsey Wright by making a 20-foot birdie putt on No. 15 after the horn halted play because of darkness. The players were allowed to finish the hole, and the 22-year-old Nordqvist took advantage by moving to 10 under.
"Obviously finishing with the birdie brings me some good momentum for (Sunday)," Nordqvist said.
Wright -- one of eight players who failed to finish -- also played 15 holes. Instead of returning to the Bulle Rock course Sunday at her leisure, Wright must finish her round at 7:30 a.m.
"Obviously there's a disadvantage not finishing today. I mean, I would love to be sleeping in," she said. "But it's going to be a big day, regardless."
"I'll go home and eat some dinner and go to bed and be up early and play those holes," she said. "Then I'll relax before I tee it up again."
Instead of pacing during the rain delay, Nordqvist chatted with her buddies.
"I went to the clubhouse and sat there with a few of my friends," she said.
Na Yeon Choi was about to hit her tee shot on 18 when play was suspended. She threw her ball away in disgust and stormed off the course at 8 under (3 under for the round).
Jin Young Pak completed her 69 after the horn to come in at 7 under.
Hours earlier, rain stopped play for 2 hours, 19 minutes with 22 players left on the course. Nordqvist finished nine holes at 10 under, and Wright completed 10 holes and 9 under.
"I just sat there and talked to random people, not really doing anything," Wright said. "It went kind of quick."
Wright returned to birdie No. 11, and the Australian gained the lead when Nordqvist bogeyed the same hole. But a bogey on 13 dropped Wright into a tie.
"It comes down to Sunday every week," she said.
Down by two shots at the start of the round, Wright parred the first five holes before sinking three straight birdies to go 9 under. A bogey on No. 9 stalled her momentum only momentarily, because she began the back nine with successive birdies.
The round began with Nordqvist holding a one-shot lead over Nicole Castrale.
Playing in the final twosome for the first time in her brief professional career, Nordqvist showed absolutely no outward uneasiness. After both players parred the first hole, Nordqvist increased her lead to two strokes when Castrale three-putted from 25 feet.
A birdie on No. 3 dropped Nordqvist to 9 under. Nordqvist then nailed a 12-foot birdie putt on 4 and pumped her fist slightly -- a rare departure from her businesslike approach.
That lengthened her lead over Castrale to four strokes, and when Castrale missed a 3-footer on No. 5, the gap increased to five shots.
Castrale rebounded with a birdie on No. 8 shortly before the rain came, but by then Wright, Choi and Kristy McPherson had passed her on the leaderboard.
McPherson was at 6 under through 17 holes, tied with Jiyal Shin, who shot a 69.
Castrale was at 5 under through 15 holes when play was halted.
Other notable scores: Lorena Ochoa (73, 2 under), Michelle Wie (73, 1 over), Juli Inkster (73, 1 over), and two-time LPGA Championship winner Se Ri Pak (74, 4 over).