News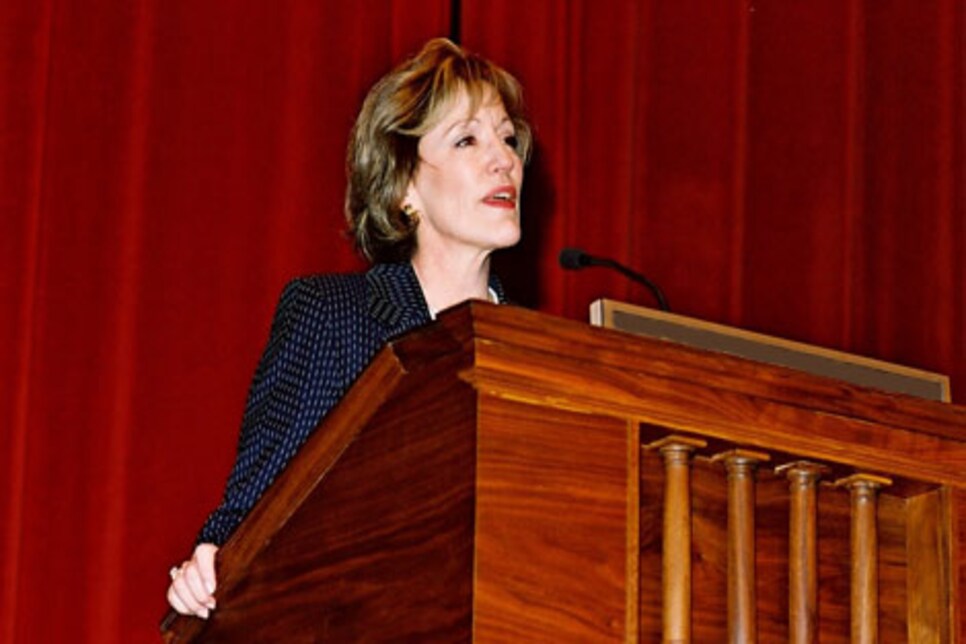 Marsha Evans will serve as interim commissioner of the LPGA as it conducts a search for a permanent replacement.
DAYTONA BEACH, Fla. (AP) -- Carolyn Bivens is out as commissioner of the LPGA Tour, and Marsha Evans will serve as acting commissioner while the organization looks for a replacement.
Bivens, whose took over the job in 2005, came under pressure when some players wrote a letter to the LPGA Tour's board of directors calling for her resignation. The LPGA Tour announced her departure Monday.
Bivens' tenure was plagued with difficulties and controversies.
The tour has lost seven tournaments since 2007, and last year Bivens was widely criticized when she proposed an English-only policy for tour players. It was never instituted. The LPGA includes 121 international players from 26 countries, including 45 from South Korea.
In October 2006, she was accused by officials of the now-defunct tour event near Atlantic City, N.J., of backing out on a promise to maintain a longtime event.
"I love the LPGA and have been proud to serve as its commissioner for the last four years. I am also proud of what the LPGA has accomplished during my tenure," Bivens said in a statement Monday. "It is time to turn this organization over to someone who can build on the solid foundation we've established."
Evans served on the LPGA commissioner's advisory council in 2007 and 2008, and began serving on the board this year. She is a former Naval officer who reached the rank of rear admiral. She also led the Girl Scouts of the USA and then the American Red Cross.
Evans said the LPGA Tour will reach out to fans, players, sponsors and tournament operators. She also thanked Bivens for inviting her to join the association.
"I know that she put her heart and soul into this organization, and I wish her the best of every success in her personal and professional career," Evans said.
Bivens' uncertain status created a distraction last weekend during the U.S. Women's Open. The LPGA will now begin searching for a full-time commissioner. The organization also has appointed former star Annika Sorenstam as an adviser to the board or directors.
Evans says she only wants to be commissioner on an interim basis.
"I am the acting commissioner, but I have no intention to serve as the commissioner," she said. "I think we need someone with new energy who can bring passion and skills and experience."