News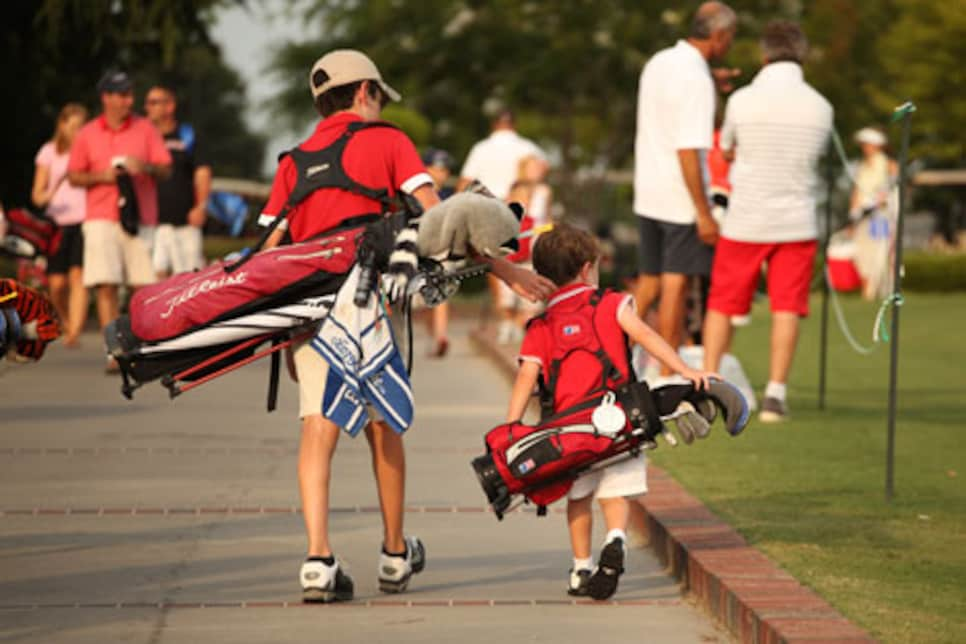 proving ground for the young: U.S. Kids' family tees give short hitters a realistic shot at pars
Categorizing the 10th U.S. Kids Golf World Championship isn't easy. Think "The Greatest Game Ever Played" meets "Little Miss Sunshine," for it is a tapestry of sublime talent by the very young—sound swings and fearless putting strokes that most adults would salivate over—with a dose of stage parenting that seemed most acute when a father/caddie grabbed the fancy laser rangefinder clipped to his belt, which seemed as common an accessory as a towel, and "shot" his 6-year-old son's 30-yard approach.
Or consider the scene on a putting green during the first round of the event, hosted by Pinehurst Resort and held on nine courses in the North Carolina Sandhills area. As two boys perhaps fresh from the game room imitated hockey players, slapping the ball back and forth to one another, a third 7-year-old, using a cross-handed grip on a cut-down Scotty Cameron putter, meticulously marked each ball and aligned the side stamp toward the cup before every putt. There was the 9-year-old girl taking 17 practice strokes on a three-footer as her father hovered behind her, but also the half-dozen kids playing tag and going to look at the carp in a nearby pond, seemingly oblivious they had come there to play golf, tournament golf at that.
"Play well, children," starter Robbie Roberson urged each group in the Boys 7 division at Mid Pines GC. Many of the 1,275 children from age 5 to 12 from around the world did just that. The "Tiger Effect" might not be best seen through tournament purses or television ratings but in the wave of children born during his professional career who are taking to golf (or being taken there, by their parents).
"People are bringing their child out because they know how well Tiger played at an early age. That's all good," said Rudy Duran, who coached Woods between ages 4 and 10 and was at the championship as a consultant. "Bad thing, I think they misinterpreted what the Woods family provided for Tiger. The family provided an ideal support network. It wasn't their agenda. It was what Tiger chose to do in his free time—after homework and chores—and they supported that. It was not over the top. All the parents want to do good for the child, but maybe some are a little too gung ho."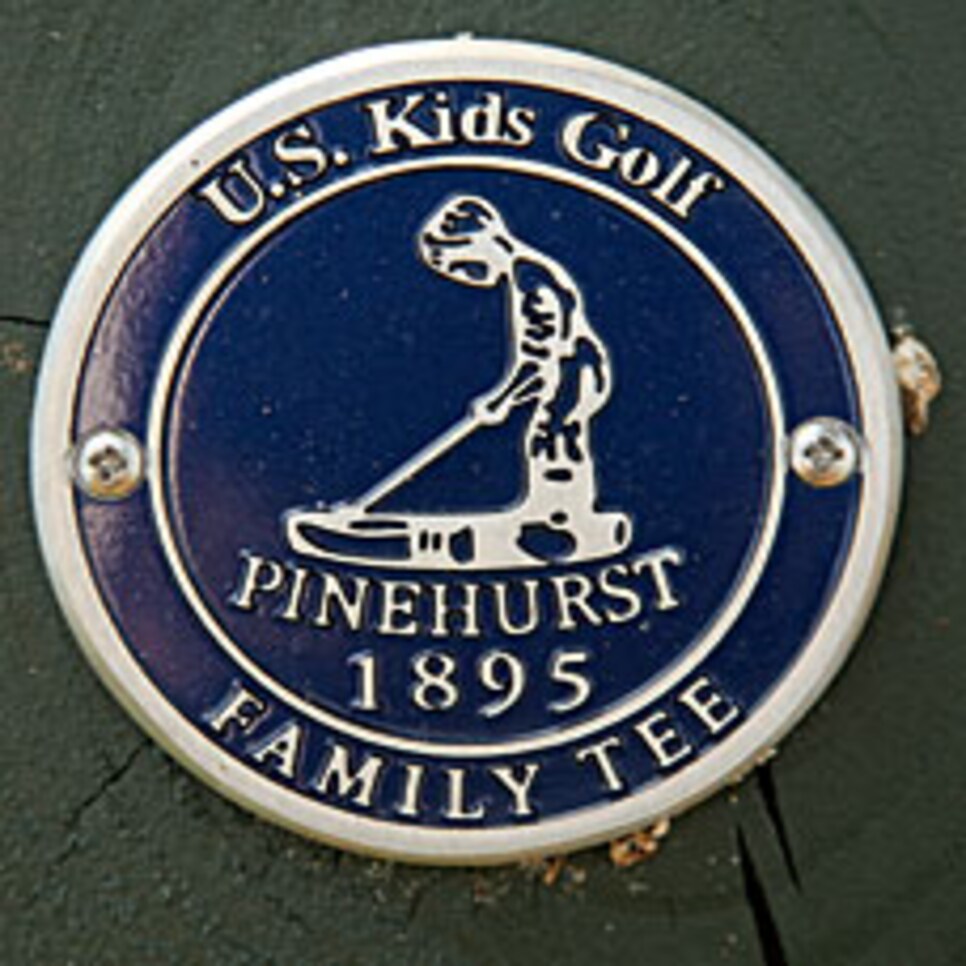 Woods was in his first full year on the PGA Tour when Dan Van Horn founded U.S. Kids Golf in 1997. Frustrated by the equipment options available for his two young sons, Van Horn set out to develop a line of children's clubs that were appropriate in length and weight so kids wouldn't develop inferior swings using ill-fitted clubs. (Interestingly, several lilliputian clubs pro/architect Donald Ross built for his 4-year-old daughter in 1913 are on display in the Tufts Archives in Pinehurst; nothing in golf is ever truly new.)
After he started selling clubs, Van Horn began promoting the use of "family tees," markers that allow courses to play much shorter, in line with how far kids can hit their shots. (The Boys 6 and under group, for example, played nine-hole Midland CC at 1,314 yards and par 36; the shortest par 3 was 69 yards, the longest par 5 was 220 yards.)
Van Horn believed his clubs and tees would encourage golf as a family sport. "I saw golf as something to bring families together, instead of being a separator," he said in Pinehurst. "I started with a mission statement, which is to help kids have fun and encourage parent interaction. In general, we think parents are the answer, not the problem." This year was the first championship played with a new conduct policy affiliated with the Positive Coaching Alliance. One "yellow card" warning was given during the three-day tournament, to a father/caddie who flew into a verbal rage after being penalized for arriving late to the first tee. "We think there are some overzealous parents, and we want to help them," Van Horn said. "But for 95 to 98 percent of the parents, it's a beautiful thing."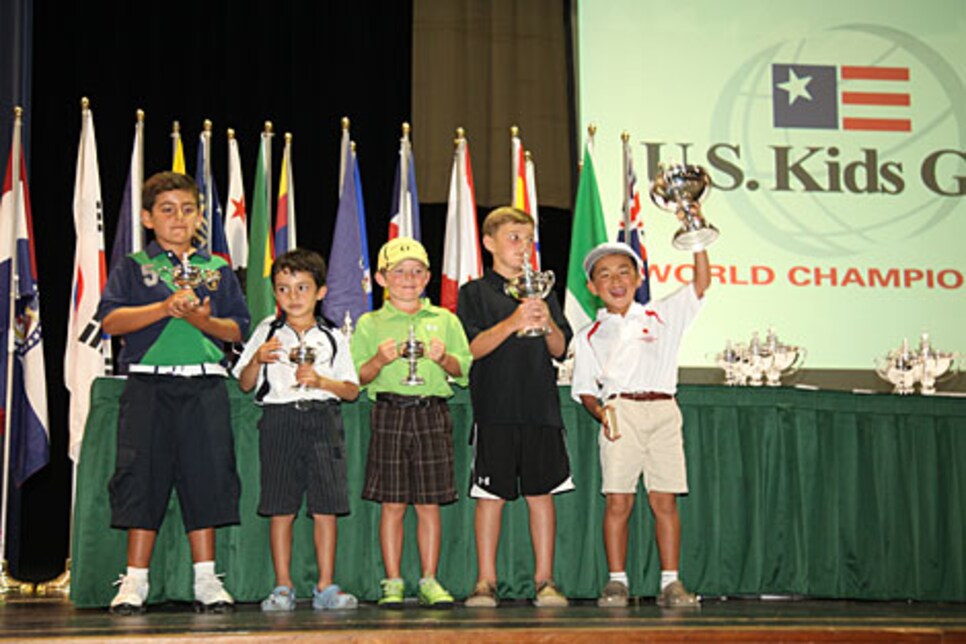 "I think it's awesome when a company wants to make a difference in children's lives," said Bill Whaley, who caddied for his 12-year-old daughter, Kelly, who is trying to follow in the footsteps of her mother, golf professional Suzy Whaley, who made headlines by competing in the 2003 Greater Hartford Open. "They are using their brand to help that process. They really sweat the details and put on a great tournament."
There was a Parade of Nations in Southern Pines on the eve of the championship and an ice cream social in Pinehurst the next night. Kids had putting games after their rounds, despite the sweltering summer heat. But the seriousness with which the golf is taken was never too hard to see. "I try not to be too hard-nosed about it," said Las Vegas attorney Andrew Fritz, whose 7-year-old son, Dylan, finished T-6, "but I tell him that to compete and win, he's got to put serious time into it. We try to keep it fun, but he practices two to four hours, six days a week."
Greg Dumlao, director of instruction at Future World Golf in northern California, had eight students in the event. He has resorted on occasion to removing batteries from laser rangefinders so his young pupils won't become too reliant on technology. "I want them to learn long division before they get to use a calculator," said Dumlao. "But many of the parents have technical or engineering backgrounds, and they are fascinated by that aspect of the game."
Kenji Stiles didn't know much about golf when his young son, Kristopher, showed good form at Nintendo Wii about a year ago. Kris had a natural swing and, under the direction of his father, an electrician, began putting a lot of time into golf. The Stiles' traveled from their Lancaster, Calif., home to play in Pinehurst. "We raised $1,500 from family and friends," Kenji said. "We got donations of $25 and $50. It really helped." (New Zealander Jack Green, who was T-79 in the Boys 8s, solicits donations to support his golf development on his website, jackgreengolf.com.)
Things went well for the 6-year-old, 50-pound Kristopher until the third round. After shooting 37-35 the first two days, he missed a two-footer for birdie on the first hole the last day. "He wasn't the same after that," Kenji said. "He was anxious." On the third hole Kristopher hooked his tee shot out-of-bounds. "I was trying to calm him down," his father said. "He gets emotional. He slammed a club into the green. You can't have that." An official warned Stiles after he gouged the turf. He started crying and told his father he didn't want to play anymore. "We have a tournament Monday when we get back" Kenji said, "then one on Aug. 17. We'll definitely take a break after that."
Stiles' 42 dropped him to T-20 in his division, 13 strokes behind Kota Murakami of Japan, whose closing 33 lifted him to a three-shot victory. Murakami, a victor in the Callaway Golf Junior World Championships earlier this summer, which featured many of the same golfers as the U.S. Kids, carries two drivers—a TaylorMade with a 38-inch shaft for "big drives," said his father, Toshi, and a 35-inch Callaway model for control—along with a Yes! C-Groove Sophia blade putter he has used since he was 2.
"Excellent," said his father.
"Excellent," repeated Kota, wearing the same bright green-colored shorts and shirt as his dad.
That was also the kind of week it was for 12-year-old Marijosse Navarro, a native of Mexico now living in San Antonio, who won her record-tying fifth U.S. Kids world title by shooting 14-under 202 at Pinehurst No. 3. Navarro already has won an AJGA tournament in her adopted hometown earlier this year, and her skills have been clear for a long time. In 2007 she won the Girls 10 age group by shooting a final-round 28 for nine holes. "Ocho birdies and one par," recalled her father, Hugo, who continues to live in Mexico while his wife, Mayda, is with their daughter in Texas.
Joshua Martin, whose family relocated from Wilson, N.C., to Pinehurst several years ago to facilitate the golf development of Joshua and his older brother, Zachary, also had an opportunity to win a fifth U.S. Kids championship in the Boys 12 division. A slender, sunglass-wearing golfer with a textbook swing, Joshua is giving golf his all. "I take one day off a week," he said, "but all the other days I'm practicing hard, six or seven hours a day in the summer." Interjected his mother, Julie, who was caddieing for him, "It's a job."
Joshua's work went well for two days as he shot 69-70, but his final round on Pinehurst No. 4 was a struggle, and he shot a 75 to finish fifth. Curtis Chan, a 12-year-old Canadian, played superbly in the final round, shooting a 69 to finish at nine-under 207 and earn a six-shot win. "This is the best I've played all season," said Chan, who plays the ball back in his stance and gives his drives a healthy rip. "I'm using golf as a learning tool, to see if I can get into university on a scholarship."
After the final round the top five finishers in each age group received their silver trophies that evening at the Pinecrest High School auditorium. Before the trophies were awarded, a video was shown on a large screen. In one segment Duran imparted some wisdom: "Keep it fun … A student needs to be the one who drives the coaching … Tiger Woods became the greatest player in the world, and he was not overindulged in golf."
Earlier in the day Duran had said simply, "You don't need to peak at 9. That does no one any good."