News
A Daly Movie In The Works?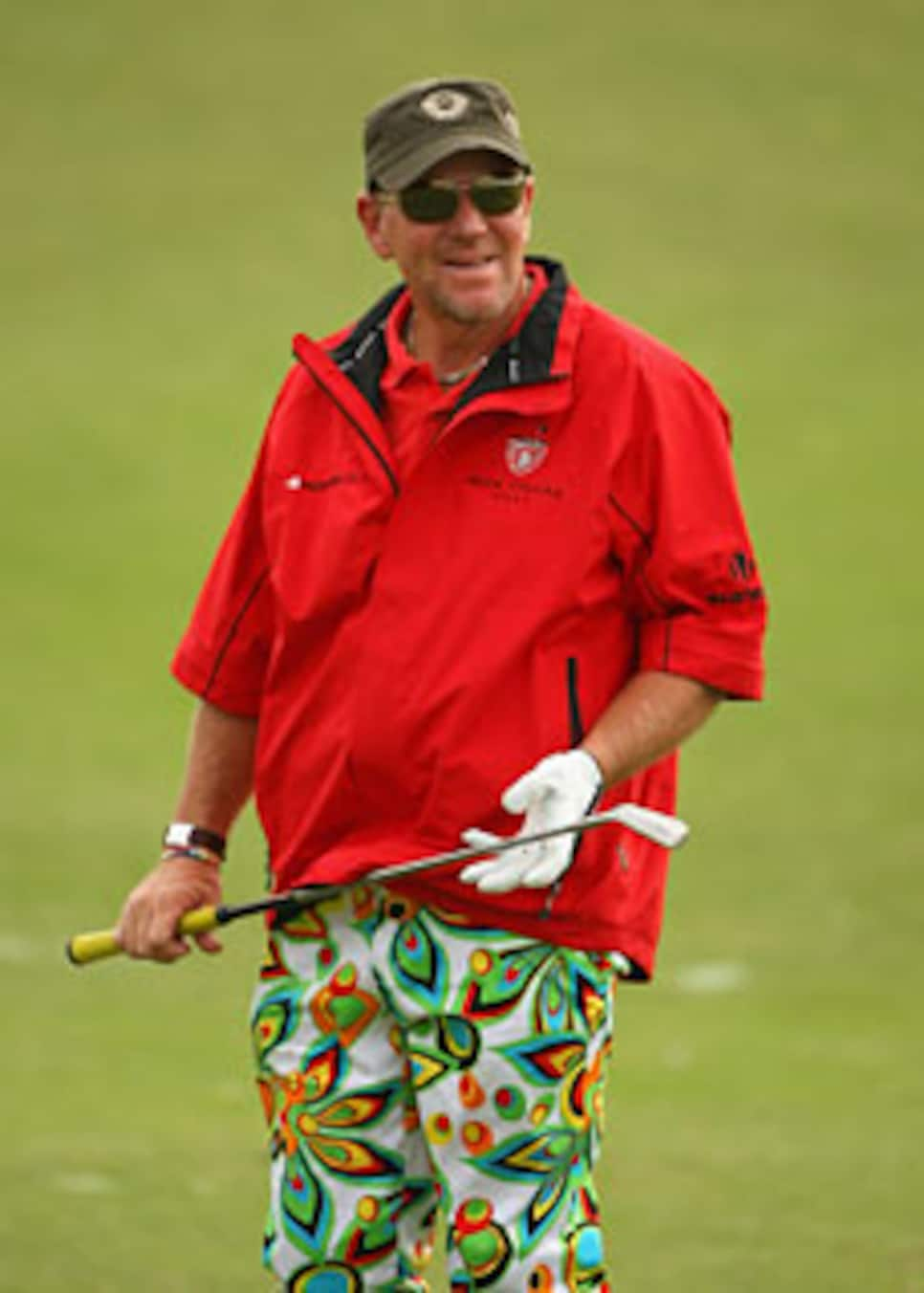 Daly is already thinking about what actors could play him in a movie.
COOLUM, Australia (AP) -- Now that John Daly has his weight problem sorted out, he figures a movie about his up-and-down career -- and life -- might not be far behind.
Just before heading out to the revamped Hyatt Regency resort course for a practice round ahead of the Australian PGA, the slimmed-down Daly, who has lost 115 pounds, entertained an early morning news conference Tuesday with his cinematic plans based on a new book he would write himself.
He nominated "King of Queens" star Kevin James as the actor who might play him before his weight loss, and ahead of February's lap-band surgery.
And who'd play the now-185 pound Daly?
"I just saw Matt Damon, how he swung a golf club, and I thought if I ever made a movie, I want him to be me," Daly said. "The tough part is who would play me at 290 pounds. Now Kevin James, he's my bud, but he'd be good."
When asked what the main storyline might be, he said: "It would just be the life, it would be the whole thing. the guts of it all."
"The problem is who is going to play all the ex-wives?" added Daly, who has four ex-wives, to laughter.
The most recent book about his life, "John Daly, My Life in and Out of the Rough," was published in 2006.
Daly's trip Down Under this year has been better than last, when he failed to qualify for the weekend in all three Australian events, the Open, PGA and Masters. He didn't play this year's Australian Masters, won by Tiger Woods.
He made the cut at last week's Australian Open, then shot 78 in the third round at New South Wales Golf Club. But he rebounded with a 1-under 71 in the final round and finished tied for 28th, 17 strokes behind winner Adam Scott.
"I feel I got a lot more out of last week that I thought I would," Daly said. "I hit my irons better. The short game is not real good but there are some good things coming out of it."
The Hyatt Regency resort course at Coolum was the scene of one of Daly's most famous meltdowns.
Ini 2002, after taking a triple-bogey 7 on his last hole, Daly threw his putter and ball into a greenside pond and later failed to sign for a 78 on his scorecard, disqualifying himself from the tournament.
He was later fined $5,600 by the Australasian PGA Tour and was ordered to write a letter of apology to a tour official he verbally abused.
This year at Coolum, Daly and others in the field, which includes Scott and defending champion Geoff Ogilvy, will play a redesigned course with six new holes, including a par-5 first that is guarded by water along the left side of the fairway and in front of the green.
Five holes situated between a nearby coast road and the Pacific Ocean on the original course, which was designed by Robert Trent Jones Jr., have been earmarked for resort development.
Before he left for his practice round, Daly took a swipe at players who have criticized Woods for his recent marital problems.
"I'm not too happy with what some of the players have said," Daly said. "Without him our tour would not survive as what it is when Tiger plays. I just hope for him and (wife) Elin that they get through it."