News
Woods And Mickelson Meet Again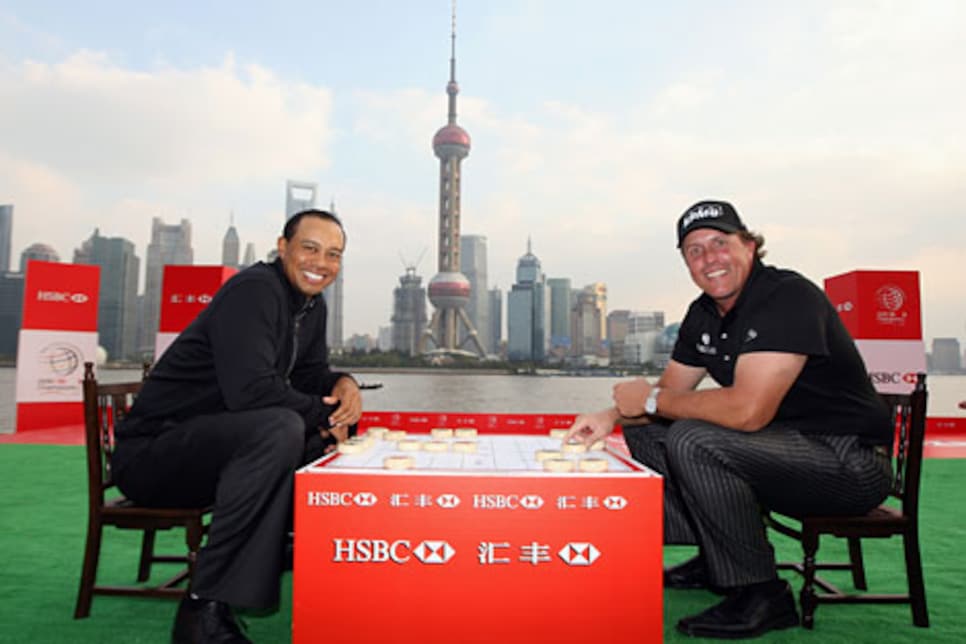 Woods and Mickelson took part in a publicity photo shoot in Shanghai.
SHANGHAI (AP) -- Tiger Woods and Phil Mickelson sat across from each other in a mock game of Chinese checkers against the spectacular backdrop of Shanghai's trendy Bund district. Later, they posed with the HSBC Champions trophy.
The world's best two players have been taking part in plenty of photo opportunities together lately.
Only six weeks ago in Atlanta, they shared the spotlight at the Tour Championship when Mickelson won the tournament by three shots over Woods, and Woods hoisted the FedEx Cup trophy. Then came a trophy they shared at the Presidents Cup, where both produced unbeaten records in San Francisco.
Halfway around the world, they are going at it again.
Despite a 78-man field from 23 countries at this World Golf Championship -- the strongest field ever assembled in Asia -- Woods and Mickelson remain the top attraction.
"I'm excited that Tiger and I are able to compete in the same event here in China," Mickelson said Wednesday on the eve of the HSBC Champions at Sheshan International Golf Club. "I think that it will provide some exposure to the game of golf throughout the country, and I'm hopeful that we compete head-to-head over the weekend, and are both in contention."
The HSBC Champions might be the appropriate way to celebrate a phenomenal year for golf in Asia.
Y.E. Yang of South Korea made history in two respects at the PGA Championship, becoming the first Asian-born golfer to win a major and the first player to win a major where Woods had the lead going into the final round.
Only a week ago, the first Asian Amateur Championship was staged at Mission Hills Golf Club in China, with the winner awarded a spot in the Masters next year and an exemption into the final stage of British Open qualifying.
The year ends with the first World Golf Championship in Asia that counts toward the world ranking.
"I'm looking forward to it. I think everyone is," Woods said. "Having this now become a World Golf Championship, I think everyone is very excited about what this tournament means in the scope of things, not just here in China but in all of Asia. As a player, we are looking forward to playing this golf course against such a great field."
The field includes defending champion Sergio Garcia, three-time major winner Padraig Harrington, British Open champion Stewart Cink and Lee Westwood, who is leading the Race to Dubai on the European Tour.
Woods is no stranger to playing overseas, having played at least one international tournament every year since his pro debut in 1996. But while that familiar spinning globe -- the World Golf Championship logo -- is now found on the bright red signs around the course, there is no denying this tournament has a different feel.
HSBC has expanded its promotional effort to the point that it had sand in the bunkers on the practice range painted red, its corporate color. It also had pictures of Woods, Mickelson, Harrington, Geoff Ogilvy and Paul Casey painted on elevator doors at the official hotel.
Advance tickets sold at double the rate compared with last year, a product of Woods returning to Shanghai, the tournament being upgraded to WGC status and the appearance of 18-year-old Ryo Ishikawa of Japan.
One Chinese boy no more than 10 was so excited to see Woods that he raced under the ropes with a camera draped around his neck to get a clear shot, only for a security guard to gently scoop him up and put him back in the gallery.
Hysteria erupted on the 14th hole when Woods and caddie Steve Williams stopped for a bathroom break, with Williams leaving the golf bag just off the tee. Within seconds, some 50 fans had it surrounded, gawking as though a meteorite had fallen on Sheshan International. One woman giggled as she timidly stroked the Kiwi head cover on Woods' 3-wood until security shooed her away.
Even the excursions to Shanghai's massive metropolis have been adventurous, as cars weave six-wide along three-lane highways.
"Amazing," Nick Watney said. "The lanes are more like suggestions."
The list of champions at Sheshan International is impressive. Garcia won last year, pushing him to a career-high No. 2 in the world ranking. The year before belonged to Mickelson in his first sanctioned international victory. And while not many knew him at the time, Yang introduced himself in 2006 by finishing two shots ahead of Woods.
"The biggest memory is of sitting with Tiger during the awards ceremony," Yang said. "Having my picture taken with Tiger was probably the biggest thrill."
That was nothing compared with Yang taking Woods apart at Hazeltine, then hoisting his golf bag over his shoulders after winning the PGA Championship. Yang said he is not quite as relaxed at the HSBC Champions as he was three years ago.
"There's a little more pressure, I guess," he said. "Maybe it's because Tiger is here. Maybe it's because I've been through a lot of tournaments. Maybe it's because of the stress finally trickling down. As I told you, I'm trying to take it as just an ordinary tournament."
From red sand in the practice range bunkers to Woods and Mickelson leading a world-class field, there is nothing ordinary about this tournament.