News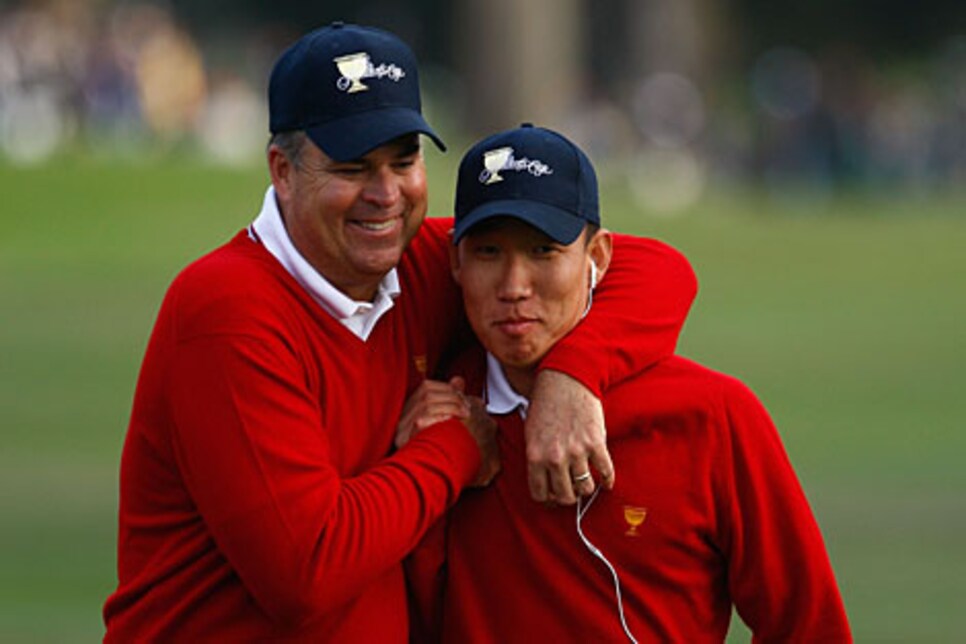 While Anthony Kim hopes to be a staple of U.S. teams for years to come, Kenny Perry could be looking ahead to a role as captain.
SAN FRANCISCO -- Around the team room and in practice rounds this week at Harding Park -- or back on the ping-pong table at the Fairmont Hotel -- the dynamic is noticeably different; it's not all about Tiger Woods and Phil Mickelson, the iconic presence of Michael Jordan or the laid-back ways of Fred Couples.
The two best golfers in the world, the greatest basketball player of all-time and the coolest of Presidents Cup captains have found themselves getting caught up in the new wave of youth and energy infused into American golf. Making it all percolate are the four youngest players on the team: Anthony Kim, 24, Sean O'Hair, 27, Hunter Mahan, 27, and the veteran in the group, Lucas Glover, 29.
They may not draw comparisons to Seve Ballesteros, Nick Faldo, Bernhard Langer, Ian Woosnam and the European Ryder Cup dynasty that was spawned in the 80s -- not with eight career victories between them. But it's a starter kit.
"This is just a pretty cool mix of guys," Woods said during his early week news conference. "Usually over the past Ryder Cups or Presidents Cups, I've been generally the youngest one, but now we have got a whole new crew. We saw that last year with Hunter and 'AK' and now we have Lucas, as well, and Sean O'Hair. So it's younger, but we also have Kenny to balance it out as well."
There was a ripple of laughter in the press tent Tuesday as 49-year-old Kenny Perry took a shot from the 33-year-old Woods, but the turnover is evident: although still high up on the 2010 Ryder Cup points list, Perry has said this will probably be his last team; and could conceivably become the first Presidents Cup captain who has not won a major. Behind him, Steve Stricker, 42, and Jim Furyk, 39, are the second- and third-oldest players on the team. Woods has been playing in these events since 1997, Mickelson since 1994 -- so as they've matured into the role of team leaders, a new core has emerged and a mini two-Cup win streak has broken out.
"I was never the team leader because I was always the youngest one on the team," Woods pointed out. "You know, now that I've been around the teams and it's been Jim and myself and Phil who have been around the longest, guys are now starting to ask me, 'How does it feel to be on these teams? 'What do we do, and what can we expect?' I was always on the other side. So now, I've been out here long enough where that has certainly evolved."
The evolution has produced two decidedly lopsided Cup victories for the United States, and while Thursday's opening session wasn't the best example of what Tiger called a "new crew," Kim stepped up after an average season to help secure a point and the United States maintained its momentum that started at Royal Montreal in 2007. The 3 ½-2 ½ first-day lead was essentially a veteran's day, with Woods and Stricker going six under in their 5 and 4 foursomes win, Perry successfully pairing up with Zach Johnson and Mickelson continuing to make putts as he carried Kim on his sore back.
But these kids, they'll be back today, and over the weekend, and at this rate, most of them will be there for next year's Ryder Cup in Wales. "You see a confidence that they expect to be a part of these teams," said Stricker. "You need young players to step up. That's what make teams good."
It was Jack Nicklaus, then the American captain, who went opposite of the trend of picking experience when he went to Nos. 11 and 14 off the points list, making Glover and Mahan his picks in 2007. Justin Leonard, who was paired with Mahan for his first three Ryder Cup matches last year at Valhalla, was part of the mentoring program. "It was important to bring those guys in, give them a sense of the spirit of this event and what it means to be a part of it," Leonard said. "Lucas and Hunter, they're the guys who are going to be playing this event for the next 10 to 15 years. It's important to bring those guys in and show them what it's about, see what they can do, and they'll be the difference."
Nicklaus had enough confidence in Mahan that he used him as a leadoff man. Stricker, his partner in Canada, remembers the rookie's nervousness, but sees the maturity now with 10 matches and an overall 4-3-3 record under his belt. Mahan just loves the team atmosphere, harkening it back to his days at Oklahoma State when it was just five guys with one goal -- to win the national championship.
With his four picks at last year's Ryder Cup, Paul Azinger sprinkled youth with experience, taking Mahan -- even though he trashed the event in print -- and J.B. Holmes (then 26) along with Stricker and Chad Campbell. That produced the second straight five-point Cup victory. Fred Couples went to Glover at No. 11 and Mahan at No. 13, passing over Brian Gay in the process.
On Thursday, Mahan showed he was not quite ready to lead yet as he and Sean O'Hair lost to Ernie Els and Adam Scott, but these are baby steps in a process that unfolds over the course of a career. "Freddie is the captain now, and he was a stud for so many years," Mahan said. "When the time comes, Justin Leonard is going to be a captain. It's gonna happen. Those guys get older. It's life. A guy like Davis Love can still win but is getting older. It's our time and we have to take advantage of it."
Take advantage they have. The days of those long American faces after blowout losses at the K Club or Oakland Hills seem like a distant memory. The attitude is decidedly different and palpable from the International team side. "I really do think this is a wave and after last year, winning without Woods gave those guys a lot of confidence that we could win on our own two feet," said Frank Nobilo, assistant captain of the International team.
Beyond this wave, Dustin Johnson and Nick Watney are hoping their time will come. "I think there are going to be other guys step up because they're going to look and say we can do it, too," said Jay Haas, the assistant American captain who was 50 when Hal Sutton made him a pick for the 2004 Ryder Cup team.
Azinger addressed the change in the dynamic in the TV compound Wednesday afternoon. At Harding Park this week as a broadcaster, last year's winning Ryder Cup captain went back to what Sutton told him three years ago. "He said it took 10 years to get in this mess and it's going to take us 10 years to get out," Azinger said. "We had lost five of six Ryder Cups and the one win prior to our match was the miracle comeback at Brookline. For 12 years we could have lost every match and had only won three times in 25 years. So maybe this is the generation that's going to get us out of this mess."
Depending on how it shakes out with the PGA Tour and the PGA of America, the list of candidates to take over from Fred Couples and Corey Pavin for the Presidents Cup and Ryder Cup captaincy is impressive. Worth noting in the equation is that while the Ryder Cup captain has to have won a major championship, there is no such requirement for his Presidents Cup counterpart.
Mark O'Meara, 52: Shunned by the PGA, two-time major champion is a deserving Presidents Cup captain and a big selling point in getting Tiger to make the trip to Royal Melbourne in 2011.
Kenny Perry, 49: Unless he pulls off a major title soon, one of the stars of Valhalla is most likely slated as a Presidents Cup captain.
Scott Verplank, 45: No professional major, but a successful Cup player with a sparkling record (10-3-1) that includes a .750 winning percentage in singles.
Davis Love III, 45: Surprising he wasn't brought in to help old World Cup partner Couples, but could follow Pavin in 2012.
David Toms, 42: He's got a major (2001 PGA), experience in both Cups and respect of the players, starting with Tiger, who likes to call him "DT."
__ Steve Stricker, 42:__ Emotional "Strick" may have a hard time getting through the opening ceremonies without tears.
Jim Furyk, 39: Has played every Cup since 1997; will call on Steelers coaches Bill Cowher and Mike Tomlin for advice.
Phil Mickelson, 39: Before turning to putting, he discussed a Ryder Cup captaincy at Valhalla with former captain Dave Stockton
Justin Leonard, 37: After making "The Putt" at Brookline in '99, it's hard to imagine Leonard not becoming a Ryder Cup captain.
Stewart Cink, 36: The British Open win raised his profile and qualifies him as a Ryder Cup captain candidate. Sneaky good in Cup competition; may release line-up cards and do post-match interviews via Twitter.
Zach Johnson, 33: Iowan exemplifies spirit of game, excelled at team sports in high school, playing his third Cup since 2007.
Tiger Woods, 33: There will be no tuxedo dinners, meals will consist of cheeseburgers and fries and T.W. will be into it.