News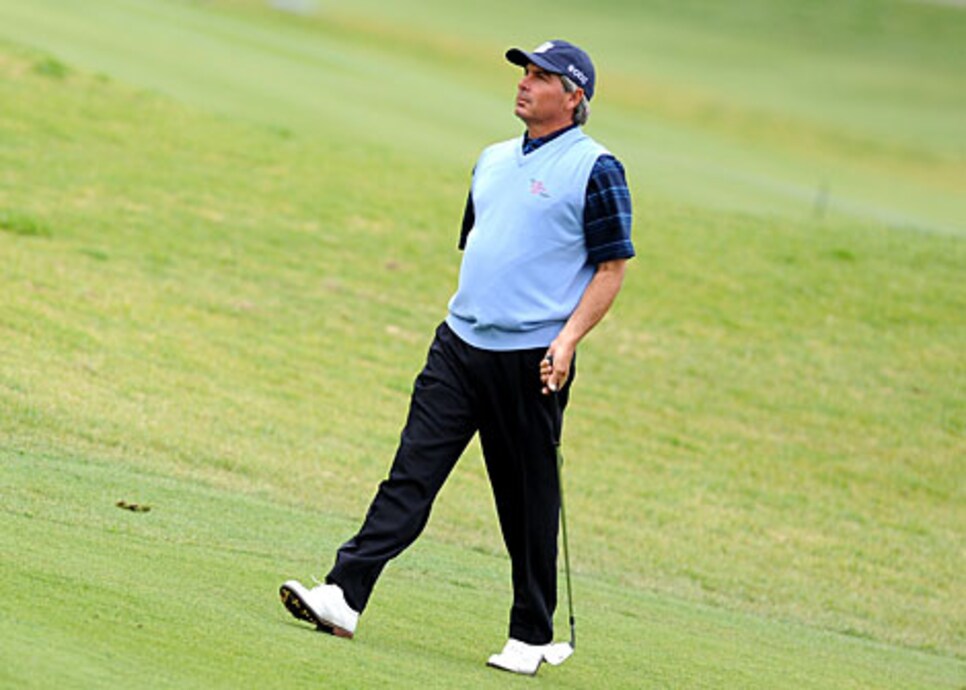 Even with a major title to his name, Fred Couples said his captaincy of the U.S. Presidents Cup team will be the proudest accomplishment of his career.
A few weeks ago, I sat down with Fred Couples as he prepared for his debut as Presidents Cup captain. The matches were approaching and so was his 50th birthday, but Fred was preoccupied with his cell phone.
It is not true that Fred treats this device with dread. In fact, the days are over when he doesn't pick up the phone because he's afraid somebody might be on the other end.
Granted, Fred doesn't return that many calls, but he's become a 21st century man, perfecting the fine art of text messaging. Head down, fingers typing, Fred was just finishing up when I asked if he was texting Michael Jordan about captain's picks or team uniforms.
"It's actually to the PGA Tour," Fred said. "I've just resigned from the Presidents Cup captaincy. I've had enough."
"I thought I could do this, but I just don't think I can. I got to the 23rd hour and it's too much for me. My little brain ... "
So, I said, you've put your name in the envelope before we get to San Francisco?
"I have Jay Haas and Michael Jordan as co-captains. They would be great as captains," he said, before adding, "No, I'm really looking forward to it."
So are Tiger Woods and everybody on down the roster. This team that Couples brings to Harding Park, with Jordan in the locker room (along with a team magician), should be worth plenty of laughs.
Woods addressed as much this past Monday during a teleconference to promote his Chevron World Challenge. "As far as Freddie, I'm looking forward to it," Woods said, unable to suppress his famous smile. "I'm looking forward to seeing how Freddie speaks in front of all of us, because as you all know, Freddie starts in one direction and ends in another. That will be interesting to see what kind of tangents he goes on, because it's never straight and narrow with him. He goes off in all different directions. So that part will be fun."
Fun, it should be -- as long as the team performs. There's not much fun in the team room after a dreadful foursomes or four-ball session, but that's where Jordan comes in. Knowing Couples, I'd say that Haas will be in charge of the pairings and Jordan the motivation. Tiger sees it that way ... kind of.
"As far as what Michael will bring, a lot of BS, absolutely," Woods said, drawing laughter before continuing. "It'll be fun. I've been a part of several Ryder Cup teams where Michael has come in and hung out with us a couple nights here and there. But he's never been instrumental in being a part of the team. So this will be different. I think this will be a lot of fun. A lot of the guys are looking forward to getting to know him. Jeez, he's one of the probably -- him and Muhammad Ali are two of the greatest athletes that have ever lived, so it'll be fun for our entire team to hang out with him."
The hang is what Couples is all about. Usually it's on a couch with a remote control, but this time he will be punching a new set of buttons. There's speculation that all the heavy lifting will be assigned to Haas, Jordan and caddie Joe La Cava, but Couples has done his homework. Freddie has talked team management with Joe Torre and Tony La Russa, and recently played golf with Doc Rivers, picking all their brains on how to get a group of individuals to come together as a team.
Couples sees himself as a players' coach surrounded by two strong assistants and a team that has been there before. Woods, Phil Mickelson, Steve Stricker, Zach Johnson, Jim Furyk, Stewart Cink and Kenny Perry have been doing this for over 10 years. Anthony Kim and captain's picks Lucas Glover and Hunter Mahan aren't new to the dance. The only true Cup freshman on his lineup card is Sean O'Hair, who calls Couples one of his heroes in the latest Bob Verdi Grill Room. "I think I can handle these guys," he said. "I'm trying to get them pumped up. I think it'll be the most fun I've had in a long, long time."
There will be fun for Couples even before he arrives in San Francisco. Saturday, Oct. 3, is his 50th birthday. After the Presidents Cup, there's the Champions Tour and more golf on the PGA Tour. I asked Couples if this meant more gray hairs. He pulled off his visor, made an adjustment, smiled, and kept his momentum.
"I'm actually looking forward to turning 50," he said. "When I was in my late 30s, early 40s, I never looked at the senior tour. Then I got into my late 40s I didn't really look at the senior tour. Then I got in my late 40s I started thinking, 'I cannot wait for it.'"
The specifics of the party were to be determined, but either way, Couples didn't expect it to be a time of great reflection.
"It'll be a couple days before I get to San Francisco," Couples said. "There won't be any drinking involved because I want to have a clear head. I want to support them but I want a clear head. If my mind's not there I'll be in a cloud. So what will I do? Probably nothing. It's a big birthday, but when you travel like we do on the golf tour a lot of birthdays get pushed aside. Fiftieth birthday, I think it's going to be another day. I'm looking forward to it because then it will be over and I know the Champions Tour is right around the corner. I'm not a big birthday guy but 50 is a nice number. I'm looking forward to it."
Couples will play a little bit of both tours in 2010. Bridgestone, his sponsor, wants him on the regular tour for one more year. Freddie was T-3 at the Northern Trust Open and Shell Houston Open, T-8 at the Byron Nelson and T-5 at the Wyndham Championship. But back pain has been an issue since going down at the 1994 Doral tournament and after 15 years of chronic pain, the golf cart allowed on the Champions Tour is starting to look good.
"I'd like to say at 48 or 49, when I play a round of golf I think it's a little more pure now, I really do," he said. "But I don't sustain too many good rounds in a row. When I'm healthy, I'm OK, but this is my fourth week in a row and it feels like a toothache. It's my body and it's the way it goes so I get used to it. I've been doing it so long, it's not the end of the world. When I feel really good, it's a blessing. Overall, I still feel like my strike is pretty good and I still hit it long enough to compete out here."
Haas, his good friend, just won his 13th Champions Tour event. Meanwhile, contemporaries like Nick Price, Mark O'Meara and Greg Norman -- his counterpart as Presidents Cup captain -- have struggled to regain the success rate that made them, along with Couples, the box office stars of their day.
"Hopefully I'll get a lot of opportunities and let one slip my way," Couples said. "But there's a lot of guys out there who have played well and two come to mind, Nick Price who finally won, and Mark O'Meara, who seems like he plays well every week and just gets beat. I wouldn't have a problem with that, but if I get out there and start to struggle on the last day cause I haven't won in a few years that'll be tough to take."
Couples' professional career began when he made the cut in the 1979 U.S. Open. He was paired with Lee Trevino on Saturday and shot 80. Trevino's name and his pace of play were too much for Couples at the time; 30 years later he and Trevino star in a Bridgestone commercial.
"I was a nervous wreck, because I couldn't keep up with him," Couples said. "He played so quickly and I don't remember any of the holes, any shots that I hit, but I just remember how fast he played compared to the way I played. I physically felt I was slowing him down and that made me more nervous."
By 1984, Couples settled down and in his first defining moment, won The Players. The year before, he won a five-man playoff for the Kemper Open, but his victory at the TPC Sawgrass, in his red Sansabelt pants, white shirt with the pointy-collars, and one-stroke victory over Trevino of all people, represented the dawn of the Fred Couples Era on the PGA Tour.
Twenty-five years later, Couples, and his retro look, are still in style. "Davis Love was wearing red pants last Sunday at Barclays and I was laughing about it," Couples said. "He said it was just like you in '84 at the TPC, and I said, 'Wow, what a memory you have.' ''
Couples' popularity stemmed as much from his inscouciance as his playing record. His trademark, as O'Hair said, was the way he "makes everything look easy." While it made him as charismatic as Norman, that image was really just a cover. Under the surface, Couples fought through the drama of two broken marriages, the aforementioned back pain, and a putting stroke that broke down as the hair on his head turned gray. Eight years after their divorce, first wife Deborah committed suicide in 2001. Thais, his estranged second wife, died of cancer earlier this year.
He would win 15 times, including the 1992 Masters and the '96 Players, but to him the most pivotal moment of his career was not the ball sticking to the creek bank at Augusta 17 years ago. It was his deepest moment of professional despair, the 1989 Ryder Cup, when he lost his singles match to Christy O'Connor Jr. and the U.S. team tied with Europe at The Belfry. Since the Cup didn't return to the United States -- because Europe had won in 1987 -- it felt like a loss.
"The one moment I remember the most was when Ray Floyd was our captain and I lost a couple of critical matches and I wasn't well emotionally that night," Couples said. "I remember him taking me to the room and just he and I were talking and he was telling me how good he thought I was and how good he thought I could be. I went and actually started to play really, really well."
That pep talk triggered the greatest of Couples' years on tour, a green jacket, and Player of the Year and Vardon Trophy honors in '91 and '92. Two decades later, he's the one driving the captain's cart. While he jokes about it, leading this team against Norman's International side is his greatest honor. He follows the legendary Jack Nicklaus, who restored American pride in international golf competition by going 2-0-1 at a time when the U.S. was getting waxed in the Ryder Cup.
"The wins I've had and the good things, I'm not the type of guy to dwell on them too long," Couples said. "But the biggest highlight come Oct. 12 will be being the captain for the Presidents Cup."
Couples is synonymous with the Presidents Cup, posting a 9-5-2 record that includes two pivotal singles victories over Vijay Singh that were essential in tight United States wins. In 1996, Couples made a birdie putt on the 17th hole at Robert Trent Jones GC to knock out Singh 2 and 1 and clinch a U.S. victory. Couples ran toward his team, grabbed Love's hat and threw it in the air to kick off the celebration. Nine years later, again at RTJ, Singh was talking some playful smack after getting Couples again in the singles. Freddie took the match to 18 and drained a birdie putt on the final green for a 1 up victory.
"I don't want to embellish the story, but he told them to bring a cart out to the 12th or 13th hole, but I didn't catch on and asked him what he was talking about," Couples said, with a smile on his face. "He said, 'Bro, that's when the match is going to end!' We've played each other so much. I have no problem with it. Jack Nicklaus was right there, he doesn't know Vijay, but I thought it was comical. To go back, I told Vijay the reason I picked you is because you putt worse than I do. I had enough with Retief Goosen and Adam Scott that week. I couldn't keep up with the putts I was making. I will say this: I would like to play Vijay again. He's fun to play against."
There's that fun word again, but Couples is quick to say he had more fun watching Chris DiMarco make the clinching putt at RTJ than to have the putter in his hand himself -- or to be in that team environment, behind the scenes -- even if Robin Williams couldn't make it.
Matt Furman, a magician Couples met last November at the ADT Skills Challenge, has been booked for the week as Williams' replacement. Furman has a long list of credits that includes NFL coaches Mike Shanahan and Tom Coughlin using him for team parties, and Jordan bringing him to his house for private parties.
"I've got a magician coming, probably the greatest magician anyone will ever see," Couples said. "I don't think they're going to leave thinking what is this guy doing? He's got Michael Jordan and a magician, but it's going to be a long week. We all say we're going to have fun. I guarantee we're going to have a good time."