News
Price And Haas Share Lead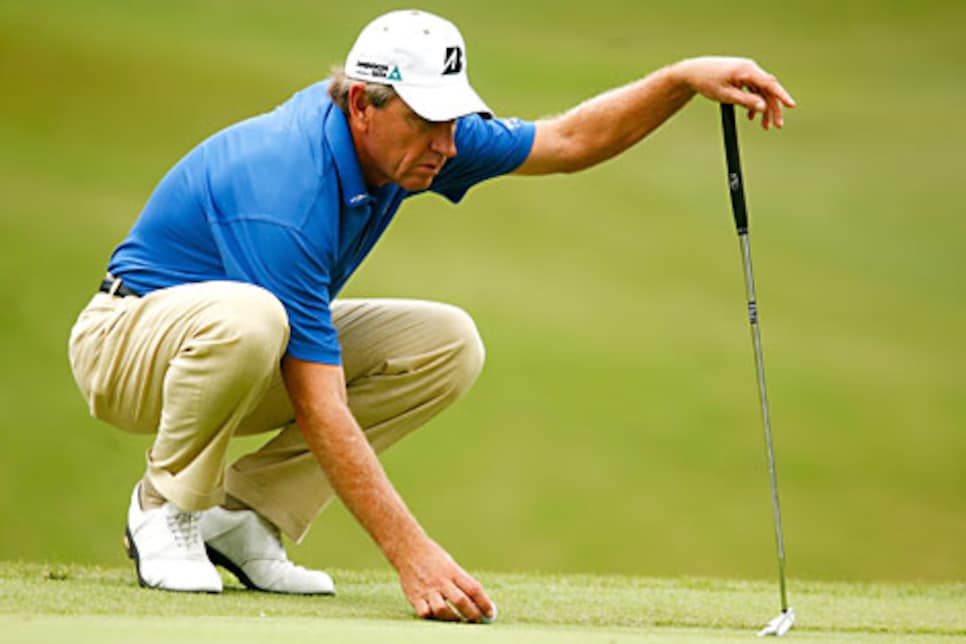 Price is averaging almost 277 yards off the tee and is T6 in putts per round.
CONOVER, N.C. (AP) -- Jay Haas and Nick Price shared the lead at the Greater Hickory Classic on Saturday, and 31 players were within six strokes of the leaders going into the final round at the Champions Tour event.
Haas, the 2005 winner, and Price are at 11-under 133 at Rock Barn Golf and Spa's Robert Trent Jones course.
Haas shot a 1-under 71, while Price - a three-time major winner on the PGA Tour - vaulted into contention with a 67.
A day after posting a bogey-free 62, Haas struggled to find his shot. He had two bogeys on the front nine and briefly lost the lead to Price, but recovered with birdies on Nos. 7 and 12 to move back up front.
"I was a little disappointed in the round," said Haas, a 12-time winner on the 50-and-over Champions Tour. "I wasn't very sharp on the greens, and I didn't get a lot of chances - not as many as (Friday), for sure."
Price began the day four strokes behind Haas, but moved up the leaderboard with birdies on two of the first four holes. After Haas' bogey on No. 6, Price moved into the lead with an eagle on the par-5 7th.
Price had another chance to move ahead, but missed an eagle putt on No. 18, but made the birdie to forge a tie. Haas then had a shot at moving back in front, but missed a 15-foot birdie putt on 18, settling for par.
"I got off to a really good start," said Price, who has won just one Champions Tour event in 47 starts. "I kind of got a little defensive when I got to 10 under for some reason. ... But that birdie on the last hole was very welcome."
Gil Morgan (70), who trailed Haas by three strokes after Friday's opening round, slid into a tie for third at 135 with Andy Bean (68) and Russ Cochran (68).
Joe Ozaki shared the day's best round, a 6-under 66, with Tom Purtzer, and joined a group of nine players tied for sixth at 136.
Also in that group were Charles Schwab Cup points leader Fred Funk (67), Bob Tway (67), Gene Jones (68), David Frost (68), Lonnie Nielsen (68), Mark McNulty (69), Hal Sutton (69) and Jeff Sluman (69).
"We've got a two-shot lead ... then there's a ton of guys at 8 (under)," Haas said. "One of those guys shoots 7, 8 or 9 under, they're right up there. ... I almost expect that to happen. Neither one of us expects to shoot in the 70s and be in this tournament."
Sunday's final-day field will be the closest in the tournament's seven-year history. The previous best was 17 players, set at the inaugural event in 2003 won by Craig Stadler.
"Jay and I are going to have to shoot around 5 or 6 under just to keep the other guys out of the picture," Price said. "It depends on the conditions - if it gets wet and heavy ... then it might not take that low a round."