News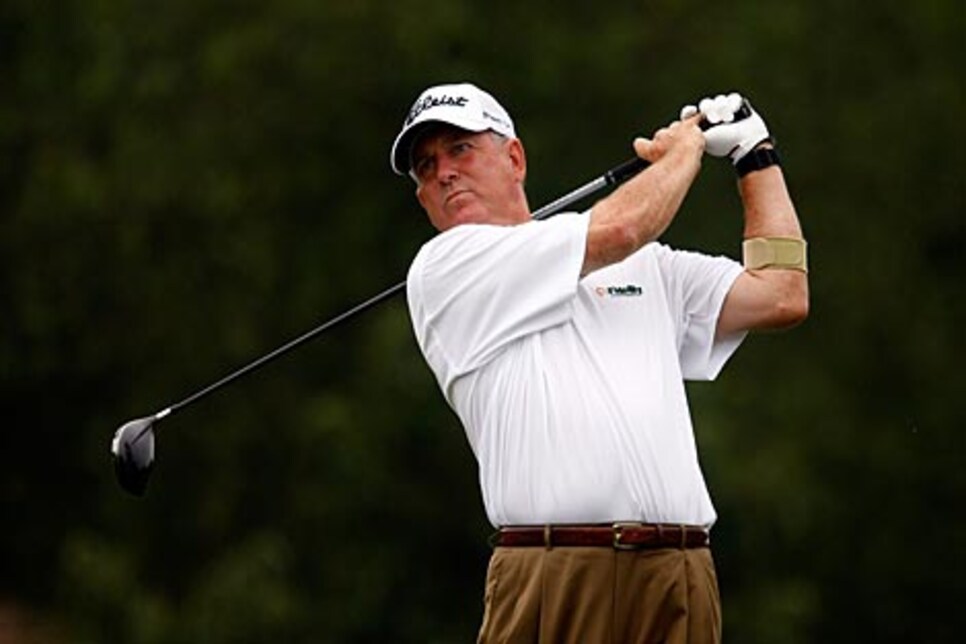 Haas, who won this event in 2005, is still in search of his first Champions Tour title of the season.
CONOVER, N.C. (AP) -- Jay Haas shot a 10-under 62 during the first round of the rain-delayed Greater Hickory Classic on Friday, taking a three-shot lead into the weekend.
Haas is the 2005 tournament champion and tied for second two years ago. He played a bogey-free round at Rock Barn Golf and Spa's Robert Trent Jones course.
"It was one of those days," said the 55-year-old Haas, who is winless on the Champions Tour this season. "I got off to a good start ... and it felt comfortable. I drove the ball well, and I made a few extra putts I hadn't been making. I was in the zone, as they say."
Haas' was one shot shy of tying the tournament record, set last year by two-time and defending champion R.W. Eaks. It also matched the Champions Tour's low round of the season, set by Brad Bryant in the first round of the Jen-Weld Tradition on Aug. 17 in Sunriver, Ore.
Gil Morgan was second after his 65, with Tom Jenkins, Jerry Pate and three-time major champion Nick Price another stroke back. Nine other players, among them former PGA Championship winners Jeff Sluman and Hal Sutton, were tied for fourth after rounds of 67.
Eaks and Fred Funk -- who leads Loren Roberts by 57 points in the Charles Schwab Cup standings -- were among those who shot 69.
Haas, last year's Charles Schwab Cup winner, had missed the last two events because of tendinitis in his left elbow. A cortisone shot he received two weeks ago left him feeling able to play a competitive round at Rock Barn.
He didn't disappoint, with birdies on four straight holes to open his round. He tacked on two more on the front nine, then made four more birdies on the back nine to beat his previous career best round in Champions Tour events by one stroke.
"I was anxious to play, for sure," Haas said. "I was kind of chomping at the bit. I had been swinging well and feeling like I was doing the right things, then I came up with the tendinitis. ... But I'm in no pain right now. Hopefully that will continue."
The 62-year-old Morgan called his round "pretty routine."
"I hit it close a couple times, and I made a couple of 10- to 12-foot putts," Morgan said. "It was pretty unspectacular. On most of the shots, I wasn't in any real danger out there today ... but I had a few opportunities out there that I missed."
Persistent showers Friday morning delayed the start of the opening round by nearly three hours. In order to complete the round before nightfall, tournament officials sent the pairings off from the first and 10th tees.
Nearly half an inch of rain had fallen in the days before the 50-and-over tour event, and nearly half an inch fell late Thursday night and early Friday morning. Tournament officials said that more rain is forecast for the area through Monday.