News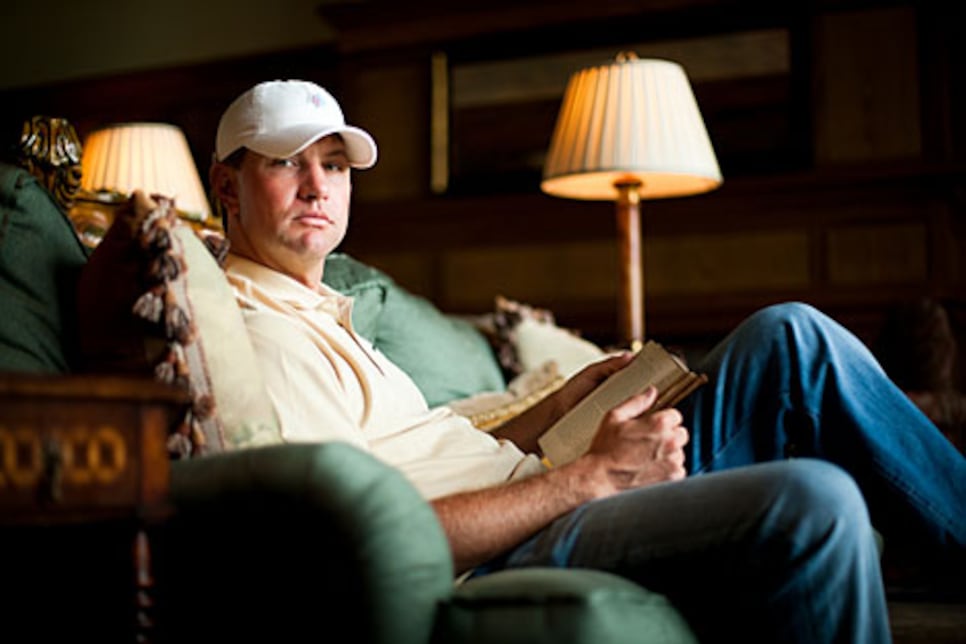 bookworm: A voracious reader, Glover finished four books during his U.S. Open ­victory at ­Bethpage Black.
As Lucas Glover chills out on his bed at the Turnberry Resort hotel on the eve of the British Open after five whirlwind weeks of nonstop golf, there are no signs the U.S. Open champion is stressed, burned out or otherwise changed. He is wearing black Nike shorts, a T-shirt from the Frederica GC on Sea Island and white gym socks. A pillow has matted his blond hair on one side; a can of Skoal and a Daniel Silva novel are nearby. "I like things organized," he says, sipping a bottle of Perrier from the mini-bar, explaining the stacks of hats, shirts and dip tins on the nightstand and windowsill. "But everything doesn't need to be at a right angle."
The deep Southern accent coming from a 6-foot-2 frame with a love of literature presents a 180-degree contradiction between what friends describe as Glover's redneck and well-read sides, but therein lies the beauty of the kid from Greenville, S.C., who never liked reading in college, but who always passed tests by cramming with crib notes. Glover is as articulate an interview as there is in golf, with a sense not only for reading the "Top Ten Things Lucas Glover Would Like To Say
After Winning The U.S. Open" on the "Late Show with
David Letterman," but also the best-seller list. He's not some one-dimensional jock from Clemson with a wad of chew in his mouth and an orange Tiger Paw painted on his cheek.
He killed time in Letterman's green room at the
Ed Sullivan Theater doing The New York Times crossword puzzle and chatting with retired Supreme Court Justice Sandra Day O'Connor. And when Golf World requested a list of his top five books, he submitted two classics, two thrillers and a non-fiction adventure.
There's no telling how many books Glover will read during the PGA Championship at Hazletine National GC in Chaska, Minn., but during the U.S. Open at Bethpage, Glover polished off four novels, including Clive Cussler's Sacred Stone. Two weeks later at the John Deere Classic, he picked up the latest releases by James Patterson and Greg Iles for the trip to Scotland. He also lists Silva, Stuart Woods and Lee Child as his favorite authors. Child's Jack Reacher is his favorite character. Glover read the first nine books in the series in two months. Instead of reading by Kindle, Glover prefers the "old-fashioned" paper-and-ink format.
Growing up, Glover hated reading "because I was told I had to do it," he said. "Any way around reading a book without reading a book is what every kid did." With that, Glover hands over Iles' The Devil's Punchbowl. The jacket cover teases it as an electrifying thriller that "reveals a world of depravity, sex, violence and the corruption of a Southern Town." Huck Finn, it isn't. Neither is Glover.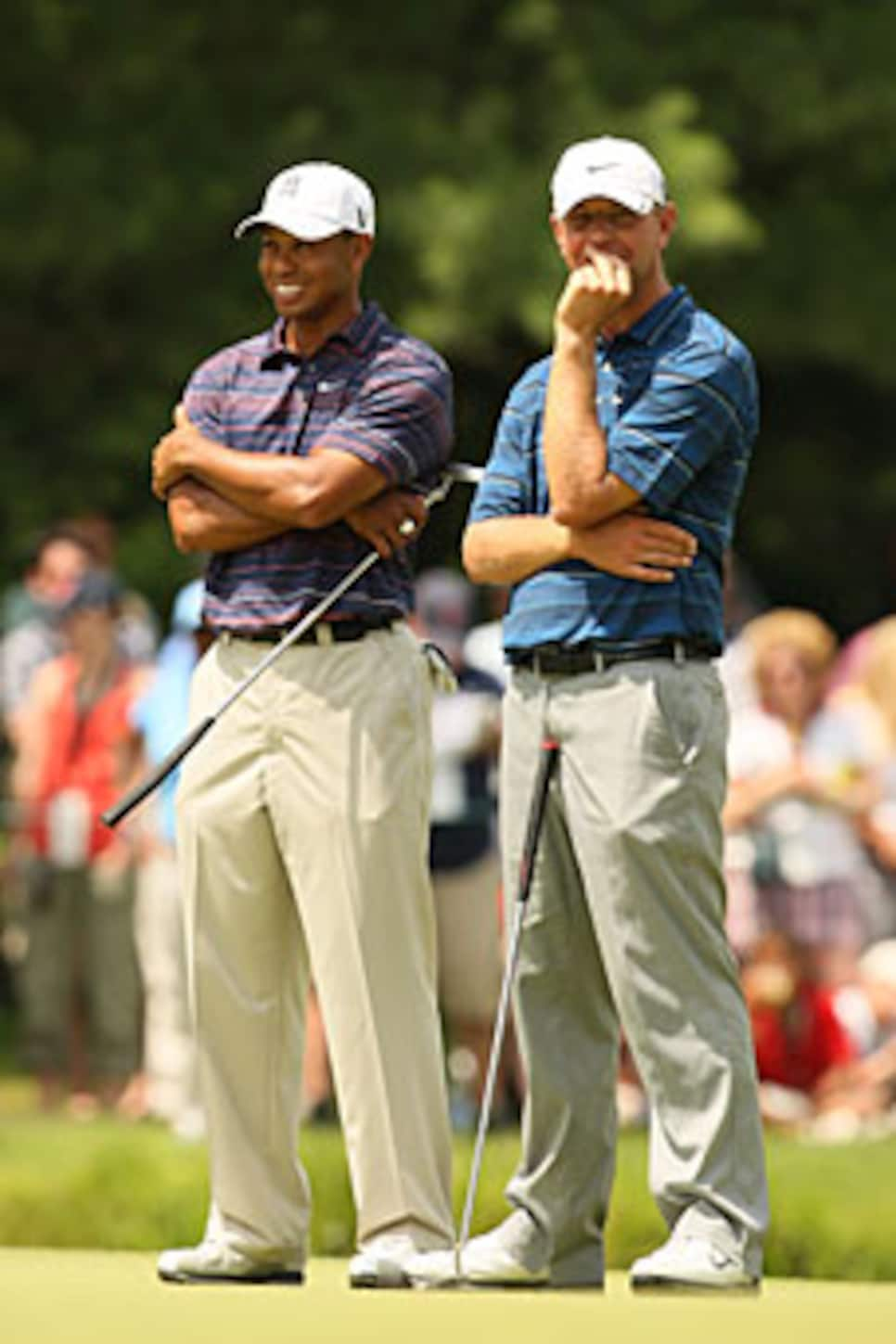 "It's not a hard read," he says. "It's not like reading Atlas Shrugged. I like books where the last line of every chapter is a cliffhanger, and the next thing you know, it's 3 a.m. A lot of it is like watching a seven-hour TV show."
The final round of the U.S. Open at Bethpage Black didn't take seven hours, but the twists and turns involving the heartbreaking collapses of Phil Mickelson and David Duval, the emergence Ricky Barnes, and ultimately ­Glover's victory, proved to be a good read.
Many angles of Glover's story were fleshed out, from his love of New York City (he honeymooned there) and the Yankees, to his relationship with his grandfather, Dick Hendley, the former Clemson football player who helped raise him. Wife Jennifer, a classmate at Wade Hampton High School, was in attendance along with his mother, Hershey, and stepfather, Jimmy Glover. (According to the Wilmington (N.C.) Star News, Glover's biological father, former major-league pitcher Ron Musselman, divorced Hershey in 1982. No one in the Glover family will discuss him.)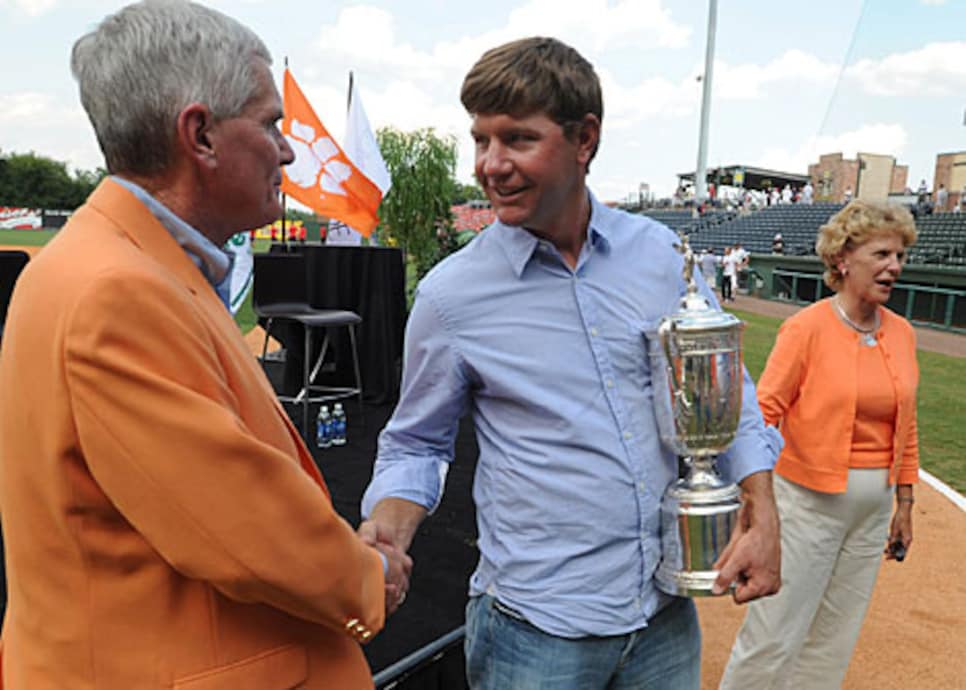 Glover may have got his reading Jones from Grandma Lucille, who was always working on a spiritual or inspirational book or a good mystery, but it was her husband who inspired the athletic side of Lucas. Hendley, a member of Clemson's Hall of Fame—he and Glover are the only grandfather-grandson combination enshrined by the school—played for and managed the Spinners, Greenville's minor-league baseball team in the 1950s. Later he would take Lucas to see the Greenville Braves play and build him a batting cage.
It was clear early on that Glover was a natural golfer. When Glover was 3 one of Hendley's friends gave him a club bearing a Mickey Mouse logo. After Lucas swung the club, Hendley turned to the friend and said, "Did you see that? He finished on his left side, facing down the yard. I've been trying to do that for 30 years. He's got [something] in his body that a lot of people don't have." Appropriately, 22 years later, Glover's first PGA Tour win came in the 2005 Funai Classic at Walt Disney World Resort.
From that win to the 2009 U.S. Open, Glover went through a tough stretch. His teacher, Dick Harmon, died of complications from pneumonia in February 2006, and Glover failed to make that year's Ryder Cup team, perhaps pushing too hard to make it in his instructor's memory. Glover and Harmon had worked together since Hendley flew Lucas to Houston when he was 12. They had completed a session only days earlier. Choking back tears, Glover delivered Harmon's eulogy at St. Michael's Catholic Church in Houston, and as he showed when he broke down during a post-tournament press conference at Bethpage, his coach's passing is a wound that has not fully healed.
The instruction void was filled by one of Davis Love III's high school classmates, Sea Island instructor Mike Taylor. When they first met on a range in June 2007, Taylor began by taking out his training aids. Glover said he simply wanted to start drawing the ball again. With that, Taylor packed up the equipment and brought out the fishing poles, knowing Glover didn't need any technical help. "They are a good fit," says Love, who urged manager Mac Barnhardt to sign Glover after the 2001 Walker Cup at Ocean Forest. It was actually Love's then 8-year-old son, Dru, who "discovered" Glover in practice rounds, telling his dad about him. Now Love laughs when he says, "I need a little of what Lucas has. I need to be more carefree and freewheeling. He needed to be patient like me."
That youthful innocence and carefree style was lost on Glover last season. Down on himself after a summer of poor performances, Glover decided at the British Open that he would take a break from golf after the PGA Tour playoffs. He didn't play from the BMW Championship in September until this year's Bob Hope Classic four months later. What he found during his sabbatical was the patience Love mentioned.
Asked how he could recover from a double bogey on his first hole at the U.S. Open and go on to win, Glover doesn't hesitate in his response. "It goes back to taking those [four] months off last year," he says. "I realized I had it pretty good, so as I took that long walk to the second tee, I thought it was not that bad, it was going to be a long week for everybody."
Glover closed out the U.S. Open with a birdie at 16 and rock-solid pars at 17 and 18, while Mickelson and Duval made fatal bogeys. The lack of elation he showed after the final putt, or even a celebratory fist pump, goes back to what Hendley taught him. "No. 1, I was tired," Glover says. "No. 2, when you see yourself doing something, and you expect yourself to do it, it's more of a relief. All I wanted to do was give Coop [caddie Don Cooper] a hug.
"Plus, it's a class thing. It goes back to what [Hendley] said a lot: 'Act like you've been there.' "
Glover missed the cut at Turnberry, which wasn't surprising given that he had played every PGA Tour event after winning at Bethpage, as well as a charity and corporate outing before leaving for Scotland. He was T-11 at the Travelers Championship and T-5 at the ATT National, where he was paired with host Tiger Woods the first two days.
It was at Congressional when the magnitude of winning the U.S. Open struck him. "I'll tell you one thing Tiger said that was really cool," Glover says. "Walking down [the first hole] we both hit it to six feet, and he says, 'Hey by the way, I forgot to tell you, thanks for coming … I appreciate you being here.' I got to No. 4 and thought, 'Wow, he didn't have to say that, but he did.'''
On July 26 after Glover returned from the British Open, Greenville celebrated Lucas Glover Day at Fluor Field, the town's minor league ballpark. Glover's coaches and teammates from Wade Hampton High and Clemson were there, along with the mayor, who presented Lucas a key to the city. Glover was in the middle of making a speech when he saw Dick Harmon's widow, Nancy, along with Billy and Craig Harmon, two of Dick's brothers, make a surprise entrance. Glover was moved by their arrival. "There was a raw emotion there that couldn't be fabricated, and it was more so directed at Nancy because Lucas in many ways is a member of that family," said Billy Harmon.
After the festivities, the 82-year-old Hendley pointed at Barnhardt and said, "You get him ready. You know what I mean?"
Later that night, at dinner with the Harmons, Barnhardt asked Glover if he had heard Hendley's remark. Lucas Glover Day was over. It was time to prepare for the PGA Championship. It was time to turn a page.