News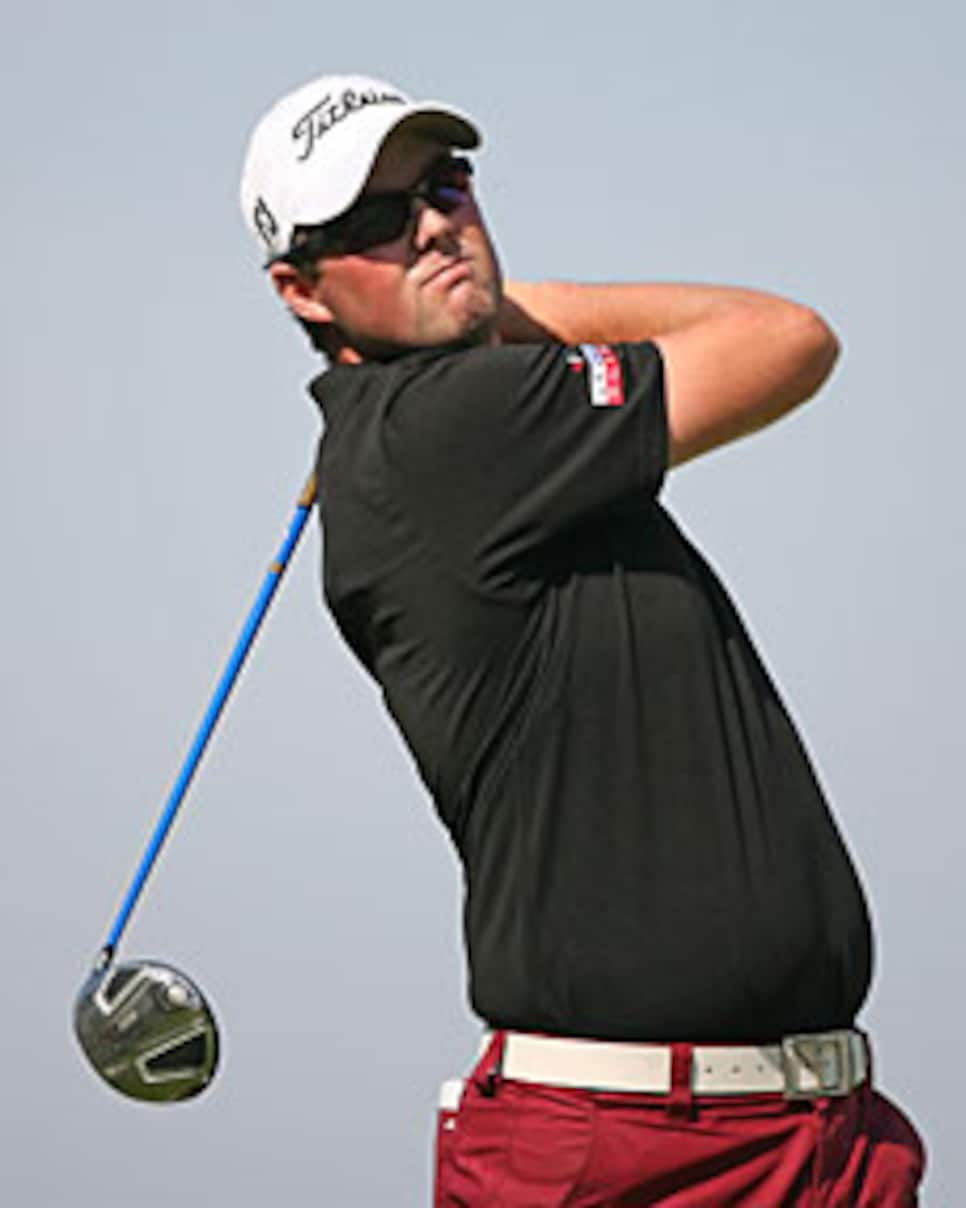 Those who know Marc Leishman well says he has the game and the mindset to be a force on tour.
The 112th ranked player in the world was home in Virginia Beach last week, chilling Australian style with barbies by the beach. Marc Leishman bought a house earlier this year, got engaged last month to Audrey Hills, an American woman he met after a four-spot qualifier for the Nationwide Tour, and made wedding plans for next April. Just in case, Marc blocked out the week of the Masters. "It worked out pretty well," Leishman said when I caught up with him on Wednesday. "It was most likely that I would not play in the Masters, but I told Audrey, 'You never know.'"
You never know in golf or the playoffs, and Leishman has emerged as the wild card team that got hot and found himself paired on Sunday at Cog Hill with the league's franchise -- in this case, Tiger Woods -- and didn't fumble or punt. Without a bogey on his card, "Leish," unleashed some big drives that caught Tiger's attention in a good way. He shot 69 and finished T-2 when he had to, hitting 7-iron from 200 yards over water into the 18th green and two-putting to jump from 67th to 16th in the FedEx Cup standings, and qualify for all of next year's majors.
"I was nervous over only two shots all day, the first shot and the second at 18," Leishman said. "I just like playing with nerves. If you're nervous it means you got yourself in a good position. I love playing when I'm nervous. I really enjoy playing when the pressure is on."
That's what attracted Denis McDade of the Victorian Institute of Sport, when word filtered to Melbourne about this tall kid from Warrnambool who was different than some of the new-generation prototypes that are more into playing swing than playing golf.
"It was just obvious watching him, that he could take what he had on the day and go shoot the best score he could," McDade said. "Every time he goes out and plays, he just plays. That's almost a gift. The other thing is, he's not the sort who will protect a score. If he's five under at the turn, he thinks he should probably shoot five under on the backside. He can go with the flow and keep playing. That's just the way he's hard-wired."
As a teenager, Leishman would ride the train those three-and-a-half hours from Warrnambool to Melbourne, a set of golf clubs and a weekend travel bag in the compartment. On some weekends parents Paul and Polly would load up the Ford Fairlane and make the drive from their beach town to the city, the bricklayer and the nurse accompanying their son to the VIS, where Geoff Ogilvy, Aaron Baddeley, Stuart Appleby and Robert Allenby were among the hand picked Australians that went through the program. "They gave up a lot for me to play golf at the highest level, to get on the PGA Tour," Leishman said. "To get into the majors is unbelievable. I'm really looking forward to getting them back over here for the Masters and the wedding. It'll be great to be able to show what they did for me was worthwhile."
Pete Coe, the close friend of Phil Mickelson and head pro at La Jolla CC, remembers hosting Leishman when he came to play the 2001 Junior World Golf Championship. Anthony Kim -- knocked out of the FedEx Cup playoffs at the BMW -- was the winner while Leishman missed the cut.
"We talked this morning," Coe said on Thursday. "I said to him, 'Here you are, on golf's biggest stage, against the best player that ever played the game, and you never flinched; your pace never changed.' He told me, 'Pete, I just loved it.' You could see it just by the way he smiled a lot. I think this kid is dangerous, I really do. I'm not just saying it because I know him. I just think he has that temperament, that passion, and statistically, he's going to be one of top five putters on tour. He makes everything."
From Warrnambool to East Lake by age 25. It sounds like an overnight success story when in truth the road was well traveled. "Plan A was a PGA Tour card," McDade said. "Plan B was an Asian card." Plan C was the Korean Tour, where Leishman won an early start by 10 shots and moved on quickly to the United States. On the Nationwide Tour, he started by Monday qualifying, won by 10 shots almost a year ago in Midland, Texas, and passed Q school by getting the 19th card.
His rookie season was nothing special until the weekend in Boston. If not for back-to-back top 10s at the Nelson and Colonial, Leishman was looking at trying to keep his card in the Fall Series. He was 78th on the FedEx Cup list after a T-17 at the Wyndham Championship, 93rd after missing the cut at the Barclays and down to his last chance going into the second round at the Deutsche Bank. Typical of McDade's characterization of him, Leishman shot 62 and came to the 72nd hole on Labor Day Monday needing eagle to qualify.
"Every scoreboard you get a FedEx Cup points update, and he would be 68th, then the next scoreboard he would be 72nd, then 68th, and he was 73rd the last four or five holes," said Ogilvy, who played with Leishman in the final round. "You knew with a birdie at the last hole, he might get in, but an eagle definitely gets him in. It was pretty cool."
From 220 yards out, he thought the 3-iron might put him over the back of the green. The trouble with the 4-iron is that it might not clear the hazard. "I figured I'd go smash a 4 and take my chances," he said. "If I hit it in the water, I hit it in the water."
Instead, he hit it to 8 feet.
"My first look at it was inside left edge," he said. "Then I looked at it from behind the hole and second guessed my read to inside right. I realized, I could look stupid here. I could miss the hole by a cup. But I hit it and it went in. Obviously I'm glad I walked it off and had another look. That putt got me in the Masters. Really, if I hadn't made that putt, I'd have four weeks off."
Even with the new events on his schedule, Leishman is planning on playing the Turning Stone Championship and a full Fall Series schedule. It's his first year on tour and never mind the Rookie of the Year race he now leads over Webb Simpson, Leishman just loves the idea of playing golf on the PGA Tour.
First, there is East Lake, and the idea of winning.
"I've been playing really well, so I don't see any reason why not?" he said. "I'd like to put four good rounds together, just play golf. It's an unbelievable field, the best players in the world, but at the end of the day we're all just trying to get the golf ball on the hole. I'm not going to look at the names but just concentrate what I'm trying to do and do it. It can kind of get overwhelming see Tiger and Phil and Ernie and Padraig, these guys I've been watching on TV all my life. All of a sudden my name is next to them on the draw or the leader board or wherever it may be, it's unbelievable. I just have to look at them as people just trying to get the ball in the hole, just another guy trying to do what I'm doing."