News
Too Much Of A Good Thing?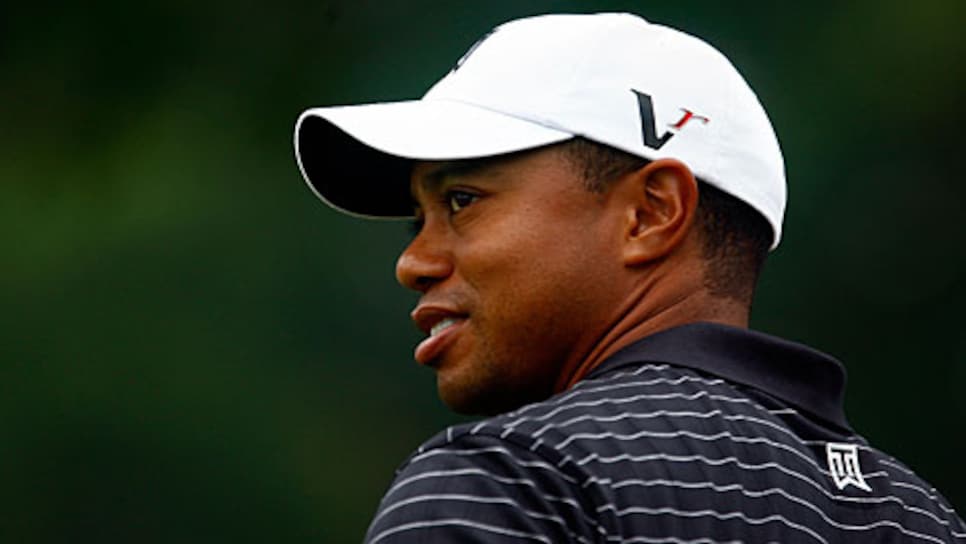 This week's BMW Championship is Tiger Woods' sixth tournament in seven weeks.
LEMONT, Ill. -- Tiger Woods is bushed. How do we know? He said so. And here's why: The BMW Championship, which starts Thursday at Cog Hill, is his sixth tournament in seven weeks.
Included in that stretch, Woods played two straight weeks before the PGA Championship and has hinted he won't do that again.
"It's a lot of golf for me," Woods said Wednesday after his pro-am round, which serves as his only practice round for the $7.5 million tournament, the third leg of the FedEx Cup Playoffs. "I normally don't play this much."
MICKELSON TO KEEP PLAYING
LEMONT, Ill. -- Phil Mickelson said he's all but certain to play in the Presidents Cup, Oct. 8-11, at Harding Park in San Francisco, as long as his wife continues to show progress in her post-surgery treatment for breast cancer.
"She has her good days and her bad days," Mickelson said of his wife, Amy. He wasn't sure he would play the BMW Championship until late last week. Mickelson added that Amy hopes to be in attendance at the Presidents Cup for at least one day.
Mickelson has not been a factor so far in the FedEx Cup playoffs, but he's earned more money while playing fewer events than any player on the PGA Tour this year except for Tiger Woods. Woods has a tour-high $8.3 million in 15 tournaments and Mickelson is fifth with $3.9 million in 16 tournaments.
After an hour-long lunch in the clubhouse, Woods took off without practicing, but that's not so unusual in this stretch. Last week at the Deutsche Bank, Woods didn't go back to the range to hit balls after any of his rounds.
Meanwhile, when Woods tees off Thursday at Cog Hill's Dubsdread Course, he'll find himself in an unfamiliar position -- second place. That's what the FedEx Cup points show, with Steve Stricker in the lead.
There's been a lot of talk about points in recent weeks, and keeping track of who's ahead, who's behind and where the heck you are hasn't been easy for anyone.
"I kind of just wait when the week is over and see where I stand type of thing," Stricker said.
Woods said he has his own way of keeping up: "Winning takes care of everything."
But Woods has been shut out in the first two events in the four-tournament playoffs, where the money is easily understood even if the points system may not. The culmination of the year-long FedEx Cup competition are the playoffs, with a total of $65 million on the line -- $35 of it in bonuses at the Tour Championship in two weeks. Heath Slocum won at the Barclays and Stricker won at the Deutsche Bank.
The path to Atlanta has taken its toll, and there is some sentiment about changing the schedule next year so that the first two FedEx Cup playoffs and the last two are separated by an off week. As it is now, that off week doesn't come until after this one, which is problematic when you consider that the Monday finish at the Deutsche Bank has already made for a short week of rest here.
"I don't think it's fair to the players or the tournament too much to whip us around in such a quick fashion and get us going again," Stricker said. "I'm tired. I haven't gotten a lot of sleep."
Woods said he is in support of an off week after two events.
"It certainly would be different because it would give you another little breather in there," he said.
Phil Mickelson, who is 12th in the points standings, thinks it's going to happen, for one very big reason.
"Tiger is in favor of it, you know," Mickelson said.
Scott Verplank said you can also count him in favor of a schedule with a built-in off week after the first two playoff tournaments.
"You don't have a lot of time for rest and relaxation," he said.
And you also don't have a lot of time to try to figure out the points. If you aren't entirely clear on the standings, you're not alone, but a couple of, well, points need to be made: Stricker has 5,605 points, Woods has 4,696.The winner at Cog Hill earns 2,500 points. Now, unless Slocum (2,855 points) wins, some combination of Stricker and Woods is certain to be 1 and 2 going into the Tour Championship at Atlanta.
But here's where it gets tricky. The points through Cog Hill are redone at the Tour Championship and new ones are handed out based on how you stand after the first three playoff events. Now, even if Stricker stays in first place in the points standings and even protects his 909-point lead over Woods, it's going to shrink at Atlanta: No. 1 starts over with 2,500 points at Atlanta, and No. 2 starts with 2,250. So, conceivably, if Woods stays in second and Slocum stays in third place in points at the end of this week -- and even though Woods currently leads him by 1,841 points – Woods' lead over Slocum at Atlanta will shrink to 250 points.
The player with the most points at the end of the Tour Championship wins a $10 million bonus, which Woods did in the first year of the FedEx Cup in 2007. So the stretch runs starts Thursday, but the real run began the first weekend of August at the Buick Open. Woods has had two weeks off since. Camilo Villegas, who regularly rides his bike at distances of 50 miles, said he feels like he's been pedaling a lot lately.
"It's been a long stretch," he said. "It's been real tough."