News
O'Hair Leads, Tiger One Back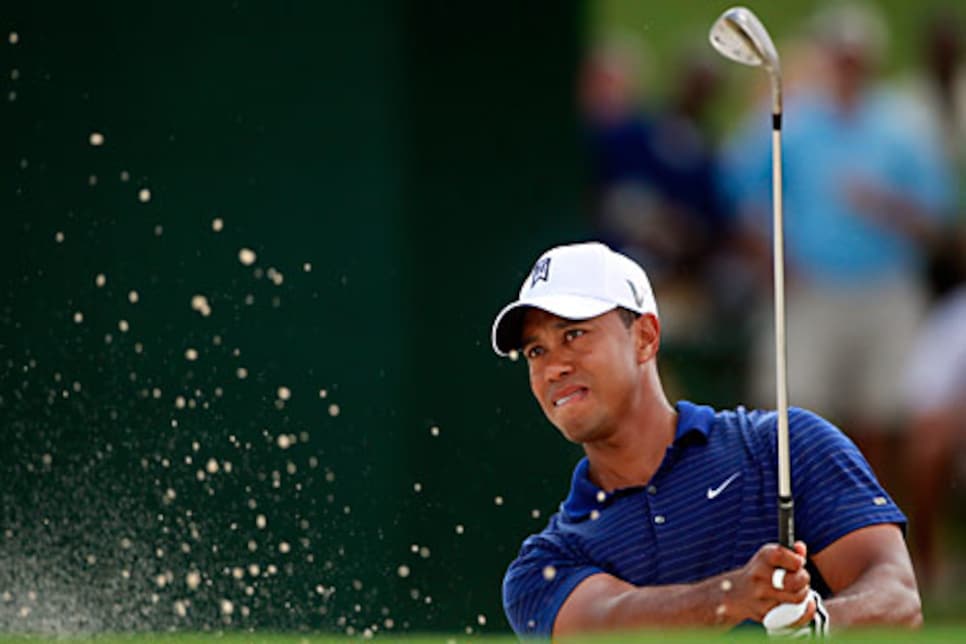 After a shaky front nine that included two bogeys, Woods played nearly mistake free on the back nine.
ATLANTA (AP) -- Sean O'Hair knew he would need some help from Tiger Woods to win the FedEx Cup. He got more than he expected.
And it was about putting, not points.
Woods and O'Hair practiced together on the back nine at East Lake on the eve of the Tour Championship, and O'Hair sought some advice on his putting from the world's No. 1 player, regarded as among the best in golf with the putter.
Woods suggested that O'Hair open the face of the club on the way back so that he could release the blade through the ball. It paid off Thursday when O'Hair made enough putts for a 4-under 66 and a one-shot lead over three players -- including Woods.
"I'm going to go chew him out right now," Woods said.
Woods was joking, for it is typical in this sport for players to help each other even as they're tried to beat each other. O'Hair is the first to concede that his putting has held him back in his five years on tour, and he wasn't afraid to ask.
"I believe in what he said, and I think it's the key for me to kind of take my putting to another level," O'Hair said. "Getting advice like that from good players is obviously awesome, but getting it from basically the greatest of all time is pretty cool.
"I mean, I'm his competition, for him to help me out like he did was very classy, I thought."
The tip didn't take overnight, but it was good enough on greens that were far more firm than any of the 30-man field could have imagined after so much rain in Atlanta over the last week.
Woods recovered from a shaky start with three birdies over a four-hole stretch on the back nine for a 67, putting him one shot behind with Padraig Harrington and British Open champion Stewart Cink.
Only eight players managed to break par in the final FedEx Cup playoff event, with a $10 million bonus going to the winner. O'Hair is the No. 7 seed, meaning he would have to win the Tour Championship and have Woods finish in a three-way tie for second or worse.
So far, so good. And so much golf left to be played.
O'Hair could only imagine what it would be like to try out his putting tip on the 18th green Sunday with a chance to go home with $11.35 million, the combined earnings of the FedEx Cup and Tour Championship.
"If I do have that opportunity, I hope I have a five-shot lead," he said.
Woods doesn't regret giving O'Hair the putting advice.
"It's very simple," Woods said. "You always help your friends. Sean is a friend of mine, and like all my friends, you always try to make their life better somehow. Sean has been struggling a bit on the greens this year, and I thought I could offer a little bit of help and insight to how he could change that."
Woods, who is in the best shape to capture the FedEx Cup as the No. 1 seed, could have used some help early in the round. As O'Hair, Harrington and Cink were setting an early pace, Woods was headed in the wrong direction by failing to save par from a bunker on the par-3 sixth, and making bogey on the eighth from the rough to go 1 over.
He was six shots behind at one point, then closed quickly.
"This golf course, you have to be very patient, especially with greens this firm," Woods said. "It's really hard to get the ball close unless you drive the ball in the fairway and have a short iron in."
U.S. Open champion Lucas Glover had a 68, and only three other players managed to break par -- Retief Goosen, Steve Marino and Dustin Johnson, who were at 69. Stricker, the No. 2 seed, was among those at 70.
It was hard to believe that a course that was closed Monday and part of Tuesday because of 20 inches of rain over the past week could deliver some of the firmest greens on tour this year. Attribute that to a sub-air system on the greens installed last year, and a hot sun that left players reaching for towels to wipe sweat off their brow.
"The course was playing fairly long, and then the greens are just incredibly firm, probably the most firm we've played all year," O'Hair said. "Maybe The Players Championship is a close second. Kind of ironic since we got so much rain."
O'Hair was sporty from the rough, too. He made his first birdie with a wedge out of the rough on No. 3 that stopped a foot away, then made another birdie at No. 12 under similar circumstances, from the right rough with just enough spin to stop 2 feet from the hole.
Cink narrowly made the 30-man field at No. 26 and the scenarios are too many to count for him to win the FedEx Cup. All he cared about Thursday was breaking par, like so many other players.
"Under par ... the golf course, considering all that rain we had, it's really dried out, and the greens are like bricks," he said. "You have to be very smart coming into the greens to give yourself any kind of aggressive birdies."